Let's embrace our mission to do God's will, even though none of us will ever do it perfectly.
You can get Aleteia inspiration and news in your inbox. Our specially curated newsletter is sent each morning. The best part? It's free.
Sign up here
"How many young people have we confirmed who have just absolutely bailed on the Church?" This question strikes to the heart for countless youth ministers, educators, priests, and parents. But understanding why so many young people leave is critical to the future of the Church.
This question comes from Doug Tooke, who has over 25 years of experience in youth ministry and diocesan direction. As Vice President of Mission for both ODB Films and the Renovo Media Group, Tooke has traveled to over 100 dioceses in the past 25 years teaching, keynoting conventions, and training ministers. He and his wife live in Montana with their five daughters.
Tooke digs deep to uncover some of the reasons that young people leave the Church, and what can be done about it, in his OSV Talk, The Perfection of Imperfection (available to watch on Vimeo and Facebook).
The video is one in a series of OSV Talks, which shine a light on creative means of evangelization, springing from the wisdom and deep prayer that energize these approaches. The talks, which are similar to TED Talks but with a Catholic focus, are free and available for anyone to watch at OSVTalks.com.
One major problem Tooke identifies is a false conflation of holiness with perfection. He points to the work of social science researcher Brene Brown, who has said, "Perfectionism is contagious in all the wrong ways."
The unhealthy contagion of perfectionism has affected many Christians as well as secular culture. "Perfectionism is a problem in the Church and in discipleship," he says in his talk.
Perfection sets people up to feel blame, shame and judgment. And all of these negative consequences are amplified in a context of faith. Tooke says, "When we think that holiness is perfection, it brings about self-criticism, judgmentalism, despair, Catholic Twitter."
Christians must reject the idea that holiness requires perfection. Instead, Tooke says, we need to focus on grace and mercy.
He calls on Christians to embrace our mission to do God's will, even when our efforts are imperfect and messy. "The question is, really, are you willing to be a candid Polaroid in a photoshopped world?"
"You're imperfect, just like me. We're sinners … We're broken. And if we equate the word holiness with perfection, then we think by our own merits, interacting with a perfect God, that we're going to be something that's not real."
Real, healthy discipleship requires accepting that we are not and never will be perfect in this world. Instead, our goal is to embrace God's will for us and be filled with God's perfect gifts.
"Healthy striving and active faith are the pursuit of the disciple," Tooke said in an interview with Aleteia. "Trying to be perfect is a recipe for disappointment. Pursuing our Lord's perfect will is the path to authentic holiness."
Doing God's will in our own imperfect but faithful ways is the heart of Tooke's message. He shares several funny and inspiring stories to illustrate this principle, including one that will bring nostalgia for anyone who attended World Youth Day in Toronto in 2002.
"It's a transition for us from just orthodoxy to orthopraxy," he says. Orthodoxy is right teaching, while orthopraxy is right doing and right living. Orthopraxy requires recognizing our own imperfection while allowing the good and pleasing will of God to flow through us in our good work.
Tooke shares an especially moving story of how we can embrace God's will in our own imperfection. It's the story of how his youngest daughter, who has Down syndrome, received her First Holy Communion with her parish community.
The entire church was "blown away by the witness of the simple reception of perfection into her very visible imperfection," he says. She was and is a witness of holiness: "She only knows how to let grace and mercy flow through her beauty and her innocence."
We don't need to be perfect to be holy, Tooke says. His message is one to take to heart.
"Holiness is real and attainable, not through impersonal piety but through sacrifice and healthy striving. The simplicity of our Lord's passion for His creation must be responded to with the difficult journey of orthopraxy and progressive discipleship."
His talk is just the encouragement Christians need to share the Gospel with the next generation. We will never evangelize perfectly, but that doesn't mean we should give up on trying.
When we fulfill our duty and calling to share the Good News, even in imperfect and messy ways, we model faithfulness to the next generation. When we stay the course and strive to do God's will, even though we will never do it perfectly, young Catholics can learn to do the same.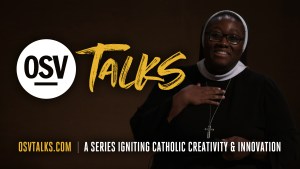 Read more:
OSV Talks: Renewing the Church from the inside out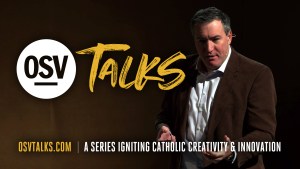 Read more:
OSV Talks: Why the Church needs "inefficient innovation"