Community comes to the rescue of a mom honoring her late daughter.
Malcontenta, in the province of Venice, Italy, is a town that bears a name about which many people have made ironic jokes (it Italian, it means "Discontented"). In recent days it was the scene of a very bitter affair—an unspeakable theft that made many people discontented indeed, but which was followed by an inspiring show of solidarity.
At the grave of little Lavinia
Federica Toffanin is a 38-year-old mother who last summer experienced a very painful loss. After years of struggling with a disease called mucolipidosis 2, her daughter Lavinia died. She passed away in the pediatric hospice of Padua, and Federica and her family have continued to be involved with the institution, grateful for what it did for Livinia and for all of them. In order to help the children hosted in that facility, Federica was organizing a charity sale of chocolate Easter eggs in collaboration with the association Braccio di Ferro.
Last March 25, when everything was ready for the distribution and sale of the chocolate eggs, an unfortunate event happened that Federica recounted in a video she published right after the fact. Still standing at the gate of the cemetery, she tells how, on the way to deliver the chocolate Easter eggs, she stopped to visit and pray by her daughter's grave, leaving her minivan parked by the gate.
Upon returning to her vehicle, she discovered that all the Easter eggs had been stolen. She's clearly heartbroken as, with a breaking voice and tears streaming down her face, she asks how someone could steal Easter eggs, being sold for charity, from the vehicle of a bereaved mother visiting the grave of her young daughter. She shows the empty cardboard crates left by the thief and laments the cruelty and vileness of the act.
Naturally, any one of us hearing this story reacts with sadness and anger. Who could do such a thing?
We can only identify a gesture so vile and cruel with a third party, someone other than ourselves. And yet, we are just as guilty. What does Good Friday teach us if not that we are all capable of abandoning the One who carries the Cross? Every one of us: truly every one. The feet that are washed on Holy Thursday are not those of sinners "who have limits to what they'll do." Someone, a human being just like us, stole from a mother praying at her daughter's grave. We condemn him, but he is our fellow man. Yet, lurking in this dark recess of the soul is the power to rise again, written in the Resurrection we once again are celebrating.
A great show of solidarity
While we human beings are capable of terrible things, we are also—precisely when we feel the burning pain of evil—capable of reacting with that opposite force that we call solidarity, a word that is used so much that it sounds a bit overused and abstract.
After Federica Toffanin's sorrowful announcement, someone—many people—burst into action.
First, according to the Italian news outlet La Nuova Venezia, a local businessman who wished to remain anonymous bought new chocolate Easter eggs to replace the stolen ones, and delivered them to the police to give to Federica so she could go on with the fundraiser. Not only that; the police themselves, in a gesture of empathy and generosity, "passed the hat" among themselves to make an additional donation. Similarly, the employees of a local supermarket chipped in to raise funds for the charity.
It would be nice if we always did the right thing the first time around; if we did it more out of our own initiative than as a reaction when someone else fails. Yet, to use a volleyball analogy, there's something poignant about recognizing ourselves as excellent at digging rather than at spiking. Yes, the volleyball player who spikes makes a huge jump and is beautiful to watch; when digging to block the spike, the player is squatting and is decidedly less photogenic and more awkward. Crouching down to save spiked balls: that's us. It's a real position of service. Fast downward balls can come unexpectedly, but if we stop them it can create unexpected opportunities to strike back.
From an ignominious theft, a wave of generosity has been unleashed that's giving visibility to the reality of pediatric hospices, and that can only do a great deal of good. Hospice is a place of suffering from which we often want to avert our eyes, but it's not just a hospital of death. And the narrative of the facts of a case like this is not a simple equation: even from an evil deed good can be born. The truth is that often there really is no alternative. We must roll up our sleeves more diligently when we feel the wound of our sins.
Easter in a hospice
There are doors that we want to keep firmly closed. In a hospice you enter only if forced by a tragic case of fate, we think. And no one should have to enter a pediatric hospice.
Instead, they are inhabited places, where love and being present with those who are dying is intensely meaningful. I have not personally experienced what is seen and lived in those rooms. Some say that there, the beauty of life comes into focus as never before—while broken with pain, one might add. Is that possible? Can we open that door without everything tasting only of death?
Federica Toffanin entered that place because her daughter was affected by a very rare disease—there have only been five reported cases in all in Italy. It seems like the precise and cynical shot of a sniper.
The news about this bereaved mother forced me to think about how one spends Easter in a pediatric hospice. Until now I had been complaining about having to spend it locked up at home, without relatives and friends, without the pleasant option of a trip out of town. Basically—as always—I was thinking about Easter without really thinking about the Resurrection.
Painter Piero della Francesca is very concrete in portraying the Risen Jesus; his depiction shows one of Jesus' feet, with the mark of the nail, still standing on the wall of the tomb. Jesus does not fly lightly through the air. He rises, practically supporting himself on the tangible signs of death. Whoever sees death up close, hears its echo not too far away and sees it on a dear young face, is supported on the need for something to come, Someone, to pull the stone away from everyone's tomb.
And even just imagining for a moment, from a distance, those who walk a daily Way of the Cross among the rooms of these hospitals makes me look for a moment of silence. I want to reflect on how much the whole mystery of He Who rises from the dead is written on wood and stones, things as hard as the apparent hostility of reality—as hard as our own hearts.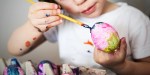 Read more:
The surprising holiness of Easter eggs