For this novena, we'll pray with the Consecration Prayer of Alphonsus Liguori.
O Holy Patriarch, I rejoice with you at the exalted dignity by which you were deemed worthy to act as father to Jesus, to give him orders and to be obeyed by him whom heaven and earth obey.
O great saint, as you were served by God, I too wish to be taken into your service. I choose you, after Mary, to be my chief advocate and protector.
I promise to honor you every day by some special act of devotion and by placing myself under your daily protection.
By that sweet company which Jesus and Mary gave you in your lifetime, protect me all through life, so that I may never separate myself from my God by losing his grace.
My dear St. Joseph, pray to Jesus for me. Certainly, He can never refuse you anything, as He obeyed all your orders while on earth. Tell Him to detach me from all creatures and from myself, to inflame me with His holy love, and then to do with me what He pleases.
By that assistance which Jesus and Mary gave you at death, I beg of you to protect me in a special way at the hour of my death, so that dying assisted by you, in the company of Jesus and Mary, I may go to thank you in paradise and, in your company, to praise my God for all eternity.
Consider these important traits of St. Joseph to imitate: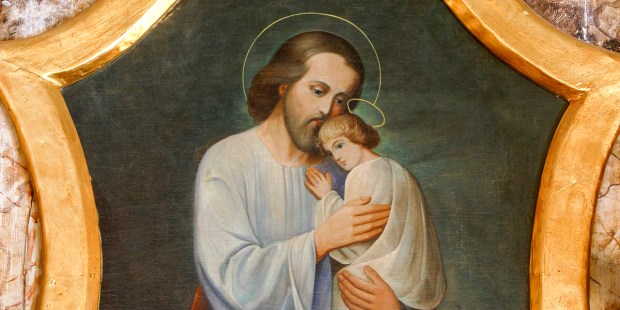 Launch the slideshow