For this feast of St. Jorge (George), the Holy Father visited with people receiving their 2nd dose of the Pfizer vaccine.
Pope Francis celebrated his name day (the feast of St. George or Jorge in Spanish) with some of the disadvantaged of Rome who were receiving their second dose of the Covid vaccine.
The Holy Father stopped by the vaccine center set up in Paul VI Hall, with a huge chocolate Easter egg.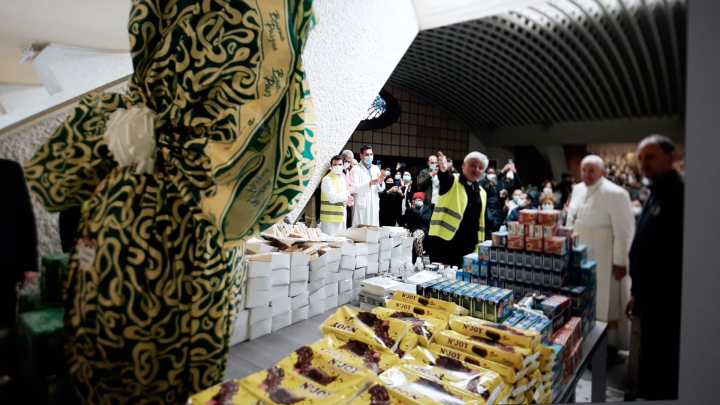 © Vatican Media
According to the Holy See Press Office, the Pope spent around half an hour with those present, which included some 600 people receiving their second shot.
Those present sang a song of well-wishes for the Pope's name-day.
"As he stopped to speak to several volunteers in a joyous and cordial environment, the Holy Father thanked them and encouraged them to 'continue your hard work!'" read the Press Office statement.
Cardinal Konrad Krajewski, the Papal Almoner, then thanked all the volunteers and health workers for their part in organizing the vaccination campaign.
Vulnerable of Rome
Those receiving the Pfizer-BioNTech vaccine were part of a larger group of 1,400 who got the first jab during Holy Week.
The group includes several guests of a home run by the Missionaries of Charity, people receiving aid from the St. Egidio Community, and others helped by a group called "Medicina Solidale."
The Vatican's campaign to offer free vaccines for those in need began in January, at the same time as Vatican employees started receiving the jab.