Orthodox Christians take Easter eggs very seriously, but the Fabergé eggs made for the Romanovs were remarkably secular in design and ornamentation.
This Sunday is Easter for Greek, Russian and many other Orthodox churches. The reason for the one-month difference is that most Western Christians adopted the Gregorian calendar as established by Pope Gregory XIII in 1582. Catholic countries were the first to embrace it; eastern Orthodox calculations for Easter have continued to use the calendar proposed by Julius Caesar in 45 BC.
Another difference between the two branches of Christianity is how seriously the Orthodox followers take eggs. They are not some sugary confection to be consumed as a reward for Lenten forbearance. They are decorative and longer lasting. 
The most famous of these eggs are, of course, those made by Carl Fabergé's atelier for the Russian Imperial family. Despite being part of the Romanovs' Easter offerings to each other, it's surprising how secular they are. Out of the 40-something known examples, only two have a discernible connection with Our Lord's death or resurrection. One of these has features a red cross, but is really a tribute to the family member who founded the Red Cross in Russia. 
The other has a similar look on the outside while the inside has imagery that is unmistakably part of the Easter story. As the Fabergé eggs were all about surprising the recipient, this one must have done its job properly. Most open to reveal twee miniature carriages or portraits of family members. This egg in the Cleveland Museum of Art has a painting of the risen Christ. Flanking the image are Sts. Olga and Tatiana. These were the names of Empress Alexandra's daughters, who had worked with their mother to establish the Red Cross, founded in Switzerland five decades earlier.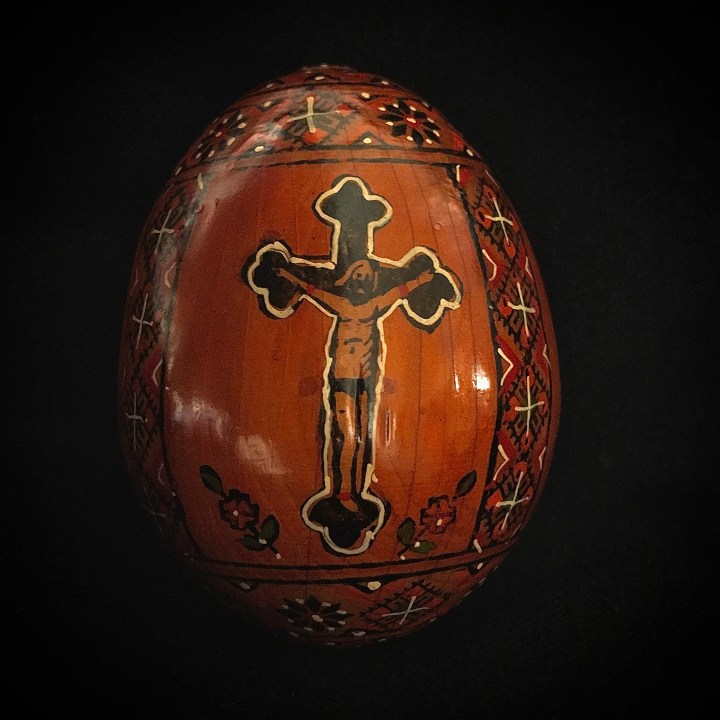 Lucien de Guise
The help that the Imperial ladies gave to Russia's wounded soldiers in the First World War did not save their lives. All seven members of the ruling family were murdered by communists in 1918. Their Faberge eggs were later sold by Joseph Stalin. 
The tradition of giving decorated eggs at Easter has continued in Russia and elsewhere to this day. The painted-wood example here is very much humbler than the enameled and bejeweled Romanov gifts, but it does have more religious meaning.
The virtual Museum of the Cross
This 20th-century Russian wooden egg is from the collection of the Museum of the Cross, the first institution dedicated to the diversity of the most powerful and far-reaching symbol in history. After 10 years of preparation, the museum was almost ready to open; then came COVID-19. In the meantime, the virtual museum has started an Instagram account to engage with Aleteia readers and the stories of their own crucifixes: @crossXmuseum