From migrants of Africa to restorers of Rafael's masterpieces, this team draws together athletes for a higher goal.
From the smallest state in the world, the first—and so far only—sports association formed within the Leonine walls of Vatican City is emerging with energy and enthusiasm.
Founded in 2018, Athletica Vaticana is a track and field team composed of more than 100 members. It projects a message that focuses not only on running but also on the promotion of spiritual and cultural initiatives, and solidarity. They're running a race towards eternity in the Vatican.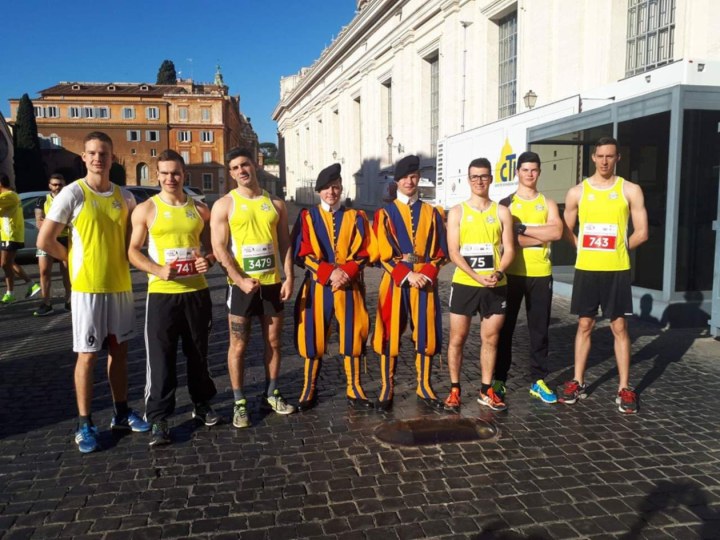 Vatican Media
Thank you, Lord, 
because you let me run and you don't abandon me at mile 22
of the great marathon of life.
Thank you, Lord, 
for the beauty of running alone, 
in the woods and among other people,
in the cold and the heat, the rain and the wind…
Thus begins the prayer of the marathon runner (available in 37 languages), a message that Pope Francis' track and field team, a legal association registered with the Italian Olympic Committee, keeps well in mind.
It's a team with an inclusive soul: from African migrants to members of the Swiss Guard, from post office workers to pharmacists to restorers of Raphael's works of art. It currently includes men and women from 19 to 65 years of age.
Among its members are also professors from the Vatican Apostolic Library and priests, as well as an Apostolic Nuncio (Charles John Brown) and a bishop (Jean Paul Vesco).
Vatican Media
Much more than sports
This all happens under the watchful eye, per the team's statutes, of two spiritual leaders who guide the way and indicate the right path: Msgr. Andrea Palmieri—under-secretary of the Vatican's Pontifical Council for Promoting Christian Unity—and Fr. Giovanni Buontempo, who works at the Dicastery for the Laity, the Family and Life.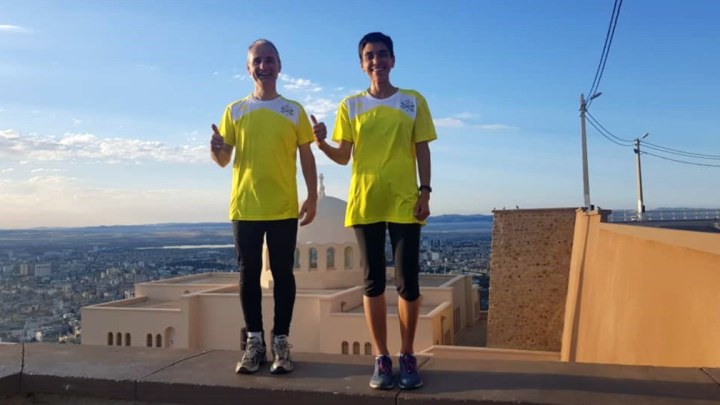 Vatican Media
Above all, they are the ones in charge of building the necessary bridges for the organization of a pre-race Holy Mass; especially in the run-up to the marathons in Rome, Florence, Venice, Valencia and New York. 
"The most beautiful thing of all is that Athletica Vaticana was born spontaneously on the street. Some Vatican State employees used to meet before work in Via della Conciliazione to run. It is important to know that, although there are other sports such as cricket or soccer, track is the only one officially recognized here by the Holy See," explains its president, Giampaolo Mattei.
Vatican Media
Diversity on the team
He's quick to point out that the overall objective is playing sports in the company of others, a goal very important in itself. "As the pope says: foster community and give testimony. Through exercise, he told us when he met with us, you have to bank on solidarity and inclusion," he notes.
In fact, not everyone is a resident or employee of the small state, since there's a little 12-year-old girl in a wheelchair who also races with them. Her name is Sara, and she's an angel.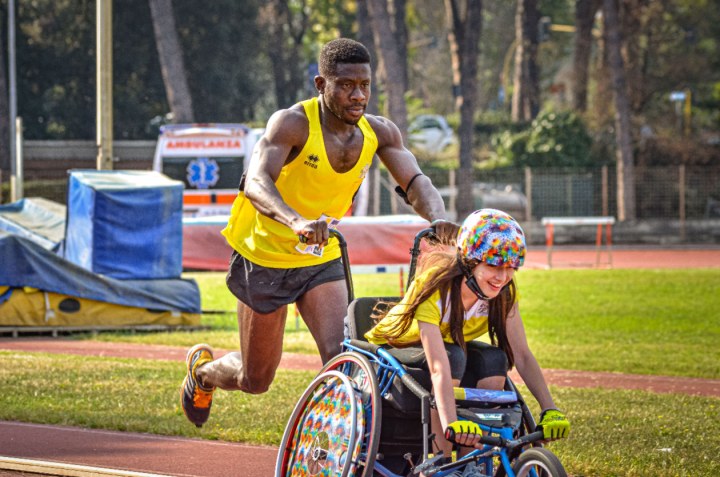 FOTO4GO via Athletica Vaticana
"Not to mention the two migrants, one of whom is a Muslim," says Mattei, a journalist for Osservatore Romano, as he looks out over the horizon imagining a world where people would exist together as well as they do on the team.
Vatican Media
"Now we're resuming training, then we're going out for pizza," he says—everyday things that until a few weeks ago sounded like utopia because of the pandemic.
A race for life
"Beyond athletic success, what struck me about this team are the values that the Holy Father always preaches. That is, attention to the human aspects of living alongside each other, attention to those who are discriminated against, to those who have some kind of physical or psychological problem. Our idea of teamwork is that there is no distinction of ethnicity, religion, culture or language," Professor Paul Gabriele Weston strongly emphasizes from his pulpit as a teacher. 
It's precisely these powerful "footnotes" of this message that make the group, created by Mattei and the Spaniard Melchor Sanchez, Under-Secretary of the Pontifical Council for Culture, even greater.
Together, these two men lead a project which, before the pandemic, had planned to organize a worldwide athletics meeting in Castel Porziano, called "Run Together." It already had confirmed the presence of important athletes from many countries, but also people who were in prison, people battling mental illness …
Vatican Media
The coronavirus has slowed them down, but not stopped them. "We'll do it in September if the pandemic allows it this time," says Mattei, who flatly rules out another idea that his colleague Melchior had in mind. "No Olympic Games for the moment. Our reality is smaller, perhaps within a European competition of small European states, together with San Marino, Montenegro or Macedonia."
Perhaps. Only time and providence will decide what is the reality and the goal of this small and at the same time gigantic athletic story, of overcoming obstacles and winning glory. The story of a group with fraternal spirit that does not want to compete as much as simply to run.
Thank you, Lord, 
because you are close to me in moments of fatigue,
when sweat clouds my eyes,
the tiredness makes my knees weak
and I would like to stop.
But I go on with you!
Vatican Media