In this parish-based program, a statue of Our Lady travels to parishioners' houses to become the focus of prayer.
Among the many devotions to the Virgin Mary is the Our Lady of Fatima Rosary Crusade, also called the Pilgrim Virgin program.
This parish-based program is a way to foster devotion to the Blessed Mother and to bring families together to pray the Rosary on a daily basis.
According to the Archdiocese of Milwaukee, "It is a Filipino tradition that statues of Mary go from house to house. While the statue remains in the house for a week, the family may find time to pray together the Rosary and other devotional prayers. The pilgrim Lady of Fatima is one example of this popular Rosary Crusade. Filipinos who have come to the United States have continued this practice and devotion and helped families keep their Catholic Christian faith."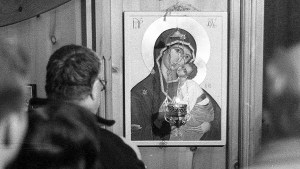 Typically families will host the statue of Our Lady of Fatima for 1-2 weeks and are invited to pray as a family each day. One of the primary purposes of this program is to unite families in prayer, or as Venerable Patrick Peyton would say, "The family the prays together, stays together."
It is also a program supported by the Legion of Mary, most often called the "Pilgrim Virgin" program.
It is a beautiful program, one that sees the value in family prayer and responds to the requests of Our Lady of Fatima to pray the Rosary on a regular basis.