Mother-of-pearl crosses adorn the models of the site of the Crucifixion.
The Church of the Holy Sepulchre has been one of Jerusalem's holiest places since Christ was executed and buried on its site. Aleteia recently published an update on research on the thousands of crosses carved on the walls inside the building.
It's a feature that was replicated by Franciscan monks, who made astonishing wooden models of the church for pilgrims. The main difference is that they created the look of a multitude of crosses on the outside of their models. Using mother-of-pearl, they inlaid these shapes to create a sacred effect and enliven the look of the exterior. In reality the exterior of the church is plain stone. 
These expert woodworkers were consistent in their use of a quatrefoil shape rather than the medley of cross styles found inside. This 18th-century example caught the eye of the founder of the British Museum, Sir John Soane, who was an avid collector of almost everything. His house is a public museum that has been left exactly as it was in his lifetime. Being the most famous architect of his day, he no doubt liked the way that the roof of the model could be removed to inspect the interior. 
Soane seems not to have travelled any further east than Italy, so he would not have seen the other wares made in the Holy Land under Franciscan supervision. Needless to say, there were many other souvenirs available for pilgrims. This pectoral cross from the 19th century uses the same mother-of-pearl trefoil design as on the church model. It would have been much easier to carry, or wear, on the journey home. The wooden model in the British Museum is more than 16 inches wide and very heavy.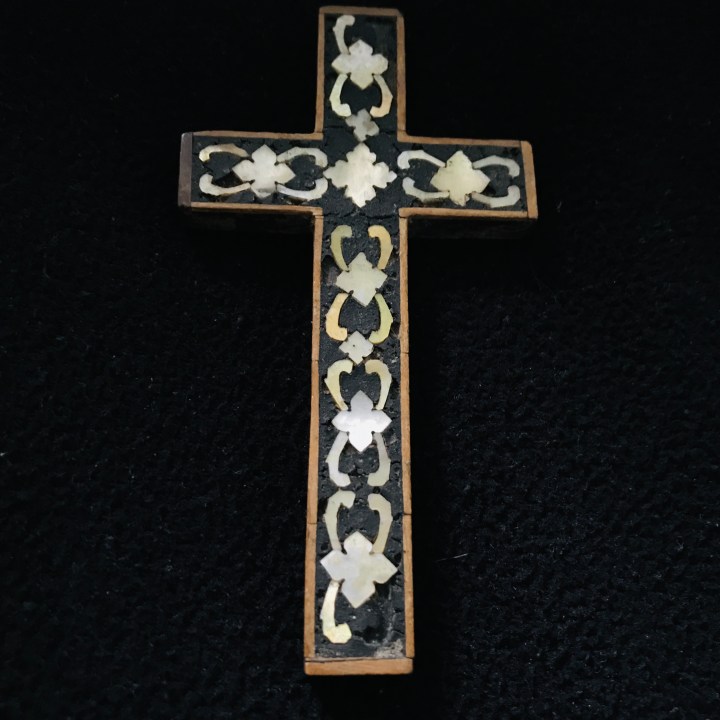 L. de Guise, Museum of the Cross
The virtual Museum of the Cross
This pectoral cross is from the collection of the Museum of the Cross, the first institution dedicated to the diversity of the most powerful and far-reaching symbol in history. After 10 years of preparation, the museum was almost ready to open; then came COVID-19. In the meantime, the virtual museum is starting an Instagram account to engage with Aleteia readers and the stories of their own crucifixes: @crossXmuseum