The much-maligned King Richard III has been reunited with his family's sacred jewelry.
King Richard III is surely the most controversial of England's rulers. The name was never used again by an English king after him. Despite the assertions by Shakespeare and many others, it's possible that Richard III was the victim rather than the villain of England's complicated 15th-century politics. 
King Richard has the air of a sensitive man in the famous painting of him in London's National Portrait Gallery. It's certain that he was devout in a way that would later be called Roman Catholic. Within two generations of his death on the battlefield, England would have become Protestant. The son of the man who took his throne later became Henry VIII. 
Richard's physical appearance was vilified from the time that Henry VII won the War of the Roses. Tudor apologists turned his crooked spine into a metaphor for a twisted personality. Sadly, St. Thomas More joined in the Tudor jesting about his supposedly hunched back and short stature. 
Richard was without doubt a man of his time who loved jewelry. The portrait shows him with numerous bejeweled rings, chains and a cap badge. He is not wearing anything quite as sacred as the reliquary pictured above, which was probably owned by the king's wife, mother or mother-in-law.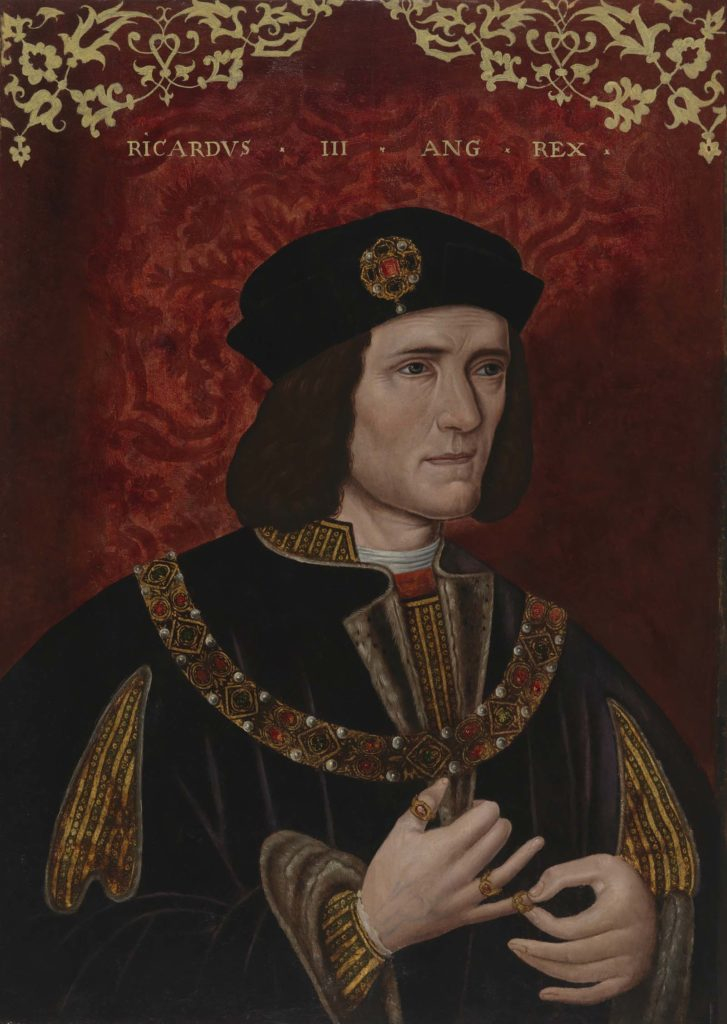 National Portrait Gallery London
Richard's portrait and this exquisite gold and emerald jewel were recently put on display together at the Yorkshire Museum in northern England. This was Richard's home county, but it is not where he was buried. When his body was discovered and identified in 2012, it was decided that he would have a proper burial — having originally been tossed into a less than regal grave that ended up beneath a parking lot. The re-interment was in an Anglican cathedral far from York, but at least a Catholic cardinal was in attendance.
It's a miracle the jewel was also rediscovered. Found by a hobbyist using a metal detector in 1985 near Richard III's castle in Yorkshire, it is exactly the sort of ornament that the Protestant Reformation later tried to eradicate. Being a reliquary would have been bad enough on its own. To make it worse, in the eyes of iconoclasts, one side features the crucifixion while the other has the Virgin Mary. 
We should be grateful that it was not discovered by those zealots from the past. They would surely have torn out the sapphire. This rare blue stone was the symbol of Mary, and therefore an abomination to the new national religion of Henry VIII and his successors.
The virtual Museum of the Cross
The Museum of the Cross, the first institution dedicated to the diversity of the most powerful and far-reaching symbol in history. After 10 years of preparation, the museum was almost ready to open; then came COVID-19. In the meantime, the virtual museum has started an Instagram account to engage with Aleteia readers and the stories of their own crucifixes: @crossXmuseum