In address to conference on birth rate, pope calls for change to culture, and also better family policies.
Andrew Medichini / POOL / AFP
Pope Francis on May 14 traveled a short distance from the Vatican to address an interdisciplinary meeting on the issue of Italy's low birth rate. As the pope observed, "For years Italy has thus had the lowest number of births in Europe, in what is becoming the old continent no longer because of its glorious history, but because of its advanced age."
This last year, with the added issues caused by the pandemic, Italy had the lowest birth rate since national unity.
The demographic winter is one that many countries are facing, some already with dire statistics.
The Holy Father called for attention to the issue, and urged a righting of the various factors that would make it more possible to have children.
The data say that most young people want to have children. But their dreams of life, buds of rebirth for the country, clash with a demographic winter that is still cold and dark: only half of young people believe they will be able to have two children in their lifetime.
A good future
The pope insisted that taking care of families is a necessity for the future. Concerns such as employment and the costs of raising children "are fears that can swallow up the future, quicksand that can sink a society."
I also think, with sadness, of women at work who are discouraged from having children or have to hide their pregnancies. How is it possible that a woman should feel ashamed of the most beautiful gift that life can offer? Not the woman, but society should be ashamed, because a society that does not welcome life stops living. Children are the hope that gives birth to a people!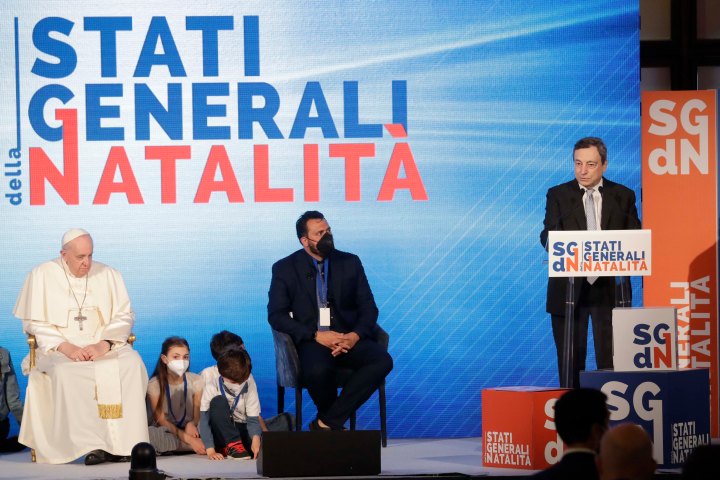 Andrew Medichini / POOL / AFP
A new spring
The pope said he would offer three thoughts "that I hope will be useful in view of a hoped-for spring, which will lift us out of the demographic winter."
Gift.
"Every gift is received, and life is the first gift that each one of us received. No one can give it to himself. First of all there was a gift. It is a 'before that we forget in the course of our lives, always intent on looking towards the 'after,' to what we can do and have. But first of all we have received a gift and we are called to pass it on.
"And a child is the greatest gift for everyone and comes first. To a child, to every child, is attached this word: first. Just as a child is awaited and loved before he or she is born, so we must put children first if we are to see the light again after the long winter."
In this regard Pope Francis decried the individualism that can be reflected in the declining birthrates and the relegation of the elderly — "a subtle way of stating that it is all about us, that our individual concerns are the only thing that matters."
We forget the "primacy of gift," he said, and especially this happens in the wealthier societies.
Indeed, we see that where there are more things, there is often more indifference and less solidarity, more closure and less generosity. Let us help each other not to lose ourselves in the things of life, to rediscover life as the meaning of all things.
The pope encouraged rediscovering the "courage to give, the courage to choose life." Citing the Gospel's affirmations that where your treasure is, there will your heart be, he asked, "Where is our treasure, the treasure of our society? In the children or in finances? What attracts us, family or income?"
The courage to choose life is creative, because it does not accumulate or multiply what already exists, but opens up to novelty, to surprises: Every human life is a true novelty, which knows no before and after in history.
2. Sustainability
"We often talk about economic, technological and environmental sustainability and so on. But we also need to talk about generational sustainability."
The pope noted that in the phases of reconstruction after the wars of Europe, "there was no restart without an explosion of births, without the ability to instill confidence and hope in the younger generations."
A "few hasty adjustments" are not enough.
The pope spoke, "in addition to the primary role of the family," of the importance of schools, and entertainment and sport.
It is sad to see role models who only care about looking good, about being young and fit. Young people do not grow up thanks to the fireworks of appearance, they mature if attracted by those who have the courage to pursue big dreams, to sacrifice themselves for others, to do good to the world in which we live. And staying young does not come from taking selfies and retouching them, but from being able to look into the eyes of your children one day. Sometimes, however, the message goes out that fulfilment means making money and success, while children seem almost like a distraction, that should not hinder one's personal aspirations. This mentality is a gangrene in society and makes the future unsustainable.
3. Solidarity
"Just as we need generational sustainability, we need structural solidarity. […] We need a policy, an economy, information and culture that courageously promote birth."
The pope called for "wide-ranging, far-sighted" family policies, "not based on the search for immediate consensus, but on the growth of the common good in the long term."
In addition to emphasizing "sufficiently stable employment, security for [young people's] homes, and incentives not to leave the country," he noted:
[H]ow wonderful it would be to see an increase in the number of businesses and companies that, in addition to producing profits, promote lives, that are careful never to exploit people with unsustainable conditions and hours, that are able to distribute part of the profits to workers, with a view to contributing to an invaluable development, that of families! This is a challenge not only for Italy, but for many countries, often rich in resources, but poor in hope.
Solidarity should be expressed, the pope explained, also in information services, in the world of culture, sport, and entertainment.
The culture of the future cannot be based on the individual and the mere satisfaction of his or her rights and needs. What is needed is a culture that cultivates the chemistry of the whole, the beauty of giving, the value of sacrifice.
Do not give up
The Holy Father concluded with thanks and a final word of encouragement. "Thank you to each one of you and to all those who believe in human life and in the future. Sometimes you will feel as if you are shouting in the desert, tilting against windmills. But go on, do not give up, because it is good to dream, to dream well and to build the future. And without a birth rate there is no future."