Today's intention: For all social workers.
During the month of May, the Church around the world is joining in a daily Rosary for the intention of the end of the pandemic, as well as a specific intention related to the various victims of the virus.
Each day of the month, a different shrine will lead the daily Rosary, according to local practice.
The beginning and the end of the Rosary Marathon (May 1 and May 31) are led by Pope Francis.
See below to follow the list of the Shrines.
Watch the Rosary live at 6 p.m. Rome time (12 noon EDT) by clicking here. The video screen at the top will go live at the designated time.
Day 21 intention: For all social workers
For today's Rosary Relay, we turn to a place of horror and hope, the Immaculate Conception Cathedral in Urakami, Nagasaki, Japan.
Construction of the original cathedral began in 1895, after a ban on Christianity was lifted. It was built by survivors of persecution, a Catholic community who had lost many of its own to martyrdom.
Fifty years later, the cathedral built by the devotion and love of these persecuted Christians was decimated by the atomic bomb that was dropped at 11:01 am on August 6, the feast of the Transfiguration and the first day of the Novena for the Feast of the Assumption (August 15).
Everyone inside the cathedral was immediately incinerated.
A new cathedral was built in 1959, on the grounds of the destroyed one.
The head of a statue of Our Lady was found in the ruins, her eyes destroyed by the bomb. She is known as the Virgin of Urakami and is displayed in the new cathedral, a searing icon of the destruction.
When Pope Francis visited Japan in 2019, the image was placed in the stadium where he celebrated Mass, and he incensed it.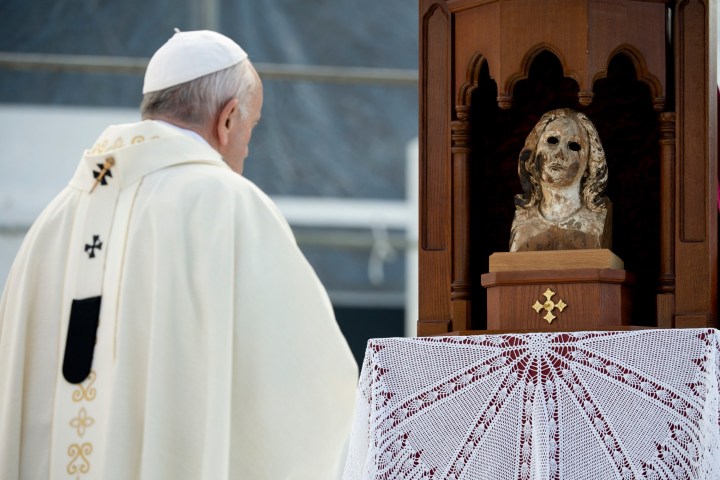 ©VATICAN MEDIA /CPP
To see several images of the cathedral, both the one destroyed and the new one, click the article below: