Today's intention: For law enforcement, military, and firefighters.
During the month of May, the Church around the world is joining in a daily Rosary for the intention of the end of the pandemic, as well as a specific intention related to the various victims of the virus.

Each day of the month, a different shrine will lead the daily Rosary, according to local practice.

The beginning and the end of the Rosary Marathon (May 1 and May 31) are led by Pope Francis.
See below to follow the list of the Shrines.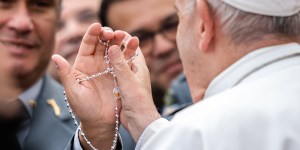 Read more:These 30 shrines will lead the Rosary Relay for end of the pandemic
Watch the Rosary live at 6 p.m. Rome time (12 noon EDT) by clicking here. The video screen at the top will go live at the designated time.
Day 21 intention:For law enforcement, military and firefighters.
We continue our Rosary Relay at the Sanctuary of Our Lady of Cape in Cap-de-la-Madeleine, in Quebec, Canada.
The story of how this out-of-the-way shrine became a popular pilgrimage destination begins in 1867. Once characterized by a deep Marian devotion, the parish had fallen into decline during a time when the church was left without a resident pastor. 
That devotion was revived when the new pastor, Fr Luc Desilets, saw a pig inside the church chewing on a rosary. In that moment he vowed to consecrate himself to the Blessed Virgin and reintroduce devotion to the rosary to his parishioners.
The statue of the Blessed Mother enshrined at the church was a donation from a parishioner seeking the intercession of the Virgin Mary. It depicts the image of Our Lady as she appeared to Catherine Laboure — the same one as seen on the Miraculous Medal.
The shrine became known as a place of miracles in 1879. Because of its growing number of parishioners, plans were made to build a larger church. When the St. Lawrence River failed to freeze over that year, sleds conveying stones for the church could not make it across the river. Fr. Desilets asked the faithful to pray for the intercession of the Blessed Mother, and in what is known as "the Miracle of the Ice Bridge," pieces of ice floated downstream to form a bridge to allow construction to proceed.
In 1888 the church was formally dedicated to Our Lady, Queen of the Most Holy Rosary. On the evening of the dedication Fr. Desilets, accompanied by another priest and a parishioner witnessed the statue's eyes open.  That occurrence, and a number of reported cures, led to an increase in the number of pilgrimages made to the church.
After Pope John Paul II visited the shrine in 1984, the shrine became a popular pilgrimage destination for young people. Every summer the faithful from across Canada and the United States arrive by bus, by car and by foot to venerate Our Lady.