The archipelago, strategically located at the very center of the Mediterranean, is famous for its extraordinarily well-preserved prehistorical monuments. But its numerous paleo-Christian structures are among the most important in the whole world, and offer a unique testimony to the life of early Christian communities in the area.
What can God do in your life with one Bible verse a day?
Subscribe to Aleteia's new service and bring Scripture into your morning:
Just one verse each day.
Click to bring God's word to your inbox
Malta, some say, is one big church. They are somehow right. It is, in more ways than one. To begin with, the archipelago is home to more than 365 churches. Naturally, the Maltese would often joke saying they could attend Mass in a different church every day of the year if they wanted to. What might seem like an exaggeration (why so many churches in a country that is 2.5 times smaller than New York City?) makes sense considering not only that Malta is the European country with the highest population density (just under 1300 people per square kilometer) but also the country with the highest percentage of Catholics in the entire continent: almost 98% of the Maltese are (proudly!) Catholic.
Also, the landscape of the archipelago lends itself for contemplation. If it is true, like Augustine and other Christian philosophers claimed, that one can get a glimpse of God's perfection by looking at the many beauties of creation, Malta could be a kind of amusement park for contemplatives: the archipelago offers exceptional sandy beaches, cliffs rising sharply from its pristine waters, impressive natural grottoes, and also lush green valleys alike.
But a literal look underneath the surface reveals even more (and no, we are not referring to Malta's celebrated dive sites): an intricate system of catacombs makes it clear that Maltese Christianity is as old as Christianity itself. In fact, the Maltese Christian community is as ancient as those of Ephesus, Jerusalem, Corinth, and Rome, thanks to Paul's (providential) shipwreck, as told in the Book of Acts.
Picture this scene: It's 60 AD. Paul is sailing across the choppy waters of the Mediterranean, on a ship belonging to the fleet of the Roman emperor. Its destination is Rome itself, where the Apostle is going to be tried after being accused of preaching Christianity in Jerusalem.
But after being hit by a storm, the Roman ship capsizes. What sounds like an unfortunate, almost tragic event turned out to be the birth of the two-thousand-year long, uninterrupted Christian Maltese tradition. It was in one of the small northwestern islands now known (for obvious reasons) as Saint Paul's Islands (yes, you can visit them in your next trip to the archipelago) where Paul was able to touch land. The text of Acts of the Apostles (27:27-28:5) reads as follows:
"Once safely on shore, we found out that the island was called Malta. The islanders showed us unusual kindness. They built a fire and welcomed us all because it was raining and cold. Paul gathered a pile of brushwood and, as he put it on the fire, a viper, driven out by the heat, fastened itself on his hand. When the islanders saw the snake hanging from his hand, they said to each other, 'This man must be a murderer; for though he escaped from the sea, the goddess Justice has not allowed him to live.' But Paul shook the snake off into the fire and suffered no ill effects."
This scene (that of Paul being bitten by a snake, suffering no consequences) has inspired artists throughout the centuries, becoming one of the favorite themes of Pauline iconography. But, more importantly, it is the same event that led these hospitable locals to understand there was something special about their guest. Many started to listen to his preaching (including Publius, the then Roman governor of the island, who soon became its first bishop and saint), and thus Malta's first Christian community was born.
Even if the birth of this Christian community was surely auspicious, for the following two, almost three centuries, Christianity was considered illegal by the ruling Roman emperors. Just like in the mainland, early Christians living in the archipelago had to practice their faith secretly, in hiding. Burying the faithfully departed was not the exception. Since burials in the city were only allowed for legally authorized cults (Judaism included), Christians buried their own in catacombs, outside the walls of the then Roman capital Melite (today Mdina).
Today, the intricate, extensive Catacombs of Malta are the largest archaeological evidence of Early Christianity in Malta. In fact, these systems of catacombs are among the largest ones of all Christian traditions, second only to the ones found in Rome. Built between the third and eight centuries, St. Paul's Catacombs alone sprawl across an area of over 22,000 square feet. And according to local tradition, they were once even connected to Saint Paul's grotto, the place where the Apostle immediately took refuge as soon as he arrived in the island. It must be noted, though, that Saint Paul's are not the only Catacombs in Malta: Saint Agatha's, for example, are comprised of more than 500 entombments, for Christians, Jews, and pagans alike; and Ta' Bistra are the largest Catacombs outside Rabat (where both St. Paul's and St. Agatha's are located). St. Paul's and Ta' Bistra (and other Catacombs) are managed by Heritage Malta, while St. Agatha's are under the responsibility of the Missionary Society of St. Paul (M.S.S.P). Heritage Malta is also managing the Catcombs of St. Augustine, Ta' Mintna, Salina, and Abbatija tad-Dejr. Heritage Malta is the national agency that in charge of museums, conservation practices, and the vast cultural heritage of the archipelago.
In the very early days, Christian entombments in Malta were mainly composed of a deep rectangular opening and one or two chambers on its sides, where bodies would be properly and ceremoniously placed. Some of these relatively simple structures can still be appreciated in these catacombs. But throughout the centuries, as these communities grew, Christians obviously needed to build larger chambers, including liturgical and devotional (and not exclusively ornamental) elements as part of these constructions. Eventually there were so many of these chambers that they ended up being joined together, becoming fully-formed catacombs with walls filled with deeply symbolic iconographic elements, and so an intricate system of underground tunnels leading from one tomb to the next stands to the day, and are fully open to the public. After an extensive restorative work which Heritage Malta begun back in 2015 (with a budget of around 4 million euros, partially provided by the European Fund for Regional Development), these catacombs can be visited by all those interested in exploring more of this fascinating Mediterranean tradition. St. Agatha's underwent restoration in 2017, and are open for visitors too.
The skill with which early Maltese Christians were able to dig these corridors and chambers by sculpting directly on the raw limestone rock is, to say the least, impressive. Visitors setting foot in Saint Paul's main complex will notice two halls inscribed by Doric style pillars, and a constant repetition of ionic-style engravings marking the entrance and exits of almost every corridor. Each of these two halls contains well-preserved round tables made of limestone rock, set in a low platform with sloping sides that look like the classic triclinium (reclining couch) of most Roman houses. These tables were probably used for liturgical burials, and perhaps for the early eucharistic celebrations. 
These impressive treasures of early Christianity can be visited as follows:
Saint Paul's Catacombs are open form Thursdays to Sundays between 10:00 and 16:30, but from the 1st of June will be open all week from 10:00 to 17:00, and tickets can be pre-booked on Heritage Malta's website (as part of combo tickets to visit other sites in the same area). Visits to Bistra, Abbatija tad-Dejr, Salina and Saint Augustine's Catacombs are by appointment only (you can plan your visit by contacting Mary Rose Muscat on: mary-rose.b.muscat@gov.mt; and Stephanie Mifsud – both representing Hertiage Malta – on stephanie.b.mifsud@gov.mt if you want to visit Ta' Mintna). St. Agatha's should be open from the 15th June, but Br. Domnic Borg should be contacted on borgdominic@gmail.com in order to plan your visit.
Make sure to visit the slideshow below enjoy some unique views of these unique paleo-Christian structures, among the most important in the whole world.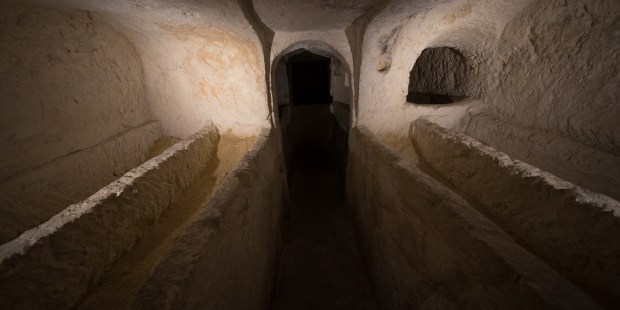 Launch the slideshow
We would like to thank David Cardona (field archaeologist and excavation director) and Joseph Farrugia (Coordinator of the Business Development Unit) of Heritage Malta; and Br. Dominic Borg (M.S.S.P), curator of the St. Agatha's Complex, for supplying literature and images related to the sites under their responsibility.
This content has been brought to you in partnership with the Malta Tourism Authority