Her life in the camp is itself a miracle. How could a person become an angel of kindness in a place of such horror?
Blessed Julia Rodzińska derived her strength and hope from prayer, despite the brutal beatings she had to endure.
Her fellow inmates called her an angel of goodness. Blessed Julia Rodzińska died in Stutthof concentration camp at the age of 46. She was among the 108 martyrs who died during World War II and were beatified by Pope John Paul II.
In the camp Sister Julia Rodzińska shared literally everything, including bread, with others. It was from a slice of bread that she made rosary beads. People of various nationalities would visit her, wanting to pray the Rosary.
"Come to Sister Julia for the Rosary," they used to say.
Mother of orphans
She was born Stanisława Maria and was orphaned early. After the death of her parents she was looked after by Dominican nuns from a nearby convent. After finishing school, Stanisława Maria was educated at the Teacher Training College in Nowy Sącz.
At the age of 17, she decided to leave school and enter the Congregation of the Sisters of St. Dominic. She took on the white habit and assumed the new name of Maria Julia. She was sent to Krakow, where she continued her studies and, after passing the qualification exam, became a teacher.
She was especially tender towards orphans, looking after their clothing and education. She pursued her vocation in Mielżyn n. Gniezno, Rawa Ruska and Vilnius. She took care of the poorest children and young people and worked as a nanny in an orphanage.
When the Soviet army invaded Vilnius, the situation of the nuns dramatically changed. In September 1920, the Dominican sisters were dismissed from their work and with the permission of the Church authorities, started wearing lay clothes.
Sister Julia taught clandestinely during the German occupation until her arrest in 1943.
Good angel in the inferno of the concentration camp
The nun was incarcerated and tortured in Łukiszki. She nevertheless did not relinquish her faith or her core values. She was held for a year in an isolation cell and then evacuated with other prisoners to Stutthof concentration camp.
From then on, Julia became number 40992. Dirt, vermin, limited access to drinking water, low food rations distributed in extreme conditions — it was all an insult to human dignity. But, she would not lose hope and was kind to everyone.
One day she learned that an inmate was planning on taking his life in the Jewish camp. She sent him secret messages until he assured her that he would not commit suicide. Later on, the man admitted that it was Sister Julia who instilled in him hope for surviving the inferno of the camp.
Rosary made of bread
The nun encouraged others to pray. She even made rosary beads out of a slice of camp bread. Ewa Hoff, one of the survivors, described one emotional event.
She touched me gently, as only a mother could wake a child: "I have some soup for you and I would like you to eat it while it is still warm. That is the only reason I woke you up," Sr. Rodzińska said to her.
A witness to mercy
When a typhus epidemic broke out in the camp in 1944, the authorities isolated the Jewish camp from the others. The plan was that the Jews would be left to all die of the disease.
The other prisoners avoided the death block, but not Sr. Julia, who arranged deliveries of medicines and water. She continued to help even when she herself contracted typhus. Witnesses testified that Rodzińska "provided mercy in conditions where the existence of mercy had been forgotten."
She died a martyr's death, her body tossed on a mound of bodies meant to be burned.
One of the inmates covered Sister Julia's naked body with a piece of the camp's striped garment, to express gratitude and respect for her life of sacrifice for others.
Eyes on Eternity
During the Holy Mass marking the 20th anniversary of her beatification, Fr. Piotr Ciuba OP, prior of the Dominican priory in Krakow, observed: "She was an angel in an abyss of evil, offering help to the suffering. She is proof that good can flourish even where evil seems to have taken root."
The camp survivors recall her as a "nun kneeling on a wooden board, her back straight and her head raised, her eyes fixed on Eternity."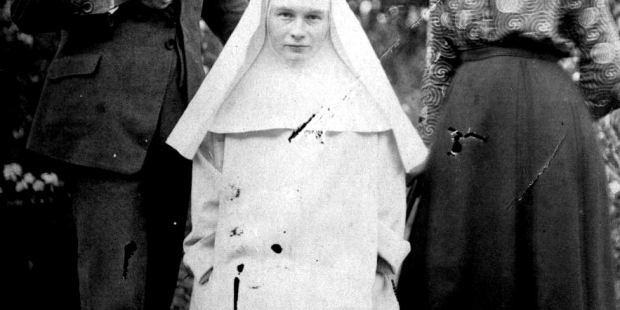 Launch the slideshow