French Catholic prisoners-of-war during the Napoleonic Wars carved intricate devotional items like this crucifix.
The relationship between France and England has often been worse than it is now. We don't often think about prisoners-of-war from the past, but there were 100,000 French soldiers housed in England during the Napoleonic wars. 
With plenty of time on their hands, some of these captives created items of astonishing detail from discarded animal bones. Ships were their favorite subject, along with practical items such as domino sets. The more devout Catholic prisoners made devotional items. A common feature of their work was the drilling of holes through bone — a simple form of decoration available to prisoners with severely restricted toolkits.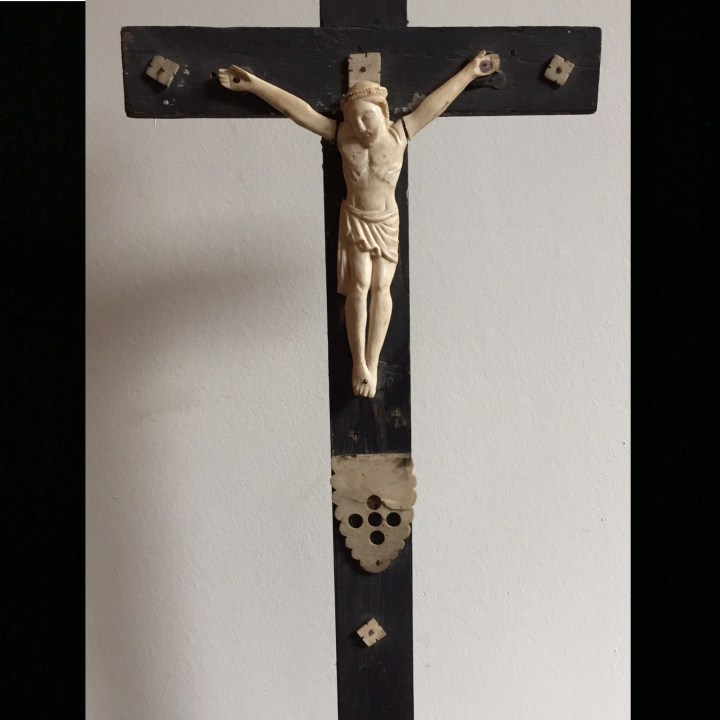 Lucien de Guise
Elsewhere on the crucifix shown here, other bits of bone have been used to create small floral motifs that are slightly different from those used to decorate typical French crosses of that era. The carver of this crucifix had access to wood as well as bone, possibly recycled from old packing cases. Where there was nothing but animal remains to work with, the look of a bone-on-bone crucifix is somewhat lacking in contrast. The Corpus Christi in this case is an object of personal piety that relies more on the serenity of Our Lord's face than on the naive quality of the workmanship. 
The virtual Museum of the Cross
This early 19th-century crucifix is from the collection of the Museum of the Cross, the first institution dedicated to the diversity of the most powerful and far-reaching symbol in history. After 10 years of preparation, the museum was almost ready to open; then came COVID-19. In the meantime, the virtual museum has started an Instagram account to engage with Aleteia readers and the stories of their own crucifixes: @crossXmuseum