An incarcerated man wrote an anonymous note telling his priest how much he appreciates his ministry.
A few days ago, Fr. Marco Pozza—priest, theologian, writer, and chaplain of the Due Palazzi prison in Padua, known for his publishedconversations with Pope Francis—shared on his Facebook page an anonymous note that he found in the sacristy of the penitentiary immediately after the celebration of the Sunday Eucharist.
The author of the message is a long-time inmate, a murderer: "In here, many call me 'the butcher,'" the note's author comments.
For the incarcerated man, the Holy Mass is a moment of renewal
For him, Mass is a real "weekly hour of fresh air," an authentic renewal. Although he's never believed in God, he says he now feels that he's about to give in to His loving persistence.
Before the Lord, even those who've used weapons to kill find themselves unarmed. And here the resurrection of Christ becomes flesh; death does not have the last word in anyone's life. Not even in that of a murderer!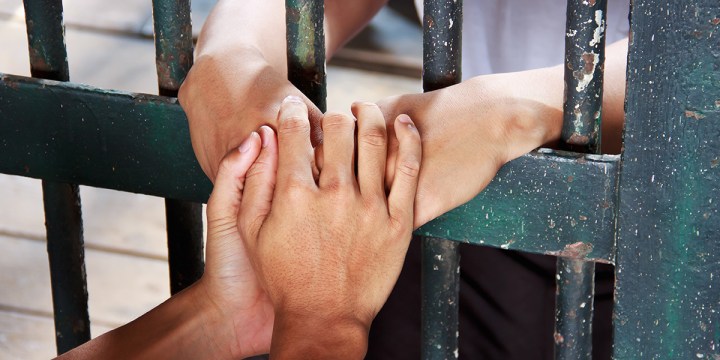 Happiness99 | Shutterstock
With a straightforward way of speaking that at times becomes profane, but frank and sincere, the convict expresses the gratitude he feels towards the priest, Fr. Marco.
He sees the chaplain as a "surfer"
He expresses not only his gratitude, but also the deep love he feels towards the priest.
He does so with an extraordinary image: He compares the chaplain to a skilled surfer who has to navigate the increasingly high and treacherous waves of the difficult life among the inmates.
JCLobo | Shutterstock
The chaplain seems to be alone, but is actually preceded by God. His faith is the "surfboard" that helps him face the open and stormy sea of the prison.
He is trying not to fall, not to be thrown down by the waves, which are all the disappointments, fatigue, defeats and difficulties, and also bad tempers and deception that he encounters every day. And above all, he has to navigate the selfishness of the prisoners, which, the author of the note writes, increases as the years of the sentence go by.
Prisoners' requests
Goodness is quickly forgotten in prison, continues the author of the message. The prisoners always have new requests to make, like small children who ask you for dinner before they've even finished their snack.
According to the note, they always have new problems to present to those who make themselves more available, first of all the chaplain, hoping for (or demanding) help and solutions.
For Fr. Marco, it's all thanks to Our Lord
Starting over every day must be exhausting for Fr. Marco; the author of the text has noticed his tiredness, and that's why he decided to put his thoughts down on paper, without too many embellishments.
He wants to remind the chaplain that he truly does a lot for them. He sees that taking on the burden of so many broken lives is anything but easy.
Yet Fr. Marco, by putting everything back into God's hands, manages to go ahead with his mission. When something works out and he manages to stay on the surfboard, he's quick to say that it's all thanks to Our Lord.
Here's a full translation of the prisoner's message, as Fr. Marco shared it on Facebook (although we've edited out the expletives):
(Anonymous note found in the prison sacristy) – "On Sundays, at Mass, I watch everything. And I think. I stand aside, outside the circle of sycophants: I've always been an imbecile, and here inside for many I'm "the butcher," the one who should die buried alive. Mass is my real "weekly hour of fresh air": I've never believed in God, but God is stubborn with me. Against this stubbornness of his, my weapons are blunt, I'm about to surrender the war: yet I've used weapons to kill. When Mass is over, I watch the human wave of us inmates sweep over the priest. I imagine the demands: stamps, phone calls, jobs, underwear, interviews. And then [expletive], lots of it, even when he doesn't deserve it. Even from those who try to help. But here we soon forget that even the priest has a head like us. We're selfish; the prison makes us worse day by day: those who have never been in prison cannot understand the stress we inmates subject everyone to, chaplains and volunteers in first place. In all jails. Last Sunday, in my cell after Mass, I thought that if someone asked me to describe my chaplain (that's you), I'd have no doubt: he's a surfer. Here in Padua, the waves are getting higher and higher, and he's getting lonelier and lonelier, but still he tries to stand on the surfboard. When he succeeds, he'll say that God did it. For me he's just a man with a granite will. Have a nice Sunday, you blockheaded priest: since the other day in the chapel I saw that you were tired, I wrote these lines to tell you that I love you. It won't do any good, but at least it's better than [expletive]" (A convict who has been in jail for twenty years).