Pope emeritus lent several objects to the Rome show, mounted by liturgical artist Albano Poli.
The 70th anniversary of the priestly ordination of Joseph Ratzinger — Pope Benedict XVI — is being celebrated in an art exhibit in Rome.
The exhibit, titled "Cooperatores Veritas," after Pope Emeritus Benedict's episcopal motto, opens June 29 at Galleria Arte Poli, Borgo Vittorio 88 in Rome. The free exhibition runs through December 22, and organizers say they are willing to conduct live "virtual tours" for anyone who cannot see the show in person.
Photo Courtesy of Progetto Arte Poli
Archbishop Georg Gänswein, Prefect of the Papal Household and personal secretary of Benedict XVI, is expected to participate in the inauguration of the exhibit on Friday, June 25.
Project Arte Poli, based in Verona, was founded 65 years ago by Albano Poli, a liturgical artist who has done work in the Vatican Gardens, the Basilica of St. John Lateran and elsewhere. 
It also has a studio in Rome, near St. Peter's Basilica, where the exhibit is taking place.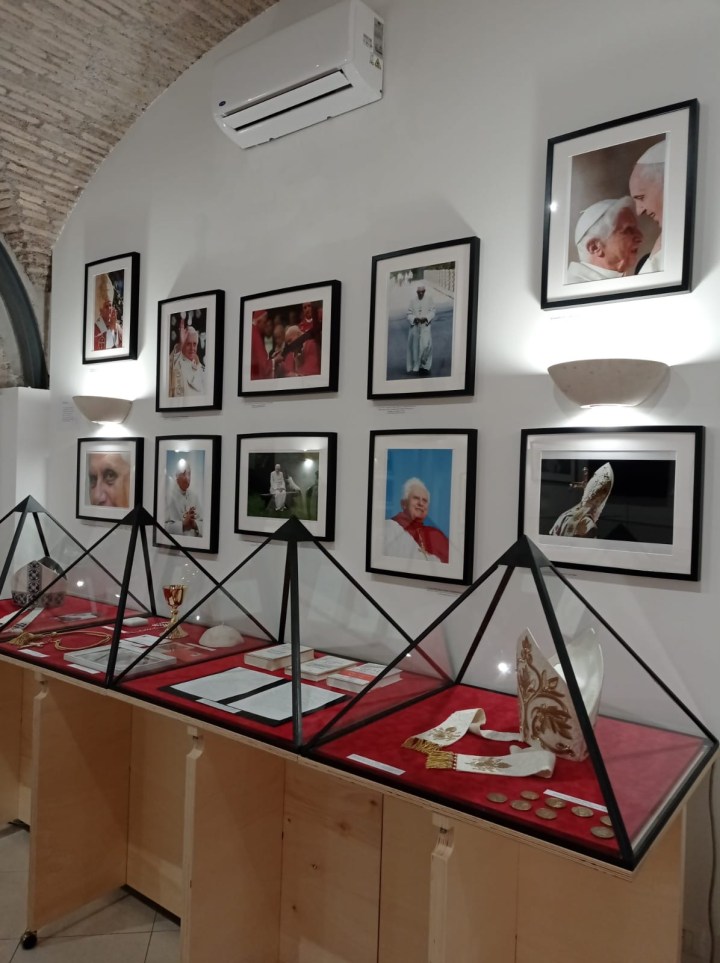 Photo Courtesy of Progetto Arte Poli
Some of the objects in the show include Pope Benedict's personal items, which he lent to the exhibition from his residence in the Mater Ecclesiae Monastery in the Vatican. It includes photographs, a certificate for his first Communion and a holy card for his first Mass as a priest; various papal objects, such as the chalice and chasuble he used; and manuscripts.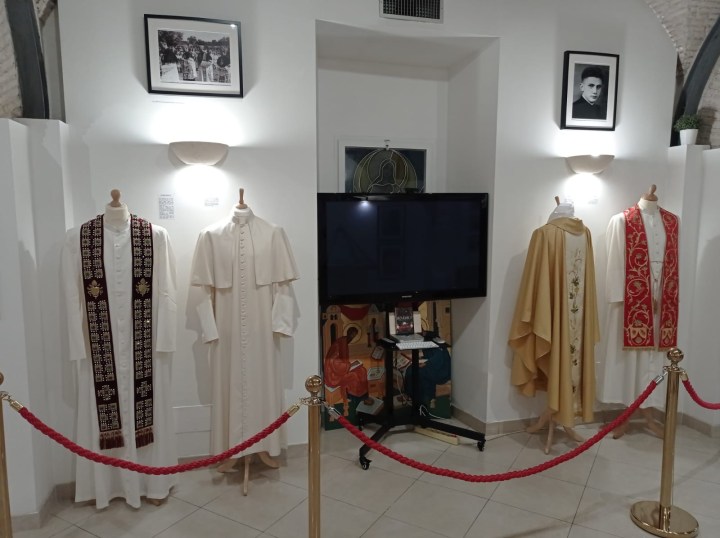 Photo Courtesy of Progetto Arte Poli
Joseph A. Ratzinger was ordained to the priesthood on June 29, 1951. 
In addition, Poli painted a portrait of Pope Benedict for this occasion, with items in the background showing various aspects important in his life, such as a piano, a sculpture of St. Augustine, and a cameo of Pope Benedict XV.