Here's how to make technology a useful tool that doesn't replace what's most important, like prayer and family time.
Technology is just about inescapable these days, for better or worse. For all its benefits, it brings major drawbacks too. 
"How we spend our days is, of course, how we spend our lives," Annie Dillard once wrote. "What we do with this hour, and that one, is what we are doing."
For a majority of people today, how we spend our lives is looking at screens. The average U.S. adult will spend the equivalent of 44 years of their life staring at screens. 
That's the kind of research finding that might make a person want to hurl their smartphone in a dumpster and downgrade to a "dumb phone" permanently. But for many of us, that's not an option. Our devices have become indispensable, for everything from buying groceries to making plans with friends to navigating car trips to fielding work emails.
But surely there must be a spectrum between "no screens, ever" and "44 years of life wasted on scrolling social media." What lies in between these two extremes? How can we practice prudence in our use of technology, benefiting from it while keeping it very much in its proper place?
One father has spent years considering these questions. Author and cultural analyst Andy Crouch published The Tech-Wise Family: Everyday Steps for Putting Technology in Its Proper Place in 2017. In it, he lays out a profoundly prudent roadmap for making technology a useful tool that does not erode more important things like prayer, family time, and meaningful conversations. 
Now Crouch has published a new book, written in collaboration with his 19-year-old daughter, Amy. The book, My Tech-Wise Life: Growing Up and Making Choices in a World of Devices, is a source of sensible counsel for teens on the challenges and rewards of making purposeful choices about technology before adulthood. In it, the Crouches explain how controlled use of social media can minimize exposure to many negative experiences.
If you're intrigued, check out this fascinating conversation with Andy and Amy over at The Trinity Forum on "Living a Tech-Wise Life." They share some of their best tips from the book and discuss the possibilities and pitfalls of technology with nuance and discernment. You can also sign up to participate in their Tech-Wise Challenge here. 
Both books are ones every family should have on hand. The Tech-Wise Family is an indispensable guide for parents in managing their family's screen use, while My Tech-Wise Life is a book I wish every teenager could read. The Crouches have put great thought into their approach, and it's a path we could all benefit from following.
If you'd like a sneak peek at how to choose a tech-wise life, check out the Crouches' Ten Commitments of a Tech-Wise Family.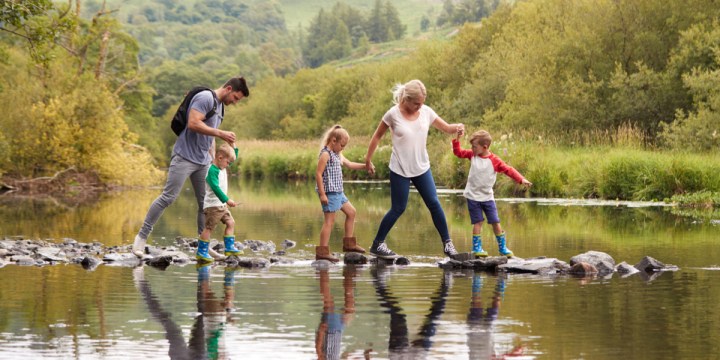 Launch the slideshow