Canada Day is a perfect time to get to know these unique and significant holy sites.
Pilgrimages are an important part of the Christian spiritual life, and there are many holy places worth visiting in North America — some of which you've probably never heard of! Since today is Canada Day (the official birthday of the nation), it's a perfect moment to get to know some fascinating shrines in Canada. When traveling gets easier, you may want to plan a family trip to one or more of these shrines in the beautiful land of the maple leaf.
Shrine of Our Lady of the Cape — Cap-de-la-Madeleine, Quebec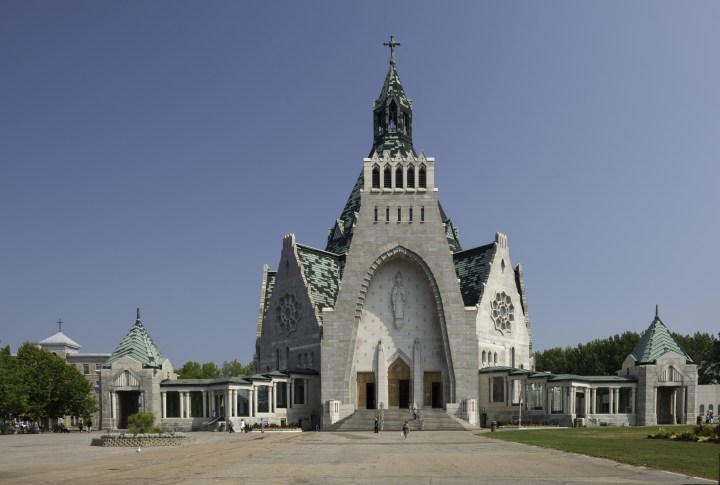 Shutterstock I Richard Cavalleri
Considered by some to be the most important Marian shrine in North America, this one goes back to the middle of the 17th century, when a priest with the Brotherhood of the Rosary built a small fieldstone church in place of an earlier wooden structure. After a new church was eventually built across the river thanks to a "miraculous" ice bridge, and the stories of its Marian statue opening its eyes spread, the shrine grew as a popular pilgrimage spot. Sporting an enormous organ, impressive stained glass windows, and a park that overlooks the St. Lawrence River, it continues to be a favorite spot for prayer and quiet reflection.
Martyrs' Shrine — Midland, Ontario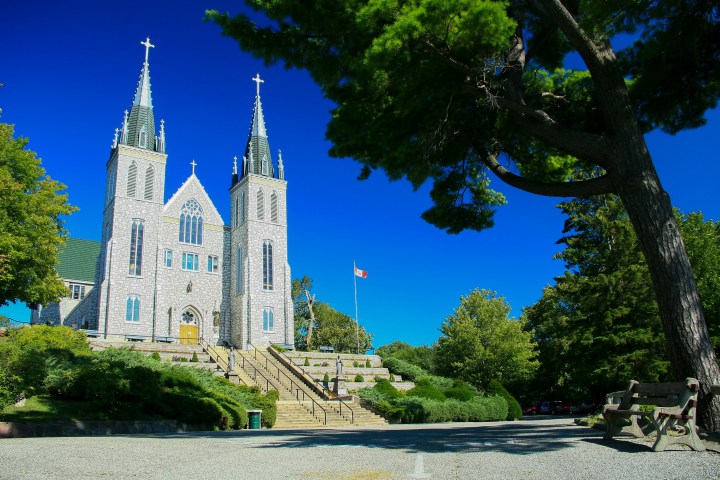 I. Pilon | Shutterstock
Martyrs' Shrine is dedicated to the the Canadian martyrs (also called North American martyrs) — Jean de Brébeuf, Antoine Daniel, Noël Chabanel, Charles Garnier, and Gabriel Lalemant — Jesuit missionaries killed in 1648-1649 by the Iroquois. Closed right now until May 2022 (due to the pandemic), the Shrine still offers a televised Sunday Mass and you can ask for a candle to be lit by one of the Jesuits there. The staff also offer 8-day online Ignitian retreats and they recently launched a new prayer hotline for those who need prayer: 1-855-495-PRAY (7729).
Bishop Velychkovsky Martyr's Shrine — Winnipeg, Manitoba
Sometimes called Canada's "second martyr's shrine," this church houses the holy relics and intact body of Blessed Bishop Vasyl Velychkovsky, a Ukrainian priest who was imprisoned, tortured, and hailed as the "Father of the Underground Church" in Ukraine. Disabled and sick from the treatment and tortures he received, the bishop was eventually invited to come to Winnipeg in 1972, where he died just a year later, in June 1973. When he was beatified by Pope John Paul II, it was discovered that the bishops's body was fully intact. His holy relics were then enshrined in a chapel in St. Joseph's Ukrainian Catholic Church in Winnipeg, where pilgrims now pray and seek his intercession. The Shrine plans to re-open this month after being closed during the pandemic.
Mount Carmel Shrine — Carmel, Saskatchewan
There are many small Marian shrines that dot the landscape of Saskatchewan, and one of them is dedicated to Our Lady of Mount Carmel. The land on which it stands was donated to St. Peter's Abbey, which built the religious monument to declare Mary the patroness and protectress of St. Peter's Colony — an area of 50 townships of German-speaking settlers. A large white marble statue of Mary holding the baby Jesus was imported from Italy and erected in 1928. Ten years later a chapel and altar were built, as well as 14 Stations of the Cross that lead up to the Shrine.
Mother of Sorrows Pioneer Shrine — Mabou, Nova Scotia
Nestled among the highland hills of Mabou on the island of Cape Breton, Nova Scotia, this church was repaired and restored and officially opened as a shrine in July 1968. It was dedicated to Our Lady of Sorrows and to the brave pioneers of the Mabou area –hundreds of Highland Scots who first settled there between 1800 and 1845. Today thousands of pilgrims and travelers stop at the Shrine to seek the intercession of the Blessed Mother and to contemplate the serenity of this beautiful spot.