These 10 quotations from Church teaching and Sacred Scripture reveal the authentic freedom Christ wants for us.
Today Americans celebrate the Declaration of Independence and our freedom as a nation. Yet the understanding of freedom that many celebrate is not the authentic freedom to which Christ calls us. In honor of the occasion, let's take a closer look at what it means to live in the freedom of God. 
There are two kinds of freedom: "negative freedom," which is freedom from external restraints on a person's actions; and "positive freedom," which is freedom to choose some greater good. 
The great Dominican moral theologian Servais Pinckaers referred to negative freedom as "freedom of indifference" and positive freedom as "freedom for excellence." Positive freedom is not possible without negative freedom, of course. But negative freedom alone is not fully ordered toward human flourishing.
Pinckaers uses the example of playing the piano: Anybody has the "freedom" to bang away on a piano in a cacophony. But only someone who has practiced and worked hard on scales and drills has the freedom to use the piano for what it was intended, which is to play an exquisite piece of music. 
This analogy can be applied to moral life. Repeatedly choosing to do the right thing, even when it's hard to do so, is what makes us truly free to be the best versions of ourselves.
The Catechism describes how choosing what's right shapes our lives and our very souls, allowing us to live in an authentic liberty. It says,
Freedom is the power, rooted in reason and will, to act or not to act, to do this or that, and so to perform deliberate actions on one's own responsibility. By free will one shapes one's own life. (1731)
Just as choosing virtue makes us authentically free, so does choosing vice ensnare us: "The choice to disobey and do evil is an abuse of freedom and leads to "the slavery of sin." (CCC 1733)
This Independence Day, let's remember that freedom goes so much deeper than political laws and governmental rights. God is calling us to an authentic interior freedom, manifested in right and virtuous action. 
Let's begin again to choose to do the right thing, even when it's a struggle. Let's choose positive freedom, freedom for excellence—the freedom Christ won for us, once and for all.
These 10 quotations from Church teaching and Sacred Scripture reveal what authentic Christian freedom means. They inspire us to pursue this liberty through the choices we make today and every day of our lives.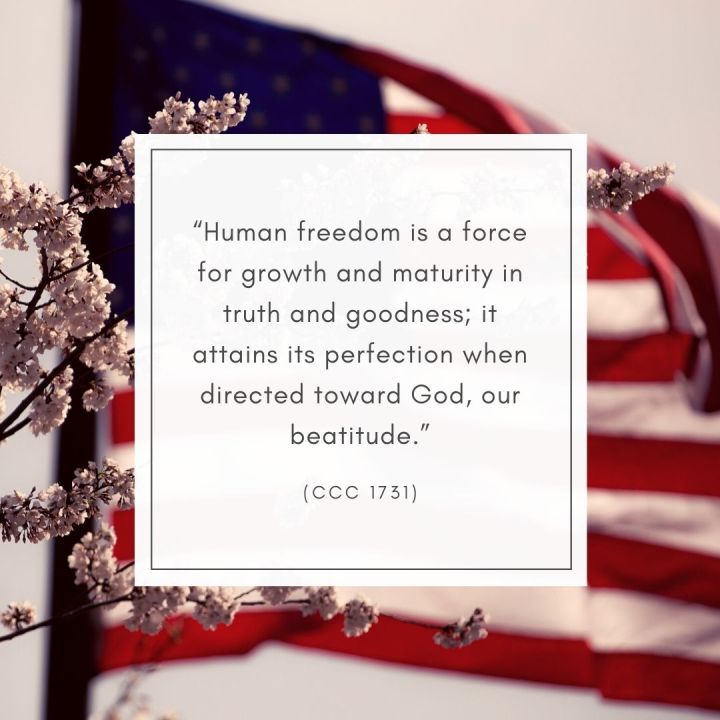 Launch the slideshow