Maciej Leszczynski felt aimless as a young man, until he began to write icons and his life changed forever.
As you enter Maciej Leszczynski's small studio under the roof of a building in the Parisian suburb of Boulogne-Billancourt (Hauts-de-Seine), you're immediately struck by the faces that shine from a multitude of icons. Some hang on the wall, and others are placed on the shelves of the library, while two unfinished ones intended for future married couples rest on the easel. Finally, there are those in the prayer corner, in the heart of the room.
When Leszczynski, a 38-year-old bachelor with an athletic figure, who used to sing in a rock band, begins to describe them, his soft voice becomes even softer. He tells Aleteia,
"I was trying hard to find myself as a teenager. I went through a variety of different artistic and philosophical currents, wanting to find my way. But each time, I experienced passing enthusiasm that didn't last and led nowhere. I always felt an emptiness."
courtesy of Maciej Leszczynski
Maciej Leszczynski is the author of numerous icons and frescoes, painted for churches in France and other European countries. Born on the Polish-Belarusian border, in a region where Catholics and Orthodox live together, Leszczynski comes from a mixed family: His mother is Catholic, his father Orthodox.
After graduating from high school, he decided to go on a pilgrimage, during which he met a group of students from a school of iconography in Bielsk Podlaski, Poland. That made something click, and he began his training there.
As he became more and more passionate about it, Maciej wanted to broaden his knowledge with a course in Orthodox theology. He started to study it first in Warsaw, then at the Saint-Serge Institute of Orthodox Theology in Paris. 
After 15 years of study in all, he came to understand that writing icons is a way of life. 
"When I was studying in Poland, we lived as if in a seminary: the classes and the services were part of a whole. Liturgy, prayer, singing, and iconography complemented each other. We were a quasi-monastic community that prayed, sang, and painted. The painting of icons, if it is well understood, cannot be just a passion; it's a life choice."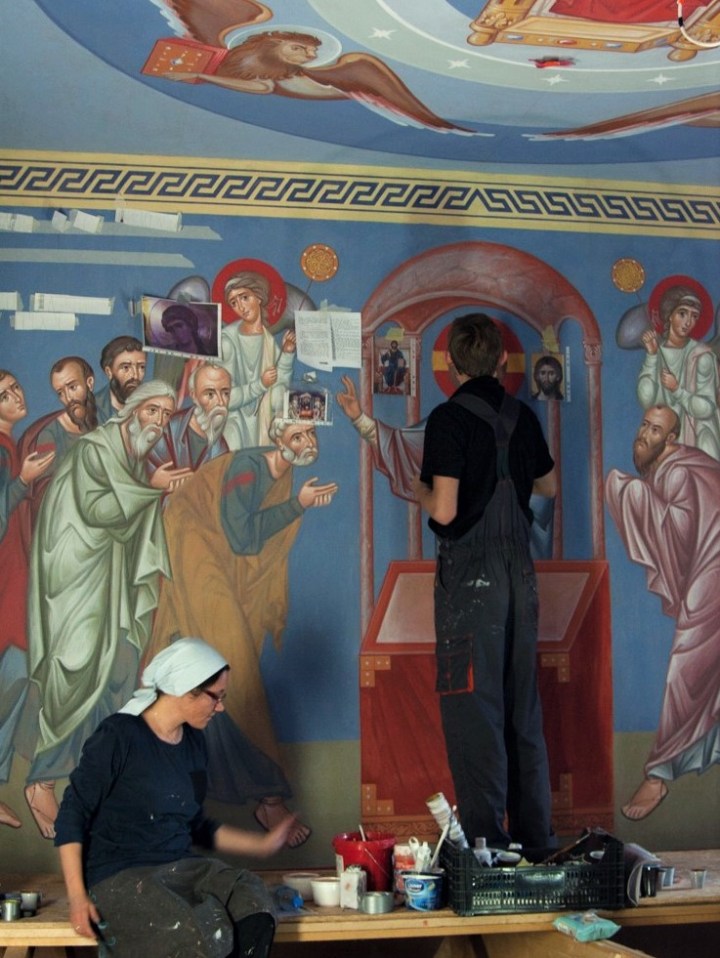 courtesy of Maciej Leszczynski
It is this vision of integral unity between "the academic and the spiritual" that inspired him to create in 2017 in Paris his own school of iconography (Saint Andrew Rublev School of Orthodox Iconography). His approach is that students can directly observe the work of the teacher.
The teacher doesn't only teach academic theory: He tries to inspire the spiritual life of pupils by his own example, or rather "to see in the teacher-pupil relationship a common path of perfection towards an ideal of virtues."
For Maciej, there's no doubt that "writing icons is a form of priestly service." Revered and praised, icons are one of the manifestations of God in the world which, according to the Holy Councils of the Orthodox Church, have equal status with the Holy Scriptures. They teach us how to pray, and teach us about God and the meaning of the Christian faith.
An icon is a spiritual guide. "When I became an icon painter, I didn't feel worthy to do so. Icons made me discover a universe in front of which I really felt very small," he explains with emotion.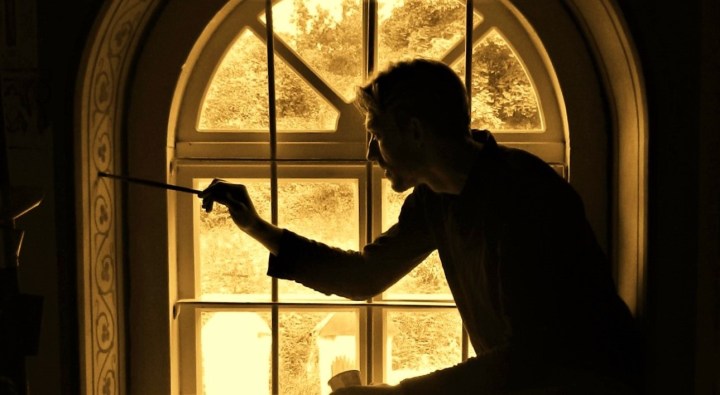 courtesy of Maciej Leszczynski
"I felt that when I painted an icon of Christ, the Mother of God, or a saint, each was really in front of me! My life began to change. Friends noticed it: my gestures, my way of speaking, and my tastes were changing. Today, there are things I can't stand anymore. Such as kitschy images on television, newspapers that show too much brutality, or works of art that no longer resonate with me. Icons force you to transform yourself internally."
courtesy of Maciej Leszczynski
An icon "doesn't really belong to the one who paints it." Maciej says,
"There's something in this work that doesn't come from me. It's a mystery. God works through the icon. I've experienced it, and my students have experienced it. There's a time before the encounter with icons and a time after. A life before and a life after."
Because an icon is "a window that reveals the mystery of the Kingdom, a mirror of the state of sanctification to which we are all called." His work creates a window to Heaven through which others can look, blessing the whole Church.