If you're in need of courage to fight necessary battles in your life, these strong-willed saints are just the intercessors you're looking for.
Plaster statues of placid saints smiling beatifically have convinced many of us that the only way to be holy is by submitting meekly to whatever injustice we might face. And while it is certainly possible to be a saint if you're shy or quiet, there is also an ancient tradition of saints who categorically refused to submit to mistreatment. If you're in need of courage to fight necessary battles in your life, these strong-willed saints are just the intercessors you're looking for.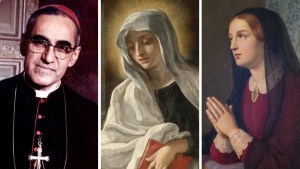 St. Eulalia of Mérida (292-304) was a sweet 12-year-old consecrated virgin who was outraged by the persecution of Christians. Though her parents tried to keep her from confronting the officials involved in the persecution, Eulalia snuck out and ran to the city, where she berated the judge and his soldiers for their idolatry and for trying to lead Christians astray, finally crying out, "Miserable men! Under my feet I will trample your gods!" She proceeded to spit in the judge's face and kick over his idols and was martyred for her outburst.
St. Eutropia of Rheims (d. 451) was the sister of St. Nicasius, bishop of Rheims. When he was arrested and martyred, Eutropia witnessed his death. Rather than stand by serenely, preparing herself to die, Eutropia fought back. She flung herself upon her brother's killer, kicking, punching, and gouging out his eyes. She was summarily executed.
St. Wiborada (d. 926) was the first woman canonized by Rome for universal veneration. A Swiss hermit and prophet, Wiborada was the bookbinder for a nearby monastery. She foretold a coming invasion of Hungarian forces and urged the monks to save the most precious manuscripts by fleeing with them. But Wiborada refused to abandon her post (or her books) and was martyred. The patron saint of librarians, she's depicted with a book in one hand and a battle-axe (the instrument of her martyrdom) in the other.
Bl. Seraphina Sforza (1432-1478) was married at 16 to a widower named Alexander, who eventually went to war and left her in charge of all his affairs. When he returned, Alexander began a very public affair, causing an outcry from all his household staff and even his own sons, who lamented the mistreatment of their beloved stepmother. When Alexander ejected her from the house, Seraphina went to the Poor Clares, where she eventually made vows. Alexander was finally converted and came crawling back. But while Seraphina had forgiven him, it was too late for him to expect her to return. No matter how he importuned her, Seraphina refused to return to him; he had made his choice and he would have to live with the consequences. Alexander lived a solitary life of penance and preceded her in death. Seraphina continued a saintly life as a nun and eventually an abbess.
St. Magdalena Yi Yong-dok (1811-1839) was born to an impoverished Korean family, the daughter of a Catholic mother and an anti-Catholic father. When her father tried to arrange a marriage between her and a non-Christian man, she tried to refuse. When this failed, she pretended to be too sick to marry. Finally, Magdalena wrote her father a letter in her blood, but this failed, too. She asked her bishop for permission to leave home, but he counseled her to stay. Though Magdalena remained at home a few more months, she eventually found the situation unbearable and escaped to Seoul. Even then, the bishop insisted that Magdalena return home, but (having made no promise of obedience in such matters) she refused. Eventually, the bishop relented and Magdalena lived a peaceful life away from her father until she was arrested and martyred.
Bl. Luke Hwang Sŏk-tu (1811-1866) was the only son of a wealthy noble family. He was expected to rise to great heights in the government, but heard the Gospel preached when he was traveling to take his entrance examination and returned home announcing that he had foregone the examination to learn about Jesus. He was beaten by his father but refused to renounce his faith. Before long, Luke had converted his wife to Catholicism, for which offense his father threatened to have him killed. Finally, Luke resorted to silence, refusing to speak for two long years. His family tried everything to heal his apparent muteness, but finally were worn down by his obstinacy and consented to study the faith. They were converted, including his extremely anti-Catholic father. When arrested, Luke continued to preach the Gospel to prisoners until his martyrdom.
St. Matthias Mulumba Kalemba (1836-1886) was the oldest of the Ugandan martyrs, a powerful man who left behind his many wives to follow Jesus. Kalemba became an evangelist (while continuing in his work as a chief) and walked up to 100 miles to reach the three evangelization centers he had established. Though naturally haughty, Kalemba chose to free all of his slaves and do even the most demeaning tasks for himself. When the Ugandan persecution began, he was arrested and ordered to march to his death alongside the others who were about to be martyred. Kalemba refused. "I am not going any further!" he cried, and sat down in the middle of the path. "What is the use of taking me to Namugongo?" he demanded. "Kill me here." His murderers did just that, hacking his limbs off piece by piece and roasting his flesh in front of him before leaving him to die slowly of blood loss and exposure.