Strangers passing by on a recent Saturday evening are offered a chance to come inside and light a candle by the Blessed Sacrament.
Near the heart of London's theater district, in a neighborhood that was once the base of operations for the city's sex industry, Soho Square is also home to St. Patrick's Catholic Church. 
While the area has gentrified, and restaurants and wine bars have replaced strip clubs and peep shows, it is safe to say that people walking by the church at night hardly notice it, let alone think of stepping inside.
Enter "Nightfever," an outreach ministry in which groups of young adults walk the streets, approaching strangers to invite them to come inside the church to place a candle by the Blessed Sacrament.
Started in Cologne, Germany, Nightfever offers people who may not have set foot in a church since they were children to come in and encounter Jesus.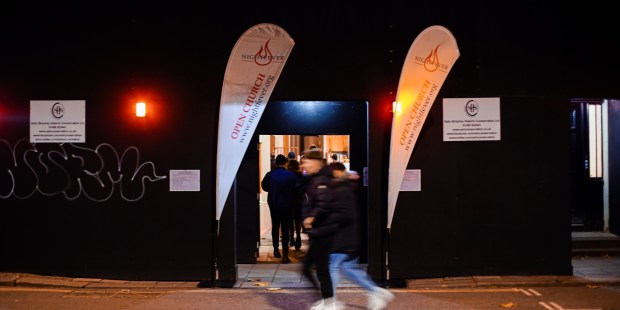 Launch the slideshow
While COVID-19 restrictions put a stop to Nightfever, the program was reinstated last month and will be offered every four to six weeks on a Saturday night, from 6 to 10 p.m. The evening starts with the celebration of Mass. Jesus in the Eucharist is then placed on the altar for Adoration. While musicians play, candles flicker in the darkness, and priests make themselves available for Confession, volunteers fan out of the church doors to invite passerby inside.
"This invitation is simple: to light a candle inside the church. No matter how someone responds, this is a moment of Christ-centered encounter where countless seeds are sown in the hearts of those who do not yet know Jesus, or those who have lost touch with Him," reads the explanation on the church's website.
While not everyone accepts the invitation, some do.
According to the event's organizers, "Once inside, they are free to light a candle, to write down a prayer, to speak to a priest, and to stay for as long as they would like. Here, we entrust the person to Jesus, knowing that He will do the rest."
View the slideshow above for photos of last month's NightFever (courtesy of Peter's House).