Start them young and your kids will grow up knowing they have friends, models, and encouragers with them always.
One of my favorite parts of the day growing up was when my mom read us a story about the saint of the day. The saints' lives were so interesting, often vastly different from my own. They grew up in places far away I had never been to, and did everything from sailing across the world to tell people about Jesus, to lying in bed paralyzed, to dying rather than betray their Creator, to scrubbing floors for most of their life. But they all had one thing in common: they were all motivated by a deep love for God.
Knowing there are lots of people who live for God has been a huge encouragement for me throughout my entire life. I still love reading about the lives of the saints whenever possible and as a parent I know that it's never too early to help your kids get to know the saints.
Here are 5 fun ways to gently introduce the saints to your children.
Color together
If you have a child who likes to color, then this is a great way to introduce the saints. This coloring book comes in a set of two, one book for half of the year. Each two page spread has a saint picture to color on one side, with a story to read on the other. The stories are well-written, and the pictures are interesting and easy to copy if you have more than one child.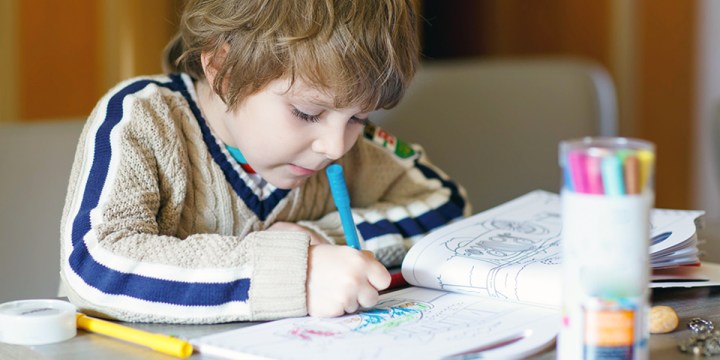 Shutterstock
Read together
Check out this beautiful new book about saints that helps shed light on the "realness" of the saints. They were not perfect, and faced many struggles similar to the ones we face today. The stories that first interested me in saints when I was growing up were from these books. Similar to the coloring books explained above, there are two books, one for each half of the year (January to June, and then July to December). As a nice bonus, each story ends with a little prayer asking the saint of the day for help in a specific situation. 
Listen to these stories on CD and podcast
Try this weekly saint podcast for kids. Each episode features one saint and is five minutes long. If you're in the car, or just have time for a longer story, check out a fascinating series of full-cast saint dramas called Glory Stories. Break out the CD player or download the MP3 versions onto your device of choice, and settle in for an engaging listen. My four-year-old has just started enjoying these, as do some of our 12 year old friends, if you're wondering what age range these might work for. 
Celebrate patron saints
If your child has a patron saint (for example, mine is St. Cecilia), make sure you mark your calendar to celebrate that saint on the day the church celebrates him or her! And if your child doesn't have a patron saint, let them choose one or choose one for them. Your celebration doesn't have to be big, but it is a nice way for your child to form a special friendship with someone who can look out for them and inspire them. 
Decorate with tiny saints
A fun way to incorporate the saints into your day is with pictures of them! Add a saint to your keychain or your kids' backpacks to help them remember some of their favorites. Check out all the options of durable and sweet Tiny Saints that this company has.