She's believed in God since she was a child, but didn't practice her faith for a long time.
You can be baptized at any age. That's what Antoinette Faure, now 91 years old, told herself when she asked to receive the sacrament in 2019. She has never left Grenoble, France, and lives in a small apartment on the south side of the city. Antoinette has been a believer since she was a child, even if she hasn't always practiced.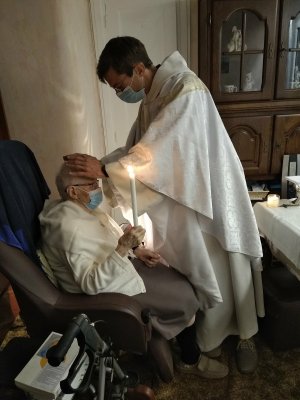 During her adolescence, her parents went through a period of conflict, and this moved Faure to draw closer to God. "I started reading the Bible every day when I was 15, because it calmed me down," she tells Aleteia. "My husband, whom I met in 1968, did the same, even though we didn't go to Mass."
In 2019, after meeting with a group of young people from the Le Rocher association (dedicated to urban missions), Antoinette realized that she had never dared to ask for baptism. They introduced her to Father Marc Burtschell, the priest delegate for the parish of St. John XXIII and a guide for the association.
"I asked him what he thought. I know it's late to be baptized and I'm old, but he told me it was no problem," she recalls.
Preparation
That's when the preparation began, faster than expected, as Fr. Marc recounts:
It struck me that this simple woman with a solid faith had gone through all these years without daring to ask, or without anyone realizing, that she wanted to go further. During our talks, she told me how the Bible had strengthened her relationship with her spouse during their nearly fifty years of marriage. Every morning they would read a passage to each other before going to work. I thought it would be nice to offer her First Communion at the same time.
A discussion with the bishop of Grenoble, Guy de Kerimel, convinced him to give the Sacrament of Confirmation to Antoinette as well, delegated by the bishop.
Seeing the second lockdown in late 2020, and given that the ceremony had already been delayed by the pandemic, Fr. Marc finally proposed that Antoinette hold the event with a small group at her home. Antoinette accepted immediately, and asked Ginette, her next-door neighbor, to be her godmother.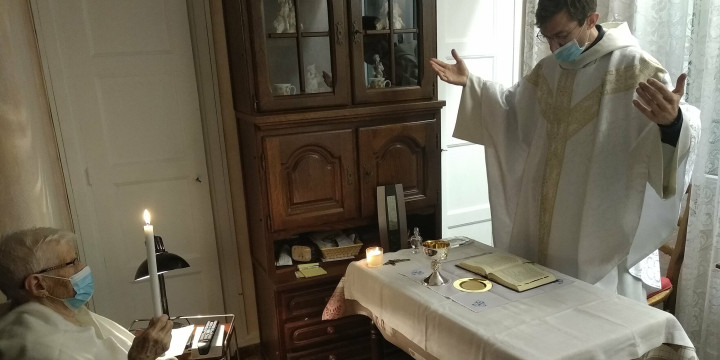 Candle in hand, sitting in her large armchair, Antoinette finally received the three sacraments of Baptism, Confirmation, and First Holy Communion on Friday, November 13, in the presence of her godmother, Fr. Marc and another friend.
"I was very touched to see this elderly woman, already bent with age, bowing to receive baptism," said Fr. Marc. "I felt a lot of peace and calm," Antoinette adds. She concludes,
For several days, it was wonderful. It gave me a lot of joy, and it helped me to accept my sciatica and the pain. I've had a hard life, but I'm very grateful for everything that's happened. I have always said thank you to God, but I say it even more now that I'm baptized. I can't walk, I have a lot of pain, I need a walker, but I thank God for what he has always done for me.