As the Catechism of the Catholic Church turns 30, a new project makes its pages come alive for a new generation.
"For many Catholics and non-believers, the Catechism is seen as a reference book or a set of rules," says project co-founder Edmundo Reyes. "But it's actually much more than that."
In order to invite a new generation to discover the extraordinary, now 30-year-old Catechism of the Catholic Church, a new project aims to unlock its wisdom and beauty.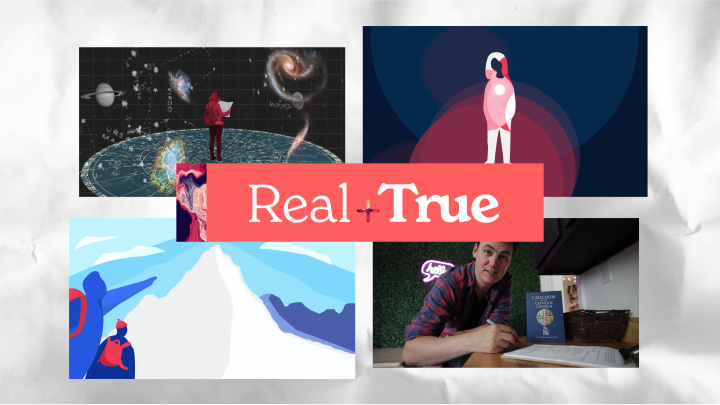 "We are excited to bring the combined effort of creatives and catechetical experts to this project to launch something truly innovative to the Church today, especially as we approach the 30th anniversary of the publication of the current Catechism in 2022," said Emily Mentock, cofounder of Real + True. 
"We believe the Catechism is not a textbook, a collection of ideas, or a set of rules. We believe the Catechism is the faithful echo of a God who wishes to reveal himself to us and desires us to respond," Edmund Mitchell, cofounder of Real + True, said in a press release. "We hope our content unlocks the beauty and wisdom of the Catechism for modern women and men — and most of all, helps people discover its pulsating heart: Jesus Christ."
Why start a new project based on an old text?
A natural question arises: Why base a new evangelical project on a decades-old book? Real + True co-founders explain, "The wisdom and beauty of the teachings of the Catholic Church do not have an expiration date and answer life's deepest questions, even of the modern world."
"In fact," they continue, "one could say the Catechism is needed now more than ever, as confusion about what the Catholic actually teaches abounds both offline and online."
Animated by the appeals of Pope Francis for renewed catechesis, including the preparation of a new Directory for Catechesis and the institution of the lay ministry of catechist, Real + True wants to bring people to Christ. "When we were discussing this project, we were inspired by an Advent homily by Cardinal Raniero Cantalamessa, the preacher of the papal household," said Mentock. "During the Year of Faith in 2012, he spoke very eloquently about how this book, the CCC, can be transformed from a silent instrument, 'like a valuable violin resting on a velvet cloth, into an instrument that sounds and rouses hearts.'"
Real + True will help people to discover the living, pulsing heart of the Catechism: the person of Jesus.
Innovation to foster encounter
The name Real + True is a reference to the real and true God. "In Jesus, God is real. He is someone, not something," explains Reyes. "He's a person who knows us and understands us. He walked this earth and showed us how to live and love. He is also the Truth, and his light guides our path."
Real + True gives the Catechism a living voice for the modern world. "The word 'catechesis' means 'echo down.' And what is it that echoes but the living voice of God?" says Mentock. "It's what God has revealed to us about him and his plan for us, so we are called to pray with the Catechism, not just study it or memorize its teachings," she urged.
Presenting engaging content in videos, podcasts and social media, Real + True rewards curiosity and fosters encounter. And it's free. 
Available in English, French, Spanish, and Portuguese, Real + True takes seriously the call to evangelize the world. "Our content speaks to the dreams, aspirations, and needs of our audience in a down-to-earth and relatable way," says Reyes.
From the heart of the Church
"The world today is hungry for Jesus and for his message of truth, hope, and love. I am pleased to see projects such as Real + True emerge, bringing innovation and excellence to the way our faith is presented to the young women and men of our Church and the world," said Bishop Kevin C. Rhoades, Chairman of the OSV Board. 
Real + True advisors include some of the most prominent voices teaching the faith today: Bishop Andrew Cozzens, auxiliary bishop of the Archdiocese of St. Paul and Minneapolis and Chairman of the USCCB Committee on Evangelization and Catechesis; Bishop Kevin Rhoades, bishop of Fort Wayne-South Bend and Chairman of the USCCB Committee on Doctrine; Bishop David Ricken, bishop of Green Bay; Stacey Noem, Gloria Purvis, Julianne Stanz, Sherry Weddell, Dr. Hosffman Ospino, Dr. Robert Rice, Scott P. Richert, Rev. Stephen Pullis, Rev. Agustino Torres, CFR, Dr. Joseph White, and Dr. Petroc Willey.
A project of Our Sunday Visitor, Real + True brings together a global team of "disciples and catechists, strategists and creatives." Meet all the Real + True partners here: https://realtrue.org/team.