After losing her children, this mother's faith and hope helped her deal with the aftermath.
Aleteia's Bénédicte de Saint Germain spoke with Sylvie Pétard, who lost her two daughters in a terrorist attack on November 13, 2015 in Paris. Anna and Marion were 24 and 27 years old when they died. Here is Sylvie's testimony about how her faith has helped her deal with the tragedy.
After the shock of the news, the trip to Paris to positively identify the girls and get their belongings, and the funeral, we fell into a black hole, drained of everything. We had no reaction. The only thing that kept me alive was to write a book for and with the girls, so as not to forget what happened.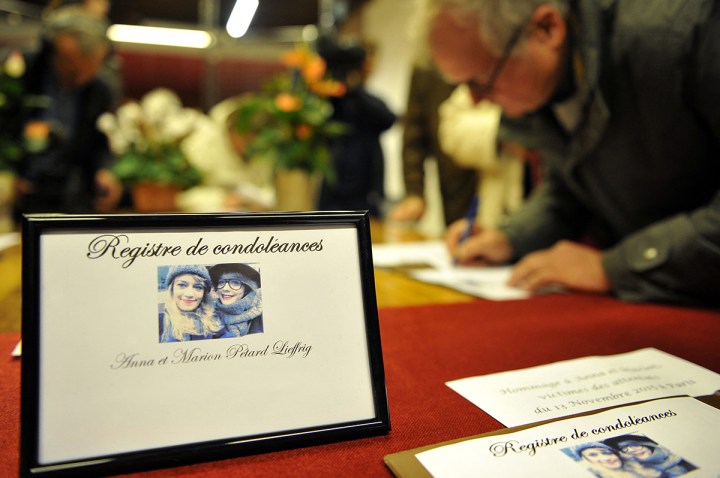 GUILLAUME SOUVANT | AFP
One night I felt like praying. It was like a force pushing me to do it. In Anna's room, I found her white Bible and started to read it. It was so good for me, and gave me another reason to seek to understand God's call.
A few days later, I saw in my mind the image of God with my daughters in a big bird's nest. I could only see their faces and that's the moment when I found them again. During these moments of prayer, Mary, who was visually very far behind, slowly came closer, placing herself between God and the girls. Since then, this image has been constantly in my mind.
The more the days go by, the more they are punctuated by prayers. Today, only God, Mary and Jesus are important. I know that the girls have found a new family. Everything is so much calmer there! I feel good in their company. Mary is protecting them until I arrive.
An shared ordeal
Érick, my husband, does not live his faith and his hope in the same way, but we remain closely united to each other; our mutual love is very strong. Our invisible and infinite sadness is in our hearts. Only faith and hope can lift us out of the water.
We must learn to live in this invisible world, different from our earthly life. Our various pilgrimages to the shrine of Montligeon [a shrine dedicated to praying for the souls of the departed] did us a lot of good. Érick got a great deal out of that shrine, and I am very happy.
My faith and this new family in Heaven is my refuge. My loving relationship with the girls has never been cut off; I am still their mom—differently, but I'm still so proud of my big girls. In the evening, before praying, I write to them. I've filled 25 notebooks so far. I tell them about my day, my ups and downs.
Our past is in my heart and soul; my future is with the girls, God and Mary. This relationship, this hope of finding them, allows me to get up every day, despite all the moments of panic and tears. My new family in Heaven boosts me for the day. Thank you, God.