Before the Second Vatican Council, popes would rarely travel outside Rome.


Need an idea for Lenten almsgiving?
Help us spread faith on the internet. Would you consider donating just $10, so we can continue creating free, uplifting content?
Make a Lenten donation here
Innocent XII was the last bearded pope, Clement VIII was the first one to try coffee, and Leo X was the first (and last) to keep an elephant as a pet. But Pope Paul VI (known as "the Pilgrim Pope") was the first to travel by airplane, the first to leave Italy since 1809, and the first to visit all continents.
He paid pastoral visits to Uganda (thus becoming the first time in history a reigning pope ever traveled to Africa) and the Philippines, attending eucharistic congresses in Bombay (India) and Bogotá (Colombia), and addressing the United Nations in New York City in October 1965.
We might be used to seeing popes touring around the world, but a pope traveling outside Rome was, for centuries, rather exceptional. During the first 500 years of Christianity, popes would only leave Rome if forced to —most of the time, when sent into exile by imperial authorities. In fact, exile seemed to be the rule during the early days of Christianity. Pope Clement I (the fourth pope, right after Peter, Linus, and Cletus) was exiled by Trajan, and then martyred into the Black Sea around the year 99, according to apocryphal accounts. Pope Pontian (230-235) died in exile, in Sardinia. Pope Cornelius (251-253) also died after a year of exile in Civitavecchia (just 80 kilometers away from Rome). Pope Liberius (352-366) was exiled to Beroea by Constantius II. But exile hardly counts as "traveling."
From the sixth century on, we find at least three popes traveling from Rome to Constantinople: Vigilius in 547, Agatho in 680, and Pope Constantine in 710. Pope Stephen II became the first pope to cross the Alps in 752 to crown Pepin the Short, and Pius VII did the same thing (only around a thousand years later) to crown Napoleon. But, of course, none of them had an airplane at his disposal.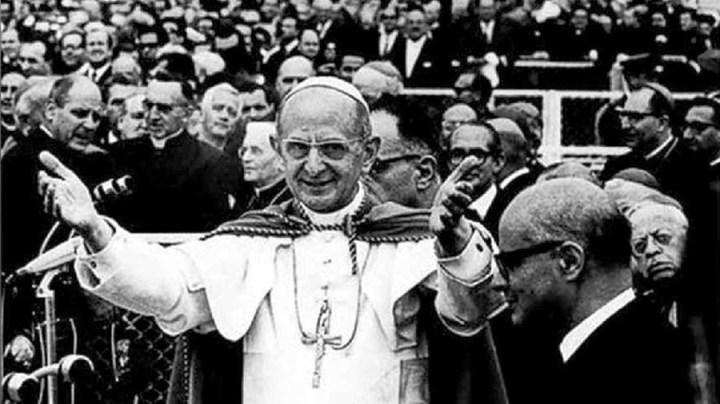 Foto cedida por El Catolicismo-1968-Órgano oficial de la Arquidiócesis de Bogotá
True, Pope John Paul II went on more pastoral trips than all his predecessors combined: he travelled approximately 721,052 miles, which is more or less the equivalent of 31 trips around the globe. But it is Paul VI who still holds the title of being not only the first pope to travel by airplane, but also of being the first one to travel outside Europe. His travels set the example for further popes, and were  continued by his successors Popes John Paul II, Benedict XVI, and Francis.
Paul VI's first trip outside of Europe (he was the first pope to leave Italy since 1809) was the first papal pilgrimage to the Holy Land in history, visiting both Jordan and Israel in January 1964. In December of that very same year, he went to Lebanon and India. In October 1965, he traveled to New York City and met President Lyndon B. Johnson, addressed the United Nations General Assembly, and celebrated Mass at Yankee Stadium.
Make sure to visit the slideshow below to discover 10 quotes from the recently canonized Saint Pope Paul VI.
Launch the slideshow