If you missed the International Eucharistic Congress in Hungary, here are 10 highlights from the inspirational event.
Thousands of Catholics from around the world gathered at the International Eucharistic Congress (IEC) in Budapest, Hungary, from September 5-12, 2021, sharing their testimonies of Eucharistic faith.
Here are 10 highlights from the IEC, along with information on how you can still participate in this "Eucharistic revival."
Prayer of the IEC
Heavenly Father,
source of all life!
Send us your Holy Spirit,
that we may recognize
and grow in the love of Christ
present in the Eucharist,
who handed himself over for us!
He is our Lord and our Master,
our friend and our food,
our healer and our peace.
Give us the courage to take his strength
and his joy to every person!
Grant us, that the time of the preparation
and the celebration
of the Eucharistic Congress
would serve the spiritual renewal
of our community, cities, nation,
Europe and the world!
Amen.
Prayer that the IEC will spark a renewal in Eucharistic devotion
Pope Francis' homily
The Eucharist is here to remind us who God is. It does not do so just in words, but in a concrete way, showing us God as bread broken, as love crucified and bestowed. We can add ritual elements, but the Lord is always there in the simplicity of Bread ready to be broken, distributed and eaten. To save us, Christ became a servant; dto give us life, he accepted death. We do well to let ourselves be taken aback by those daunting words of Jesus. And this leads us to the second step.
Pope's homily to close Eucharistic Congress (full text)
Eucharist as a source of peace
Cardinal Gérald Lacroix, Archbishop of Quebec, Canada, spoke on the reality that the Eucharist is a sacrament of peace.
He began his talk by quoting Pope Benedict XVI's apostolic exhortation Sacramentum Caritatis, "By its nature the Eucharist is the sacrament of peace."
Lacroix expressed his belief that the reception of the Eucharist is connected to Jesus' words after his resurrection, "Peace be with you" (John 20:19).
Quebec cardinal explains how the Eucharist is a source of peace at IEC
Former Protestant shares her testimony
Suddenly she found herself crying and emotionally charged when she opened her eyes and saw the Eucharistic monstrance in front of her.
She said in her testimony, "I didn't know what a monstrance was. I didn't know what a Eucharistic procession was. All I knew was that Jesus himself was standing in front of me at that moment."
Former Protestant missionary shares Eucharistic encounter at IEC
How to live a Eucharistic life
Mary Healy, professor of Sacred Scripture at Sacred Heart Major Seminary in Detroit, spoke at the IEC about how to live a Eucharistic life.
She explained how the Eucharist invites us to live a particular missionary spirituality, going out into the world and offering our own lives back to God.
Healy emphasized how every Mass should be an opportunity to talk with God and ask him how he is calling us to live in the world.
Mary Healy reflects on how to live a Eucharistic life at IEC
Seeking intimacy with Jesus in the Eucharist
Damian Stayne, founder of the Catholic community Cor et Lumen Christi [The Heart and Light of Christ] in England, challenged Catholics to seek greater intimacy with Jesus in the Holy Eucharist.
Stayne is under the firm belief that everyone is called to an intimate encounter with Jesus in the Eucharist and that it is possible to experience his presence in a unique and personal way.
Charismatic speaker relates powerful Eucharistic experience at IEC
Blueprint for parish renewal
Fr. Michael White, a priest of the Archdiocese of Baltimore, pastor of the Church of the Nativity in Timonium, Maryland, and author of the popular book Rebuilt, shared his three key strategies for parish renewalin a previously recorded video that was presented at the congress.
Fr. Michael White provides blueprint for parish renewal at IEC
Images of pope's visit to Budapest
The Holy Father had meetings with Hungary's political leaders and bishops, as well as representatives of the Ecumenical Council of Churches and Jewish communities of the country.
He then went on to celebrate the open-air Mass at Heroes' Square, the closing event of the Eucharistic Congress, before departing for Slovakia where he will spend the next few days.
Enjoy these pictures of his quick but important trip.
(In images) Pope closes Eucharistic Congress with trip to Budapest
Feeding the poor
Ahead of the congress, the Catholic Church of Hungary organized a meal for the less fortunate. The poor and homeless were treated to a lunch that included biblical-themed pastries. These baked goods, cookies, were dubbed "A Bite of Heaven," and were made from ingredients from the biblical era.
International Eucharistic Congress feeds poor with biblical-inspired pastries
Mission Cross symbolism
Since 2018, a Mission Cross has been traveling around Hungary to help promote the 52nd International Eucharistic Congress in Budapest, which was held from September 5-12, 2021.
Symbolism of the Mission Cross of the Eucharistic Congress in Hungary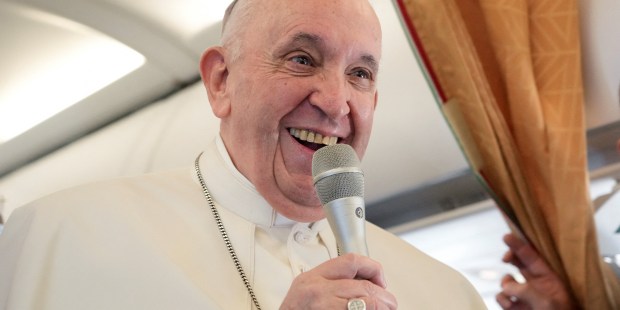 Launch the slideshow