The Italian engineer Guglielmo Marconi installed a shortwave radio telephone between the Vatican City and Castel Gandolfo.
Guglielmo Marconi, the Italian engineer who was awarded the Nobel Prize for Physics in 1909, is widely known for inventing the radio. But some evidence seems to suggest he was also responsible for coming up with the mobile phone — a title currently claimed by Bell Laboratories. And while his device couldn't send text messages and didn't have the capacity to download and install apps to be enjoyed on a smooth touchscreen, it was surely good enough for Pope Pius XI to give it a try. 
According to Livio Spinelli, one of the organizers of an exhibition inaugurated at Santa Marinella (a coastal area north of Rome where Marconi conducted many of his experiments) back in 2004, evidence found in the Marconi Archive at Chelmsford (UK) shows the Italian inventor had developed a device consisting of a portable antenna, a microwave generator, and a radio transmitter that would be pretty similar to the parts used in our contemporary mobile phones. In fact, Spinelli explains, Marconi understood his device to be the prototype of a "portable telephone apparatus," using "short and ultra-short microwaves," as read in the article penned by Richard Owen.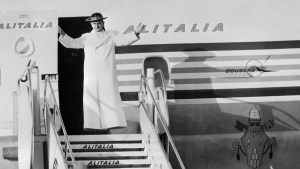 Marconi had been running different experiments with various transmitters. One of those experiments was installing a shortwave radio telephone to keep a line open between the Vatican City and the pope's summer residence at Castel Gandolfo, separated by a distance of around 30 kilometers. The year was 1932 — just one year after the inauguration of the Vatican Radio, a project also pioneered by Marconi.
Both events took place, not surprisingly, during the papacy of Pius XI — a pope known for his modernizing drive: he founded the Vatican Observatory and the Pontifical Academy of Sciences, renovated the Vatican Libraries, and was the first one to use the radio for pastoral purposes. Marconi and the pontiff were somehow kindred spirits, but only when it came to technology. Politically, they could not have been any more at odds with each other. Whereas there is growing evidence that the inventor supported Mussolini's anti-Semitic policies, Pius XI was the author of  the three major encyclicals against the totalitarian systems of the 20th century: Non abbiamo bisogno ("We Do Not Need to Acquaint You," against Italian fascism); Mit brennender sorge ("With Deep Anxiety," against Nazi Germany) and Divini redemptoris ("Divine Redeemer," against atheistic communism).