As early as 1849, popes enthusiastically embraced the modern invention.


We are used to seeing the pope traveling on a chartered Alitalia aircraft — the size of it depending on the distance flown — typically (and somewhat jokingly) referred to by the press as "Shepherd One." We are also accustomed to the already classic popemobile —a relatively new Vatican tradition, dating from 1929, at the very beginning of the pontificate of Pius XI. But trains have also been used by contemporary popes for some short but rather significant journeys, like those of John Paul II and Benedict XVI to Assisi in 2002 and 2011, respectively.
The first pope who ever traveled by train was Pius IX, in 1849. He had already introduced the telegraph and gas lighting to the Papal States. While staying at the Kingdom of the Two Sicilies, he boarded a train going from Portici (in the urban area of Naples) to Pagani — a distance a modern train can cover in about 36 minutes. He became so enthusiastic about this means of transportation that as soon as he was back in Rome, he promoted the growth of a railroad network. The works started relatively soon afterwards, in 1856, with the construction of the Rome and Frascati railway network. A few years later, by 1870, railway lines built in the Papal States already covered more than 300 kilometres.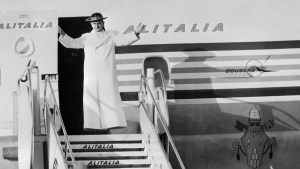 It was during his papacy (which spans from 1846 to 1878, 32 years in total) that the idea and construction of a train that would connect Italy to the rest of Europe began. Pius IX's own railroad cars are still preserved, and open to the public in Rome. He used them for the first time in 1859, to travel from the Porta Maggiore train station to Albano, near Castel Gandolfo, the summer papal residence.  
Make sure to visit the slideshow below to discover the history of the popemobile, told in pictures.
Launch the slideshow