Paper Sunday's products offer inspiration every day with Scripture verses.
Need an idea for Lenten almsgiving?
Help us spread faith on the internet. Would you consider donating just $10, so we can continue creating free, uplifting content?
Make a Lenten donation here
"I have called you by name: you are mine,"God tells us in Scripture (Isaiah 43:1). God's personal, intimate love is something incredible to contemplate. Now you can enjoy a daily reminder of His individual love through a really beautiful journal and planner system.
Paper Sunday is the creation of Kara and Bob Heckel, a husband and wife team and parents of two children. Kara longed to help people "not just relegate God to Sunday mornings, but to allow Him into every day of the week, and every aspect of their lives," her website explains. 
What sets apart Paper Sunday products and makes them unique is that every page of their journals and planners is personalized with Scripture verses. For example, a page might read, "Jane, now faith is the assurance of things hoped for, the evidence of things not seen. (Hebrews 11:1)" 
Paper Sunday
Verses from the Bible take on new meaning when your name is in them. As their website says, "Experience the power of seeing your name in God's words!"
"Each day we strive to bring the word of God to our customers and share His love for them," said Alexa Morales, Senior PR Account Coordinator for Paper Sunday.
The team at Paper Sunday believes that personalizing verses from Scripture gives their customers a new appreciation for God's word. 
"I still remember the first time I saw my name in scripture and how the verse literally jumped off the pages," Morales said. "It was such a revelation moment regarding the living Word of God! I wanted to share that revelation with others."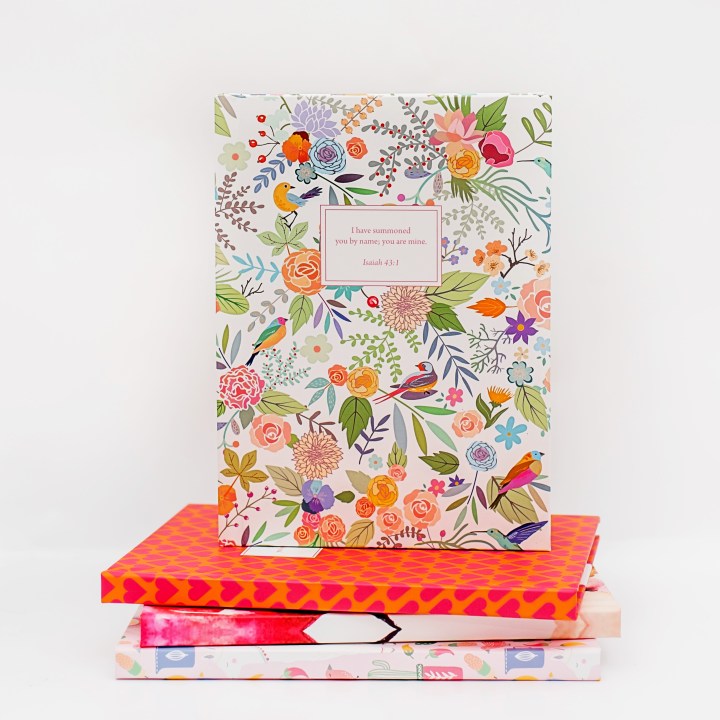 Paper Sunday
They also hope to show people the depth of God's love for them and help draw their customers into a more personal relationship with God. "We want people to understand that the word of God was written for them, in this day and age," Morales said. 
Part of the appeal of their products is having a beautiful, physical journal or planner in hand. There's something really meaningful about committing words to paper. It's a sensory experience to which online record-keeping can't compare. And it's a big reason that Paper Sunday's products are so popular.
"We live in such a fast-paced world," Morales said. "Anything we can do to take a moment and reflect on the love of God will help keep us grounded."
Add to that the wonderful fact that all of Paper Sunday's products are designed and manufactured in the USA, and you can see why they've built such a loyal fan base.
"We have people who truly love to journal and use them every morning in their quiet time," Morales said. Meanwhile, "Other customers use their journals during church to take notes." 
Paper Sunday
Some customers simply use the journals for a to-do list or grocery list, but the Scriptural messages on each page bring quick and uplifting encouragement to their day. 
Morales suggested that Paper Sunday products are especially meaningful for people in two particular life stages: those going through hardships, such as loss, illness or divorce; and those transitioning to a new situation, such as marriage, a new baby, or starting college or a new job. 
But anyone, at any life stage, can find inspiration to grow closer to God through Paper Sunday's goods. "Through every season of life, we need to be encouraged and loved by God," Morales said.