This month is all about the Rosary and some popular saints you won't want to miss celebrating.
October is the month devoted to Our Lady of the Rosary, a fitting month to remind ourselves of the importance of dedicating ourselves to Our Lady and her Rosary.
Sister Lucia dos Santos, one of the Fatima children, said, "There is no problem, I tell you, no matter how difficult it is, that we cannot resolve by the prayer of the Holy Rosary." In this beautiful month of October, let us bring an optimism to our daily prayers, especially the Rosary, committing ourselves to a renewed spirit of trust and devotion.
In the movie Groundhog Day, Andie MacDowell's character tells Bill Murray's character, "I always drink to world peace." It's clear how badly we need world peace, and as Our Lady revealed at Fatima, "Pray the Rosary every day in honor of Our Lady of the Rosary to obtain peace in the world … for she alone can save it." (Our Lady, July 13, 1917).
Amazingly, God allows us to have a part in helping save the world by praying the Rosary in Our Blessed Mother's honor each day. So let's do more than raise a glass with simple words hoping for world peace. Let's rattle those beads and make a difference to the peace of the world, and the peace within our own homes and hearts.
And let's mark our calendars now as we plan ways to celebrate the gorgeous feast days of October.
October 1 — St. Therese of Lisieux
Many people love St. Therese of Lisieux — also known as "The Little Flower" — who reminds us that "if every tiny flower wanted to be a rose, spring would lose its loveliness," and thus encourages everyone, no matter their gifts, to become a saint.
As she said, "God would never inspire me with desires which cannot be realized, so in spite of my littleness, I can hope to be a saint." Keeping in mind that no one enters heaven unless they are a saint, it is an ambition we need to take seriously and not imagine it's just a call for others to undertake.
To assist us in this journey towards sainthood, let us give roses (in honor of St. Therese) to someone who needs a boost today, letting them know we are praying for them.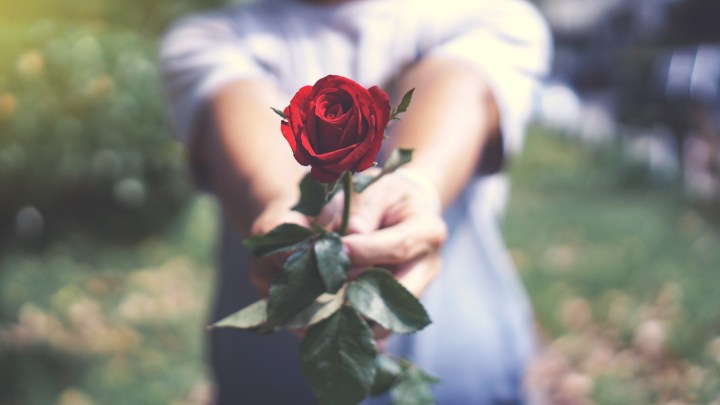 ilovephoto_KA | Shutterstock
Let us also invoke the Holy Face in prayer. After all, this saint was known as "Therese of the Child Jesus and the Holy Face." The Holy Face is a profound devotion that St. Therese was deeply drawn to and passionate about. We can pray this prayer, which is part of the Holy Face Devotion and makes reparation to the Holy Face of Jesus:
May the most holy, most sacred, most adorable, most incomprehensible and unutterable Name of God be always praised, blessed, loved, adored and glorified in Heaven, on earth, and under the earth, by all the creatures of God, and by the Sacred Heart of Our Lord Jesus Christ, in the Most Holy Sacrament of the Altar. Amen.
You can find out more about the Holy Face devotion that St. Therese loved here.
As a fun way to get the entire family excited about the Feast of St. Therese, why not set the table with an image of this beautiful saint, and a vase of roses. Then, serve eclairs! That was the favorite treat of St. Therese of Lisieux. Make or buy the eclairs. If you're ambitious, you can even add edible roses to the top in her honor!
October 7 — Our Lady of the Rosary 
To celebrate this important feast day, be sure to pray the Rosary today! To further enhance your prayer, you can use this Rosary companion with art, music and reflections available online. You can pray the Rosary on your own, with a prayer group, or pray a family Rosary, which can bring powerful graces.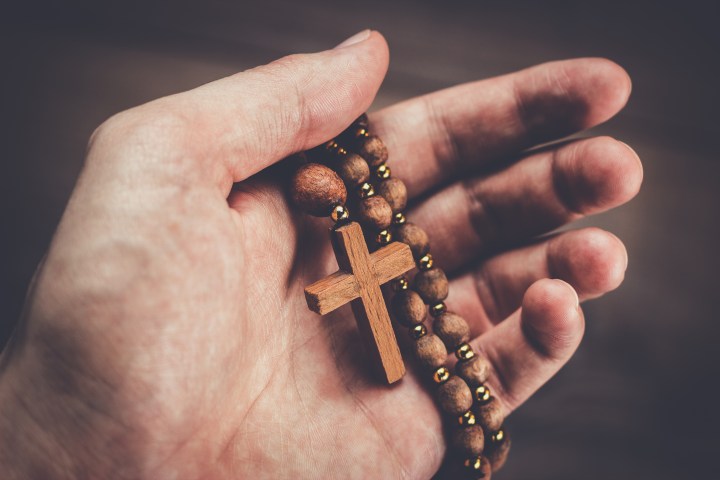 Ruslan Grumble | Shutterstock
Not sure the Rosary is your thing? Want to pray the Rosary but find it hard to follow through? Or do you love the Rosary but would like to breathe new life into this devotion? In each of these cases, a remedy is the book Sacred Braille: The Rosary as Masterpiece, which along with featuring stunning art, recommendations and reflections to bring deeper meaning to each of the mysteries, includes a poignant personal story guaranteed to change the way you see the Rosary. Hint: You'll never see it as "too long to pray" or "boring" ever again after reading it!
The Feast of Our Lady of the Rosary would also be a meaningful day to buy beautiful rosary beads for someone in your life. 
And to bring extra joy, make the young and young at heart in the family a celebratory dessert they won't soon forget: a rosary made of grapes and candies. Cut the grapes in half and arrange on an oblong or circular platter separated by nonpareil candies to represent the Our Fathers. The cross can also be made of non-pareils or mini cookies. Serve with an image or statue of Our Lady of the Rosary or Our Lady of Fatima on your table as a centerpiece. 
October 16 — St. Margaret Mary Alacoque
Today we honor the saint famous for her devotion to the Sacred Heart of Jesus. She famously said, "This Divine Heart is an ocean full of joy to drown our folly, an ocean of mercy for those in distress, an ocean of love in which to submerge our poverty." What a beautiful reminder that when we are overwhelmed with life, the Sacred Heart remains open to us to give us joy and refuge.
To honor the Sacred Heart in a special way today, place an image or statue of the Sacred Heart on your table, and place red flowers in front of it as a beautiful altar. If you have children in your life, ask them to help you cut out hearts from construction paper and then write down their completion to this prayer of gratitude, "Thank you, Sacred Heart of Jesus for_________." The hearts can be placed in a basket and placed before the Sacred Heart statue or picture for sharing aloud, or as a silent witness.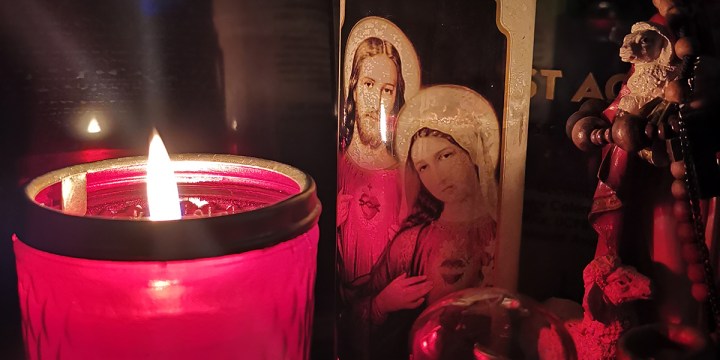 Yomr Medrano | Shutterstock
October 22 — St. John Paul II
In honor of this pope who started World Youth Day, reach out to a young Catholic in your life today and share the beauty of the Catholic faith and love of God with them. Pope John Paul II was known for telling the crowd "I love you," so let us give love to those young people in our lives firstly by praying for them, and also by being a role model of faith for them.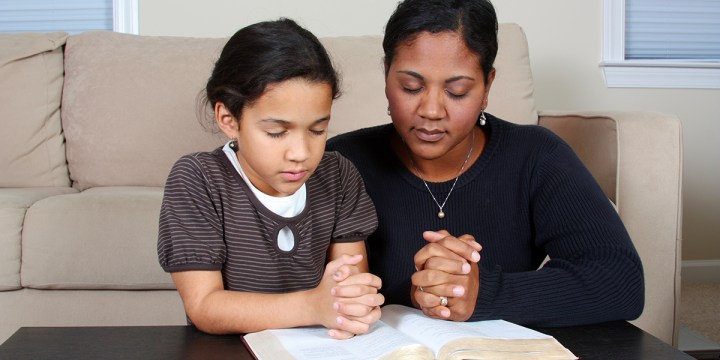 Rob Marmion | Shutterstock
Have you been a Confirmation sponsor or Godparent? Why not call that person today, or send them a card or text letting them know you are praying for them; that they are living the faith to which they have been called.
For fun, try making and sharing a Kremoska cake, which was a favorite of Pope Saint John Paul II. Here's a recipe!
October 28 — Sts. Simon & Jude
In honor of the feast of these two apostles who were martyred together on the same day, let us be zealous for hopeless cases. After all, St. Simon was known as "the Zealot" and St. Jude is the patron saint of "hopeless cases."
In honor of these two, we could spiritually adopt an unborn baby and resolve to pray for that baby in the womb, that little one we have never met whose case might seem hopeless, but with our prayer and the help of these good saints, can be saved and loved. Pray this spiritual adoption of an unborn baby in danger of abortion, written by Bishop Fulton Sheen, for nine months:
Jesus, Mary, and Joseph, I love you very much. I beg you to spare the life of the unborn baby that I have spiritually adopted who is in danger of abortion. Amen.