This role is one of the most visible at the Vatican.
Pope Francis has appointed Monsignor Giovanni Ravelli as master of papal liturgical celebrations, the Vatican press office announced October 11, 2021. Ravelli replaces Bishop-designate Guido Marini, who was appointed Bishop of Tortona (Italy) by the Pope on August 29.
This role is one of the most visible roles at the Vatican, since this prelate is almost always seen beside the pope, assisting him with his vestments, the microphone, and generally ensuring that papal liturgies are carried off without a hitch.
The Mass for the launch of the Synod on Synodality was thus the last liturgical service led by Bishop-designate Marini. He has been in office since his appointment by Benedict XVI in 2007 and was confirmed by Pope Francis.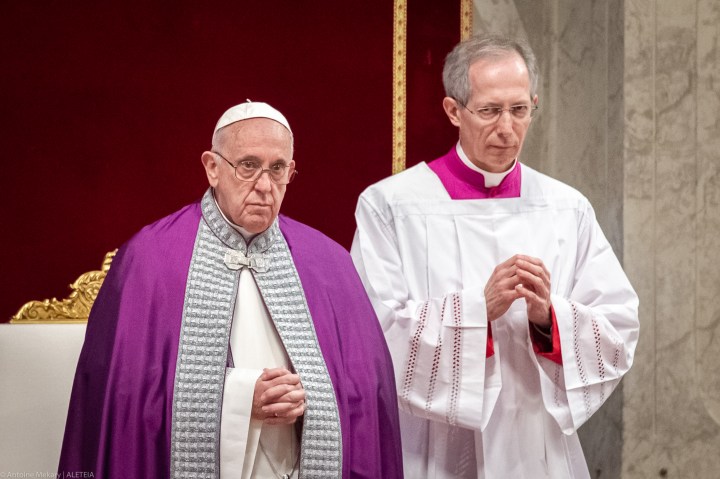 Ravelli is a native of Lombardy, where he was born in 1965. He was ordained in 1991 in the association of the Priests of Jesus Crucified in the diocese of Velletri-Segni. In 1998 he became an official with the apostolic chaplaincy team in the Vatican.
In 2006, he joined the team of pontifical ceremonies, while continuing to work for the apostolic chaplaincy where he became head of office in 2013. In the meantime, he obtained a doctorate in Sacred Liturgy from the University of Saint Anselm in Rome in 2010.
Pope Francis also appointed a new assistant for pontifical ceremonies to take Ravelli's place: Father Cristiano Antonietti. He was previously Secretary of the Nunciature in the General Affairs Section of the Secretariat of State.
The Office for Liturgical Celebrations has seven assistants of ceremonies, four of whom are Italian.