Katie Sklarosky's two "Screwtape letters" focus in part on the way sins of the body (including both food and sex) can subtly lead to other, more dangerous sins.
Editor's note: This article is an original letter written by a Providence College student who was introduced to C.S. Lewis' 'Screwtape Letters' in this college professor's course.
Dearest Gobsmacker,
So! You have been assigned your first patient: a young and naive Christian girl who happens to be a college student. I have been commissioned, due to my remarkable success in the temptation business, to guide you in winning her soul for Our Father. Don't be deceived — just because I happen to be your uncle doesn't mean that I'll let you get away with being idiotic. I am not going to waste time flattering you. Our correspondence will be purely to discuss strategy and updates on the conditions of the patient. Very well, let's get right to business. 
They certainly told you in college how, especially with young patients, one of the most successful ways to lead them into sin is through temptations of the flesh, particularly sex. And when the patient is young and in such an environment — one that welcomes and celebrates sexual indulgence at every turn — it can require almost no effort on your part. But there are different ways to approach it. With a girl, we have the most success in confusing mere affection for the Enemy's greatest virtue — which is illogical and therefore still being researched — charity. Merely feeling strong affection for a boy can really make her think that she loves him and should give herself completely to him. She will see nearly everything he does as wonderful, and even try to justify his negative actions towards herself and others.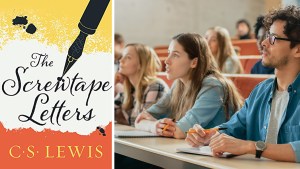 Though it largely remains a mystery to us, we know that charity seeks the "good of the other" (whatever that means) and is not based on pure emotion. It disgusts me to even talk about it; there has to be something more to it that gives a personal advantage to the charitable person that we haven't yet discovered. But this much we know: mere affection does not lead to charity, and charity takes dedication and effort, two things college students are not often accustomed to. This boy she is enamored with, as our splendid colleague Heathencrag informed us, clearly sees his own sexual indulgence as of primary concern, and the patient as his instrument for doing so. Allowing her to stay comfortably in a state of delusional swooning while he uses her for pleasure is a win-win situation. He in his pride moves away from the Enemy, and she "in love" will give herself to him whenever he wants.
When your patient inevitably commits the sin, my advice is to lead her way of thinking about it towards one of two extremes. This is one of the most clever tactics of our Brilliant Father: to lead souls astray through two extremes, both equally pleasing to us, and displeasing to the Enemy.
On the one hand, you can lead her to think that the Enemy really won't bother about her, that there are people in the world who murder, steal, hate, and so on… so why would He care about a young girl in love expressing her love physically? What's so wrong with that? And isn't the whole point of college to break out of one's shell and have a good time? Why would He not want her to enjoy herself? And you see how this, executed correctly, will eventually lead to her conception of Him as a sort of "life force" that does not give a flying red devil about the details of her life (so long as she is a "good person") and in which she takes comfort.
Conversely, you can put the picture in her head of Him as a vengeful, harsh, angry being who is extremely disappointed in her and wants nothing to do with her. She'll think herself unworthy of Him, compare herself to the "holier" people whom she perceives to be more dedicated to Him, and turn away from Him feeling she doesn't deserve Him. Making the human creatures think that they ARE their sins is one of the greatest, most surefire ways of securing them. Satan forbid she realizes He actually wants to forgive her and bestow His mercy on her, like the irrational maniac He is.
Your Beloved Uncle,
Crepuscule 
In the opening of the next letter, Crepuscule counsels Gobsmacker on the subtleties of gluttony:
Dearest Gobsmacker,
I cringe to see you scrambling like a helpless child to tempt your patient into sensual sins. She will be onto you soon enough if you don't listen closely for once and do as I tell you. You seem to think that, because of her being an "average" college-aged girl, gluttony is of no use. This is where you are mistaken.
They should have taught you in Sensual Sins 101 that the "traditional" understanding of gluttony — the overconsumption of food — is not of as much use to us anymore (although in America, we've had our successes), but obsessing over food comes in different ways. Think of your patient and the students at her school, how every time they step into Raymond Dining Hall they think to themselves, Ugh. Another evening, more sub-par food that is barely worth trying. We pay so much for tuition, and they can't give us better food, as we deserve!
This, as you can tell, breeds discontentment with whatever they consume. Even if they find themselves liking it one day, that same thought comes: Well, it still ought to be better than this. It's still greasier than I would like, and I wasn't given nearly enough. No matter how much the food improves, that negativity, self-righteousness, and feeling of "deserving" much more than one has, will fester. She won't realize how constantly she bemoans the quality of her dinner, that if it could just be a little more like this or a little more like that, she would be content with it. And it follows as we both know, that she will never be content with it…