The Vatican Advanced Technology Telescope, located atop Mt. Graham in Arizona, has faced almost everything that nature (and man) could throw at it.
The Vatican has an astronomical observatory, complete with a telescope located high atop a remote desert mountain. That sounds cool, and perhaps even kind of serene. But keeping the Vatican's mountaintop telescope operational and doing good science has been a tough business, and even something of an adventure, as in recent years the telescope has faced fire, smoke, and a plague of insects—not to mention COVID protocols, legal paperwork, and even outdoor advertising. 
Science itself can be something of a gritty adventure. How many students learn this through cleaning up their first big mistake in a school laboratory class? In astronomy, the big mess might come from a bird or mouse finding its way into the dome that houses the telescope.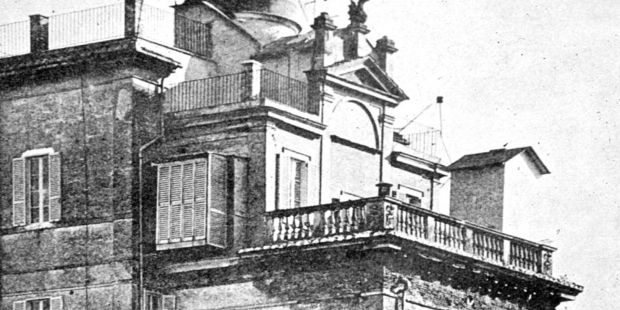 Launch the slideshow
When the Vatican Observatory was in the Vatican
Back when astronomical observatories were not located on remote mountaintops, there was a little less adventure involved in keeping telescopes in good shape. Astronomical observatories were once located within cities. Indeed, after Pope Leo XIII established the Vatican Observatory (V.O.) in its modern form in 1891, V.O. astronomers constructed observatory domes and erected telescopes right within the walls of the Vatican itself . It is relatively easy to operate and care for a telescope that is located just up a flight of stairs.
Modern life changed that. Poorly-designed outdoor lighting brightens the night sky over cities today, washing out much of what astronomers might wish to observe. Thanks to the growth in Rome of this "light pollution" (which also has harmful effects on nocturnal creatures, and wastes money and resources), in the 1930s the V.O. moved to Castel Gandolfo, south of Rome. Still, the light pollution problem continued to grow. In the 1990s the V.O. constructed a telescope atop a remote and very dark desert mountain: Mt. Graham, in Arizona (USA).
But a telescope on a remote mountain is more of an adventure than a telescope on a roof. A small telescope on a roof—like the telescope atop the Vatican's Tower of the Winds that the Vatican Observatory had in the 1890s—is something astronomers can operate and observe with themselves. They can even have friends stop in to share some of the sights: when the observatory was within the Vatican, popes were known to drop in and view planets. 
The Vatican Observatory telescope in Arizona
Large modern telescopes are never just up a flight of stairs, however. The truly giant telescopes of today are always at remote locations, but they have large staffs dedicated to the operation of those telescopes. The Vatican Observatory telescope in Arizona—the Alice P. Lennon Telescope, housed in the Thomas J. Bannon Astrophysics Facility and commonly called the Vatican Advanced Technology Telescope or VATT, for the cutting-edge methods used when it was built—is not giant, but it is a respectable size for a telescope. It would barely fit in a standard 40-foot shipping container. Plenty of astronomers would love to have regular access to a telescope as large as the VATT for their research. 
And the VATT is in a very remote location. From its inception, the strategy with the VATT has been to have a small staff proficient in operating and caring for the telescope and the building that houses it, plus a wider contingent of well-trained guest users, mostly graduate students.
But there is always a certain bit of adventure in working in a remote area. 
The one-lane, unpaved access road to the VATT, with its switchback turns and four-wheel-drive-only recommendation, is not for the faint of heart. And there are safety concerns on a site as remote as Mt. Graham. Usual procedures call for the presence on the mountaintop of sufficient trained personnel capable of dealing with emergencies, including medical evacuations. Fortunately, the VATT is not the only telescope atop Mt. Graham: there is the Large Binocular Telescope and Arizona Radio Observatory's Submillimeter Telescope as well as the VATT. The VATT crew have some company.
Fire, pandemic, and moths, oh my!
However, things can happen on the mountain that no observatory personnel can handle. In 2017, lightning ignited the Frye Fire. It burned nearly 50,000 acres on Mt. Graham in June and July of that year. Observatory buildings were evacuated. On June 18 the main blaze came within 50 feet of the building that houses the VATT. Some spot fires were within 25 feet. Nevertheless, there was no significant damage—not from fire, not from heat, not from smoke. There were just some burned pine needles that got inside the dome. The telescope had a miraculous escape, thanks to the valiant efforts of firefighters who, especially on June 18, had to respond very fast, deploying considerable resources to protect our facility. (To them once again: Thank You!) 
And in 2020, COVID-19 came. On March 18, representatives of the Mount Graham International Observatory stakeholders met to discuss pandemic measures. The Submillimeter Telescope shut down that day; the VATT was shut down on March 19; the Large Binocular Telescope on March 21. 
Two months later, on May 28, the VATT reopened. Vatican Observatory astronomer Fr. Richard Boyle, S.J. started observing. Unfortunately, not everything had been idle at the telescope during those two months—moths had taken over the facility! Getting rid of those was an example of the gritty side of science.
Insects were not the only difficulty when the telescope reopened. The pandemic dictated limiting the number of people at the VATT to minimize contact. The COVID-19 protocols for Mt. Graham established at the end of May 2020 were a compromise between limiting contact between people and maintaining sufficient numbers of people on the mountain for safety. In practice this meant that only one person was allowed to stay at the VATT at any given time, provided that there was sufficient presence of qualified personnel in the other buildings at the summit. 
Thus only those projects were allowed which could be safely conducted by a single person with limited assistance, or by a team of astronomers who were already living within a "COVID bubble." The restrictions effectively prohibited training new observers, and kept graduate students from using the VATT directly. Some people went to extreme lengths to observe. Two astronomers who needed to work together on the telescope decided to each go into a 14-day quarantine before their joint observing run, to establish a new "bubble" of two. Then they could continue to pursue their science, despite the pandemic.
On top of the pandemic came smoke and ash! This was not from fire on Mt. Graham, thankfully, but from the Bighorn Fire, which consumed 120,000 acres in the Santa Catalina Mountains, to the west of Mt. Graham. Wild-fire smoke and ash coming from that fire kept the dome of the VATT shut for eight nights in June of 2020. When the smoke cleared, the science resumed. 
A constant battle against light pollution
Apart from these challenges, this year saw the conclusion of a long process of updating the decades-old legal paperwork that ties together the Vatican Observatory, the University of Arizona, and the VATT—and it saw a few more skirmishes in the constant battle against light pollution (mainly around those LED billboards that advertise products with a lot of glare). Granted, such things are not so exciting as fire or moths or harrowing roads. But they are an important part of keeping a telescope in operation when it is not just atop your building.
And so the adventure that is the Vatican Observatory continues, despite fire, smoke, pandemic, paperwork, moths, and billboards! Science keeps getting done with the Vatican Advanced Technology Telescope, despite obstacles. Two examples: the VATT is being used to assist in a project to thoroughly examine nearby (within 50 lightyears of Earth) small reddish stars to see if they might be orbited by planets that are both Earth-sized and at the proper distance from those stars for their temperatures to be suitable for life; the telescope is also being used to study 633 bright yellowish, more sun-like stars that might turn out to host planets—to obtain information about these star's chemical compositions, ages, etc.
We can't just walk up the steps to a telescope anymore. Popes can't just drop by and request a look. Sometimes the adventure gets a bit tough. The Vatican's astronomical observatory, with its telescope located high atop Arizona's Mt. Graham, is great adventure, nonetheless.