It is thanks to this bracelet, decorated with cameo profiles of Roman emperors and enhanced with rubies, that the house of Mellerio became the favorite jeweler of the royalty.
Spending a few moments in the archives of the jewelry house located on Rue de la Paix in Paris is all it takes to realize that it would take days to list all of Mellerio's illustrious clients. Diadems, crowns, ornaments, bracelets, brooches, rings … The French jeweler, whose history begins in the 17th century under Marie de' Medici, has seen its creations worn by the queens of Spain, the Netherlands, and Josephine de Beauharnais, wife of Napoleon Bonaparte, but also by one of the most famous queens of France: Marie Antoinette.
Indeed, the jeweler family's tradition tells of that day in 1780. A 13-year-old peddler, Jean-Baptiste Mellerio, opened his wooden stall at the gates of the Château de Versailles. Among the jewels made by his Italian family was a bracelet made of seven cameos representing Roman emperors' profiles and bejeweled with rubies. Suddenly, the young merchant saw the royal carriage stop in front of him. In reality, it wasn't too surprising: since 1613, an exceptional decree of Queen Marie de' Medici, wife of Henri IV, offered the Mellerios royal protection allowing them to practice their trade of precious objects in France as well as at court. It was a privilege given to thank Jean-Marie Mellerio for having helped thwart an assassination attempt on the young king Louis XIII.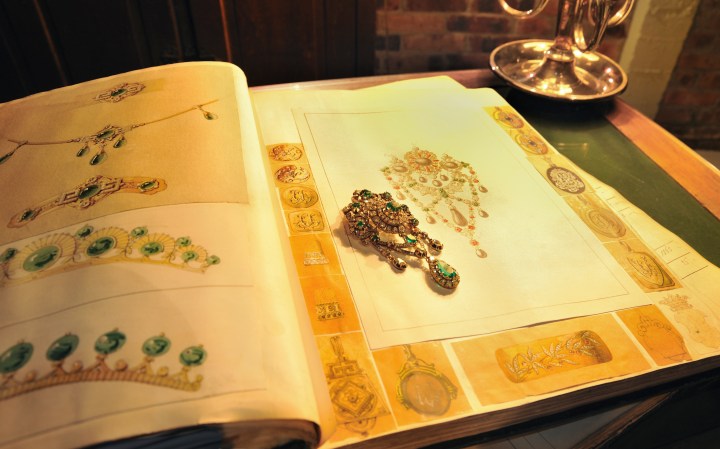 Noticing the young merchant, the queen asked her lady-in-waiting to get out of the carriage to inspect the contents of all the drawers in the case. Seeing the bracelet, she couldn't resist the pleasure of buying it. That's how she became the first royal customer of the Mellerios. Thus began the singular and meteoric rise of the jeweler of queens.
The bracelet, the queen and the Terror
Although this anecdote is not supported by any formal documentation, much historical evidence having been destroyed during the Revolution, the family tradition of the house tells that Jean-Baptiste's nephew, François Mellerio, probably attended the execution of Marie Antoinette, guillotined on October 16, 1793. Drafted by the National Guard during the Terror, he was summoned to the Conciergerie that day. This bracelet is said to be a token of this connection, even if no order book of the jeweler can confirm it.
However, according to the experts, this is not a legend. Marie Antoinette loved rubies, and it was she who started the fashion of jewelry bearing cameos. The bracelet disappeared in the late 1970s during an estate sale at the Hotel Drouot, but was found and bought back by the jeweler in 2014. It's unquestionably from the 18th century and its simplicity corresponds to what the Mellerios were selling at that time. Cameos would remain one of their specialties throughout the 19th century.