Pope Francis says the bells symbolize a commitment to life, from conception to natural death.
Need an idea for Lenten almsgiving?
Help us spread faith on the internet. Would you consider donating just $10, so we can continue creating free, uplifting content?
Make a Lenten donation here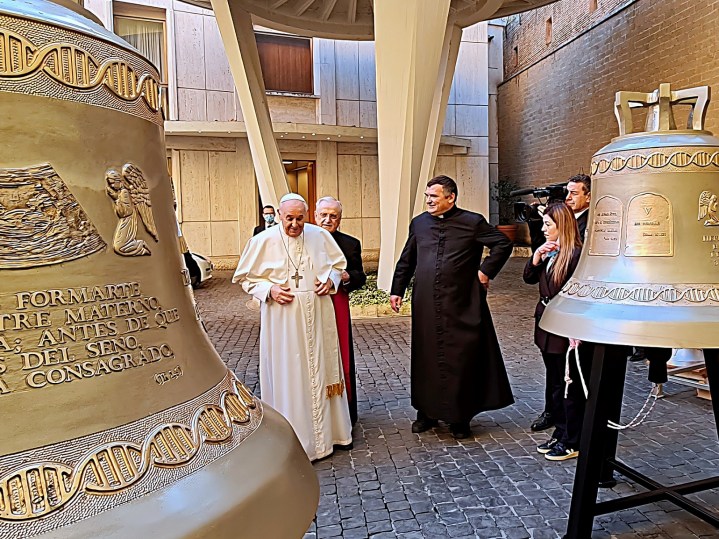 Justyna Grzyb via Family News Se
At the general audience of October 27, Pope Francis recounted having blessed a few moments earlier two large bells symbolizing the "voices of the unborn." The Polish Yes to Life foundation had the bells made for Ukraine and Ecuador.
The Pontiff said these bells are "a sign of commitment to the defense of human life, from conception to natural death."
He also hoped "that their sound will announce to the world the 'Gospel of life'" and "awaken consciences and our memory of unborn children."
Pope Francis participated in a similar initiative organized by this foundation last year. On September 23, 2020, he blessed a bell which was intended for Poland and which then made a pilgrimage through the country.
According to Aci Stampa , the president of the Foundation, Bogdan Romaniuk, received requests from Ukraine and Ecuador to make bells for their countries.
The Metropolitan Archbishops of the city of Lviv in Ukraine and Guayaquil in Ecuador, Bishop Mieczysław Mokrzycki and Bishop Luis Cabrera Herrera, where the bells will be sent, are said to have asked Pope Francis to bless the objects before the pilgrimage.
Bishop Mokrzycki explained to Aci Stampa that the bell will be taken "to various places and parishes in Ukraine" and that it "will facilitate the implementation of a good educational campaign" on human life.
The bells are made in the former Polish foundry of Jan Felczyński, established in 1808 in the town of Przemyśl, which has produced bells for parishes around the world.