This loving Christian family welcomes a houseful of children from foster care.
One, two, three … eleven! With three biological children, two adopted children—including a little girl with Down syndrome—and six children from elsewhere, the Chauvancy family is definitely a family unlike most.
Cyril and Sarah Chauvancy, 36 and 35 years old, have created L'Espérance ("Hope"), an alternative between a "foyer" (an affordable shared housing and support model common in France)  and a foster family, in Romans-sur-Isère, in southeastern France.
There, in addition to raising their own children, they take in young people entrusted to them by the Aide Sociale à l'Enfance (ASE, French child protective services). "It's like a foyer, but with a family," explains Sarah Chauvancy. "We live with the young people we take in and we're convinced that this changes everything."
Their own children, Vincent, Timéo, Manoë, Elouan and Anaë, range in age from 6 to 19. They are currently joined by Aloyis, Bertrand, Marie, Olga, Clarisse and Amélie, aged 9 to 17. All together they form a joyful and colorful tribe. Welcoming them is a real family project.
Sarah, a special education teacher with a passion for her work, realized during her training that very often children placed in large institutions don't find the emotional stability they need because of the regular turnover of educators, trainees, and replacements.
"How can one grow and evolve in such a context?" she wondered at the time, before promising herself, "One day, I will do something." That desire never left her.
She met her husband Cyril, an ambulance driver by training, at a Christian vacation center. Both of them had experienced a chaotic childhood and adolescence, and they aspired to offer others what they had lacked. "Since we got married, we've always welcomed children through the Catholic Relief Services or French Popular Relief," says the mother of the family.
Sarah Chauvancy
"They wanted their life together to be useful," comments Jéma Taboyan, pastor of the Evangelical Church of Valence, who knows them well. He says,
Their stories joined together. Giving love to children made sense to them; their life paths prepared them for it. They have taken the good out of their stories and turned it into a life project. They know how to give what they have lacked. This gives us hope and tells us how God can come and transform our wounds into blessings for others. He comes to lift us up and restore us so that we in turn can give ourselves. At some point, the Christian life doesn't just become theory, it becomes concrete. Cyril and Sarah are a ray of sunshine for us and encourage us.
The two spouses launched their project in 2014, upon the birth of their third child. Today, they are both salaried employees of the association they created, assisted by two salaried educators each on a half-time basis.
The children in their care live with them for two, three, or four years, depending on how long it takes. The fact of Sarah and Cyril being present at night, during the day, and on weekends has a very positive impact, explains Sarah.
We offer them a different family pattern than the one they may have known. My job is not to become the mother of all these children. I love them like a mom, but I'm not their mom. They have a family, and my job is to help them grow up with this family that has been failing and then to start the best possible return home.
In the house, everyone is on the same page: "The rules are the same for everyone. And for vacation, we all go to the sea and the mountains together." Once a month, Cyril, Sarah, and their own children organize a weekend together as a smaller group, but the mother adds with amusement, "They talk all the time about the young people we welcome. They love this life so much, where we are all together all the time."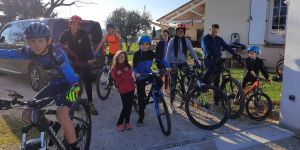 Sarah Chauvancy
Their daily life also brings its share of worries. "These are young people who have experienced complicated things. On the whole, it goes very well, but they still have their difficulties. Some of them have had problems with the law or are developing behavioral problems; sometimes, it's invasive."
Outings for sports, farm visits or cultural activities are very important for Sarah, in order to offer the youngsters an outside world. "They have been badly treated, so we make it a point of honor for them to have extracurricular activities." At home, a vegetable garden and chickens allow them to develop a sense of concreteness and to stay in touch with nature. The children are also responsible for taking orders and delivering fresh eggs to the school's teachers and parents.
In practical terms, how is a day organized? The 11 children attend no less than 10 different schools, so breakfast is staggered. Then Sarah flies from one appointment to another, whether it be with the ASE or the parents of the youngsters; she runs to a review before a hearing or to a school follow-up meeting. At 3:30 p.m., the educator arrives and it's time to pick up the children from school, then have a snack, take care of homework, and accompany a child to an appointment with the psychologist, the psychomotor therapist or the speech therapist. Shower, dinner, movie or board game and the day is over.
Sarah Chauvancy
This unusual life deeply involves the siblings. "We think our children are amazing. Often we tell them, 'You do a third of the work,'" she says with a smile. "I marvel at the love they have for each other." She emphasizes the strong bond they have with the children.
When the children leave, they are going home to their own families. "This is prepared over several years, gradually. It's never sudden. Usually, it's a great joy. We hear from them: we write to each other, we send each other photos, we keep in touch."
God is not absent in this unusual family project. "The children we welcome know that we are Christians and that we go to church on Sundays." Some want to join them, others don't. Sarah readily speaks of "love of neighbor" which "gives her wings." One thing is certain: Their care for young people is a concrete manifestation of their living faith.