With Halloween just around the corner, Msgr. Rossetti spoke with Aleteia about spiritual warfare and his work as an exorcist.
A priest of the Diocese of Syracuse and a research associate professor at the Catholic University of America, Msgr. Stephen J. Rossetti is a licensed psychologist and has served as an exorcist of the Archdiocese of Washington for 13 years. He has participated in hundreds of exorcisms.
With Halloween just around the corner, Msgr. Rossetti spoke with Aleteia about spiritual warfare and his work as an exorcist.
Scripture says, "Our struggle is not with flesh and blood but with the principalities, with the powers, with the world rulers of this present darkness, with the evil spirits in the heavens" (Eph 6:12). Can you lay out some basic terms and clarify a little about what Catholics believe? What's spiritual warfare? What's an exorcism?
The first and most important thing is that Jesus already won the battle. With his death and resurrection, he smashed Satan's kingdom. But nonetheless there is a real battle for souls right now. Who goes to heaven to live with the Lord, which is what God wants, and who remains separated from God.
An exorcism is this battle in high relief. For one reason or another Satan claims a human being. For one reason or another, something happens which he thinks gives him a right to say: "this person belongs to me." Sometimes it's because of a behavior, like indulging in the occult or because of serious sin. What we do in an exorcism is insist that a soul belongs to Christ. An exorcism is taking back a soul for Christ. In fact, the new Rite of Exorcism includes a renewal of baptismal promises, the moment when someone was first claimed for Christ.
A 2020 poll (conducted by RealClear Opinion Research) reports that most Catholics (81%) believe that hell is real and only slightly fewer (78%) believe that Satan is real. Can you clarify: who is the devil? What does the Catholic Church teach about Satan?
In the world today, we often face two extreme positions, both of which are wrong. The first is to argue that Satan doesn't exist. On this point, the Church is clear. The Gospels are clear. The Catechism is clear. We believe that God created angels and some of them fell. They are out there and they are tempting us. All of us face temptation by Satan and his minions.
The other extreme is to believe that we live in some kind of dualist universe: that Satan and God are equal and that they're battling and that Satan is some kind of powerful being that we have no ability to fight. And that is just not true. There's only one God. Satan is a creature, and God's incarnate Son, Jesus, smashed his kingdom of darkness. This is why any remembrance of Jesus, such as a crucifix or even mentioning his holy name, makes demons go nuts.
So we need to know that Satan is real, but at the same time, he's a chained beast that is only allowed to do what God allows him to do. In the presence of Christ, he's dust.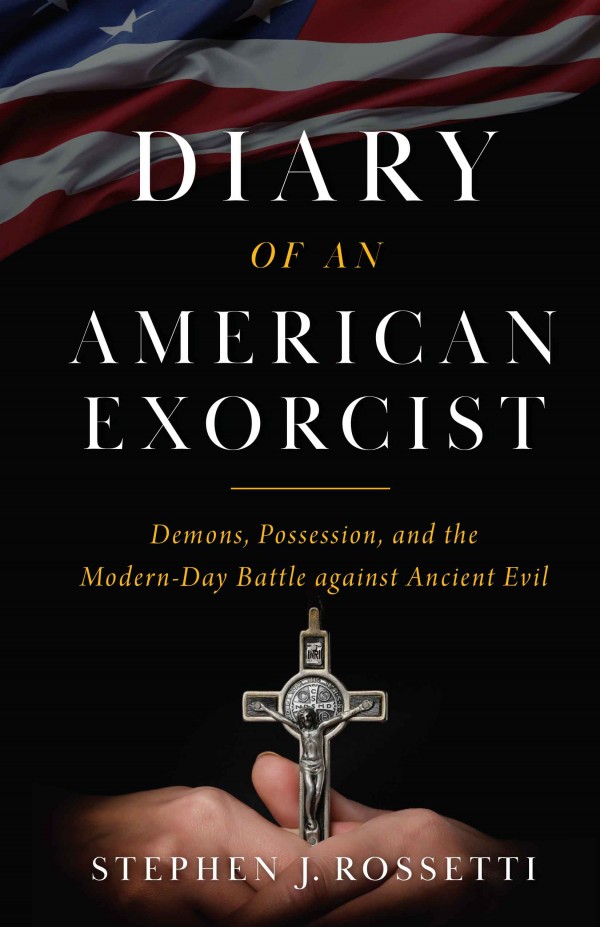 And what about other demons? Are people only tempted by Satan directly or are there other servants of darkness prowling about the world?
Well, we believe that a lot of angels rejected God. They followed along with Satan in that first rebellion against heaven. Some theologians—based on Revelation 12:4 ("Its tail swept away a third of the stars in the sky and hurled them down to the earth.")— suggest that as many as one third of the angels fell. Ultimately what we do know is that there are countless hosts of angels, and many demons who, like angels, maintain a hierarchy.
How, in your experience, do people find themselves afflicted by demons? What are the common means the forces of evil use to attack?
All human beings are subject to Satan's ordinary temptation. Some are afflicted with Satan's extraordinary work. And there is a whole gradation of more or less influence by Satan…it's not an on-off switch. Lots of people experience demonic oppression without being fully possessed. That's a lot more common than people realize. For example, when someone wants to pursue a vocation as a priest or a nun, it's not uncommon that Satan would be riled by that and would intervene, trying to dissuade or turn the person away from such a holy vocation.
You've made a distinction above between demonic oppression and possession. Could you explain that a little more?
Well, we're more familiar in the public lore with possession. Possession includes a full out, obvious, right in-your-face battle. When you pray over the person, their eyes may roll back in their head, they may start speaking incredibly evil things, react strongly to sacred things, upside-down crosses may appear on their bodies, and other physical manifestations happen as the demon comes to the fore.
The lesser cases of oppression may include lesser physical responses to prayer and sacred objects, negative mental obsessions (notable in their intensity and rapid onset), and they struggle to engage in holy practices. As a licensed psychologist with 25 years of practice, I have a sense of what psychological symptoms typically include and what is spiritual.
For example, I was recently working with a woman whose symptoms of tortured mental obsessions might have been misconstrued as psychological, but years of psychotherapy did not help but she started responding right away to prayer. Response to prayer is a key indicator. When someone is demonically obsessed, demonic ideas don't follow the normal psychological patterns. Satan tries to hide, but his footprint reveals him. We have a sense of his footprint and what his presence looks like.
Again, I've had cases where people will be in therapy for years with no progress, but respond quickly and make significant improvement with prayer. In one case, a man with abnormally intense mental obsessions saw a therapist for years without improvement, but now after just a few prayer meetings, he's already 80% back to himself. That's when you realize that something was spiritual: when therapy hasn't worked and the spiritual approach helps them recover their lives.
But I usually encourage both psychological therapy, from a good Catholic therapist, and also the ministry of prayer. The combination of psychological and spiritual healing is usually the most effective.
How do Catholics arm themselves for spiritual battle?
I tell people constantly: "Trust in Jesus." The longer I do my work, the more confident I am. Satan's minions are dust compared to Jesus. While they're always threatening me—saying they'll kill me or maim me—nothing happens to me that God does not allow. If you're practicing the faith, you're protected!
Go to confession. When's the last time you went to confession? Before someone comes in for an exorcism, I insist they go to confession. Padre Pio says one good confession is worth many many sessions with an exorcist.
People should use sacramentals.  Use holy images, pray with them. Look at images of the saints; they're not just nice decorations. Depictions of the saints have a holy function; they are interceding for you.
Use holy water and have your homes blessed. When you throw holy water on a place the demons can't stand it. For example, I was in a possessed woman's room (she was not there, she was away). So I exorcised the room and put holy water in the room and blessed salt in the corners and blessed it with exorcized oil. But nothing was visible to the eye. The next day she texted asking if I had done something to her room. She said I must have blessed it because the demons hated it, they can't stand it! She personally had no idea that I had done this.
Many people are facing trials right now associated with the COVID-19 pandemic. Do you think the pandemic is responsible for a significant uptick in demonic activity?
No. I would say, though, that demonic activity has increased in the past decade because people are falling away from the faith and engaging in occult behaviors. The number of people practicing witchcraft has exploded and it's a terrible thing. There's no such thing as good witchcraft. When you're doing magic, you're in league with the dark world. It's a huge offense against God.
This time of year, many Catholics voice concerns about various aspects of Halloween. Do you have warnings about Halloween for our readers?
I don't have any problem with Trick-or-Treating and decorating. Culturally, Halloween is a fall harvest celebration. That said, some people are using the day for nefarious purposes. Witches are meeting in their covens. Stay away from magic and witchcraft. Carve the pumpkins and enjoy the apple cider.
To read more about Msgr. Rossetti's work as an exorcist, check out his phenomenal new book, Diary of an American Exorcist (Sophia Institute Press, 2021).