The Poor Clare monastery and church were condemned following damaging earthquakes, but the nuns "dared God" to help rebuild them.
Nestled in the Apennine Mountains is the postcard-perfect walled city of Camerino. It is renowned for the 700-year-old University of Camerino, its Renaissance-era ducal palaces and churches, and its extraordinary views. 
Sadly, it is now best known for the catastrophic earthquakes of 2016 that resulted in most buildings in the historic city center being condemned.
The Poor Clare monastery and church were no exception, and they, too, were counted as the ruined buildings. However, due to the resilience and tenacity of the small community of sisters living there, they found a way for their community to endure.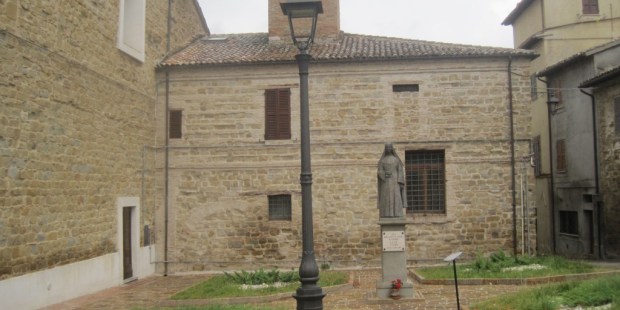 Launch the slideshow
The history of Camerino's Poor Clare monastery
The Poor Clare monastery has a long history in Camerino. It is most known for housing the remains of St. Camilla Battista da Varano (1458–1524), a Poor Clare nun beatified centuries ago, but canonized as recently as 2010 by Pope Benedict XVI.
St. Battista's father was the powerful ruling duke of Camerino. She grew up in his court surrounded by high culture, which included poets, historians, philosophers, and painters. She learned Latin and read the classics, she enjoyed painting and playing musical instruments, and she loved to dance.
On the other hand, while still a girl, she felt called to a peculiar penance in which she vowed to shed a little tear each day in memory of Christ's Passion. 
At the age of 18, she entered a Poor Clare monastery initially in Urbino, but later back in her hometown of Camerino. There, she embraced the ascetic Franciscan reform movement referred to as the Strict Observance.
St. Battista was endowed with notable intellectual qualities and is known for her writings, which were read and meditated on by the likes of St. Philip Neri and Cardinal Borromeo. Writing in Latin and in the vernacular Italian, her writings focused heavily on the cross, her intimate relationship with Christ, and revelations of mystical experiences.
A monastery left in ruins
For the next five centuries, the community of Poor Clares continued in Camerino. However, after two earthquakes hit the area in 2016, their future seemed uncertain. The entire historic center was condemned, including the Poor Clare monastery and church.
As they were going through the ruins salvaging what they could, a young woman came up to them crying. She told them, between sobs, that if they left, there would be no one through whom they could see the face of God to give them hope. Due to the importance of St. Camilla Battista – as well as the sisters' endearing relationship with the people of Camerino — the nuns knew they could not abandon their monastery and city. 
They decided to "dare God." They embarked on a fund-raising campaign to rebuild a "temporary" monastery and church made of wood as opposed to reinforced concrete, the most common form of construction in Italy.
The people responded graciously and donations poured in. Moreover, Charitas, a charitable organization in Milan, promised to finance the remaining amount. Within a short period of time, they had enough funds and pledges to rebuild their church and monastery.
The next obstacle, perhaps more challenging, was getting approval to build. This would be no easy task in Italy, notorious for excessive red tape and bureaucracy. 
On January 3, 2018, the Feast of the Holy Name of Jesus, the sisters went to the municipality of Camerino requesting permission to begin construction. That morning, they had entrusted their plans and endeavors to the Name of Jesus, telling Him: "You have our hearts and will. If You wish for us to remain in Camerino, open up the doors." 
Another miracle
Perhaps another miracle took place that day: the city administration granted their request. They could rebuild. Within a short period of time, their church and monastery was complete, and they returned to Camerino.
Today, their church is one of just two in the entire city where Mass is celebrated daily; elsewhere, Mass is celebrated only on Sundays and feast days in the cathedral and a basilica. The sisters are one of only two religious orders left in the city. 
They dedicate themselves to giving hope to weary residents and greeting pilgrims passing their town.
The writings of St. Camilla Battista Varano have been translated and published in English in paperback and ebook.