Let me relive and share an occasion with you which has deeply touched my heart.
Last Sunday I got a visit. An unforgettable visit. Over a hundred motorcyclists came to my parish and together we prayed for all their late friends and colleagues. They drove in from all over the country, we could not be more different from one another, and yet, in the power of prayer and remembrance of our dearly departed, we became one.
The Holy Mass was a testimony at its best. I have never seen so many leather jackets, boots and tattoos in my church. I cannot tell you how magnificently the Our Father echoed within the church walls. I remember a huge chap of about 250 pounds, with a bushy beard and lots of tattoos, how neatly he kneeled down in front of Jesus.
I got another confirmation: do not judge by appearances, a rich heart may be under a poor coat (or under a leather one in this case). Prayer makes us human. Prayer is a connection between ourselves and our dearly departed. We are about to celebrate two important holidays: All Saints' Day and All Souls' Day – let us not forget that we will join our loved ones some time in the future.
P. S.: A sincere thanks to Stefan Vogler for the lovely photos.
View the slideshow below for more photos of this unforgettable, inspiring Mass: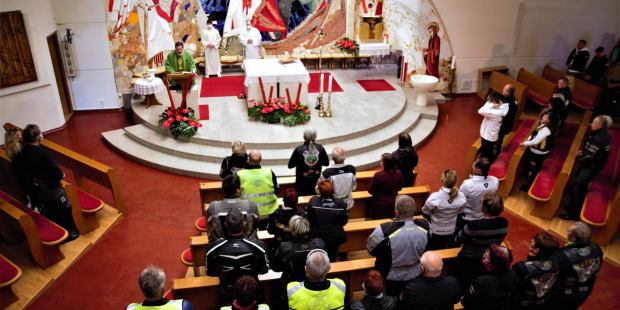 Launch the slideshow