Copies of weather-resistant, battle ready, 'Armed with the Faith' prayer books will be given to Catholic U.S. servicemen.
The Knights of Columbus announced today that they will deliver 100,000 copies of a Catholic prayer book to the all U.S. servicemen and women.
On Tuesday, volunteers dropped off the first delivery of the 6th edition of the Armed with the Faith Catholic prayer book at the Edwin Cardinal O'Brien Pastoral Center in Washington, D.C., home base for the Archdiocese for the Military Services, USA (AMS). 
The prayer books were then blessed by His Excellency, the Most Reverend Timothy P. Broglio, J.C.D., Archbishop for the Military Services. Since 2003, the Knights have provided more than 600,000 copies of Armed With the Faith to active-duty military personnel.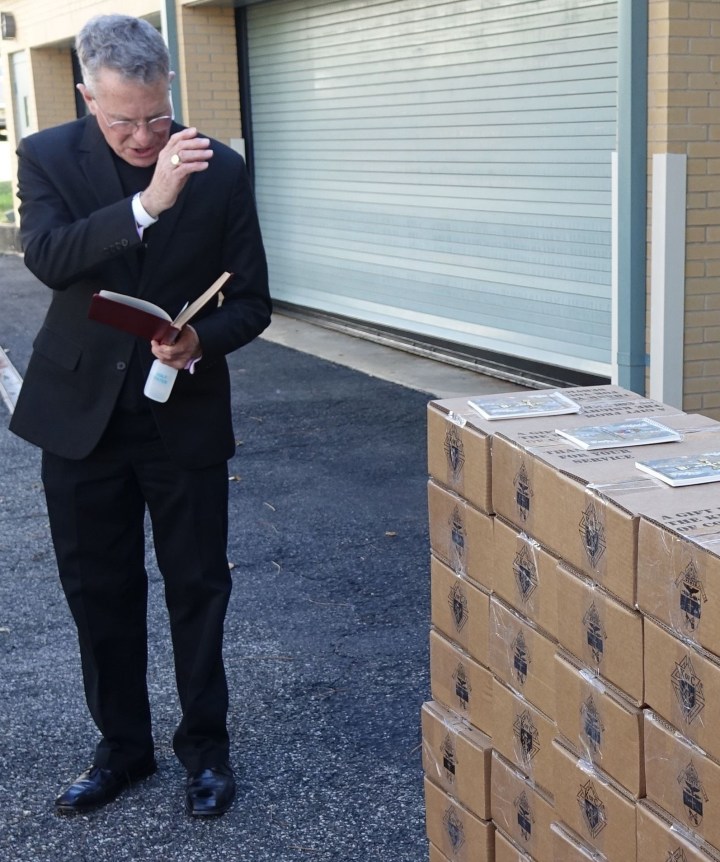 Photo courtesy of the Archdiocese for the Military Services, USA
"Once again, I renew my gratitude to my brother Knights of Columbus who actively contribute to the spiritual growth and welfare of the men and women in uniform and their families.  Armed with the Faith is a precious example of their solicitude, which is expressed in so many ways.  Supreme Knight Patrick Kelly continues a great tradition of patriotic service to our country, both as a retired Naval Officer and now from New Haven," said Broglio.
The Armed with Faith books were designed to be used in extreme weather and by soldiers in perilous conditions. Made with waterproof and tear-resistant stock, they are specially bound so pass can be turned without a sound. This new edition also features an introduction from Supreme Knight Patrick Kelly, himself a veteran with an impressive military career.
"Throughout my military career, my fellow soldiers and I were strengthened and comforted by a daily commitment to prayer, as we asked for God's intercession to protect our nation and help us preserve our freedoms," said Supreme Knight Kelly. "It's my hope that today's active-duty military personnel will find the Armed with the Faith Catholic prayer book their indispensable resource for reflection and prayer."