The Basilica is nearing completion after over 100 years of construction.
Barcelona's storied Sagrada Familia Basilica is nearing completion after over a century. The construction effort has reached the phase that will see the erection of several towering spires, the first of which will be dedicated to the Blessed Mother. This 450-foot tower will be topped by a 12-pointed glass star, which will light up the Barcelona skyline each night. 
According to Catholic News Agency, the star is about 20 feet in diameter and weighs 5.5 tons. The hollow glass ornament will shimmer under the light of the sun during the day, and be lit from within at night. It has been tested to be resistant to lightning strikes and shocks up to 220 lbs. Digital renderings of the spire can be viewed in the video above. 
Sagrada Familia Basilica, dedicated to the Holy Family, is a project that was envisioned by 19th-century architect Antoni Gaudí. He began working on the church in 1883 and it became the primary focus of his career in 1914. Gaudí died in a tram accident in 1926, before he could see the basilica completed. His life's work led to a cause for his canonization being opened in 2003. 
Gaudí's design features five distinct towers dedicated to Christ, Mary, and the four Evangelists. The tower dedicated to Mary will be only the second tallest spire, with Christ's tower reaching to about 570 feet.
While the star is expected to be a spectacular ornament, it will be only a part of the nightly light display. Each of the 800 windows of the Marian tower will also be lit from within. The basilica will slowly reveal this light show, starting by illuminating the lower half on December 4. The upper half will join the show on December 6, leading to the first star-lighting, on December 6.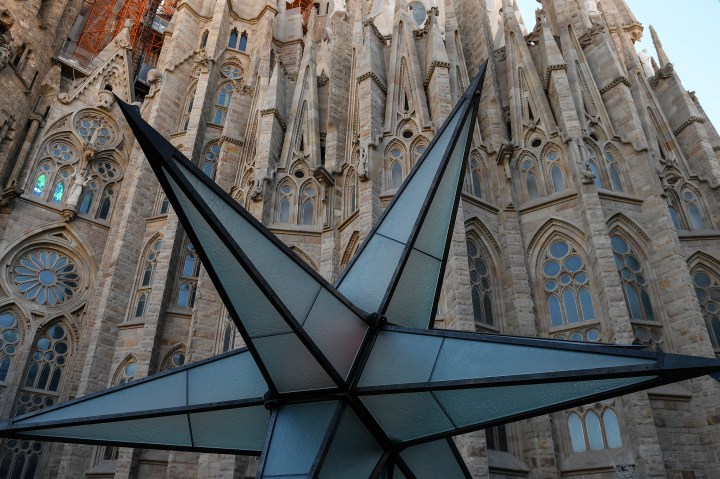 Josep LAGO | AFP
The lights are expected to be viewable from most spots in the city, but the basilica invites all to enjoy the lighting on the Sagrada Familia website. Prior to the spectacle, Sagrada Familia will hold a special Mass for the dedication and blessing of the tower. The ceremony will be celebrated by Cardinal Joan Josep Omella i Omella of Barcelona.
While the Marian tower is expected to be completed within the year, there is still much work to be done on the other towers. Each of the remaining five towers is expected to take at least a year to complete. Currently, completion of the project is expected by 2026, which will coincide with the 100th anniversary of Antoni Gaudí's death.