Today is our proclamation to the world that Christ is the lord of all creation and the only true ruler on earth.
Today is the Solemnity of Christ the King: It's our proclamation to the world that Christ is lord of all creation and the true ruler on earth.
This special celebration of Our Lord Jesus Christ, King of the Universe, is actually very new. Pope Pius XI added it to the liturgical calendar in 1925. He hoped it would help the Church respond to rising secularism and atheism.
This feast day is an important one for two reasons:Not only does it celebrate the supreme authority of God, but also it renews our call to imitate Christ in his kingship. 
First, of course, this feast reminds us that earthly and temporal powers will pass away to nothing. Christ is the only real authority, so our eyes should remain fixed on the things of Christ, things that are heavenly and eternal. As the USCCB puts it,
"This solemnity reminds us that while governments come and go, Christ reigns as King forever."
Second, today's feast urges us to be like Christ in the "servant leadership" he modeled so perfectly. All of us who have any kind of authority on earth are called to rule with humility, gentleness, and loving service, just as Christ did.
If you'd like to celebrate today's feast with your family, here are 5 meaningful ways to honor Christ the King.
1
Pray
The most important way to honor any feast day, of course, is to pray. This act of connection with God is always the priority!
Today is the perfect time to make an Act of Dedication to Christ the King. You can pray it after Mass or at home, on your own or together with your family.
2
Talk about Christ's kingship
Explain to your children what today's feast means. Ask your children, "How does it change our lives that Christ is the ruler of the whole universe?"
Some parents like to use the example of superheroes to explain Christ's all-powerful role. However you want to approach it, take a little time as a family to reflect on the magnificent message of today's solemnity.
If you've done the first two things on this list—praying and talking about the feast together—that's all you really need to do. But to add some extra excitement and creativity to today's celebration, read on!
3
Enjoy a kingly feast
Here's a very fun idea: Put your heads together to create a "feast fit for a king" for this week's Sunday dinner!
You might make Chicken a la King and serve a bundt cake "crown" for dessert. Or recreate the roasted chicken, corn, and potatoes that would be served at a kingly feast.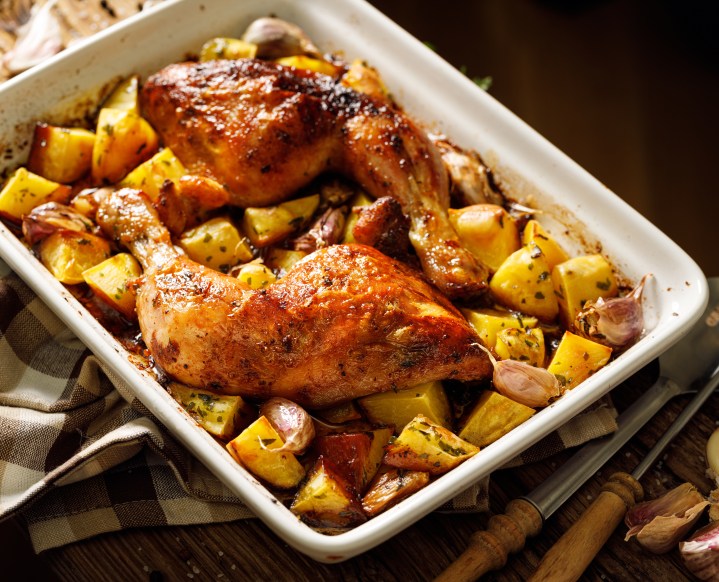 zi3000 | Shutterstock
You might include some fun knightly jousting (sure to be a hit with the kids!) and remind them that they're called to be the knights of Christ. A kingly celebration is something your kids will remember, and with it, the lessons of today's feast day.
4
Make a kingly craft
If you've got a little one who loves to be creative, check out this Christ the King craft at Catholic Icing. It's a sweet reminder of what today's feast is all about. 
5
Enjoy music for the occasion
Check out this "Christ the King Playlist" of king-themed worship songs. It's easier to remember anything when it's set to music, so these songs will help your family remember the message of today's great feast.