These sweet books are a great way to share with children the holiday spirit of giving thanks to God.
The origins of America's annual Thanksgiving are somewhat unclear, and the holiday wasn't celebrated nationally until 1863. But the spirit of setting aside a time to give thanks to God is something that's deeply Christian. 
Catholics are reminded in the Eucharistic Prayer at Mass that it is our duty "always and everywhere to give Him thanks." Sacred Scripture is filled with summons to thanksgiving. So it makes sense that Christians have embraced this holiday. 
As we prepare to celebrate Thanksgiving this year, let's look for reasons to be grateful. These 7 picture books are a beautiful way to share with children the holiday spirit of giving thanks to God.
Karma Wilson/Zonderkidz | Eileen Spinelli/Zonderkidz
Give Thanks to the Lord: Celebrating Psalm 92
This sweet story was inspired by Psalm 92 and features a loving extended family gathering for the Thanksgiving holiday and thanking God for his gifts. 
Thankful 
Inspired by Psalm 107, Thankful celebrates the blessings of everyday life in gentle rhymes. Filled with humor and relatable family moments, this book is one that kids will ask to read again and again.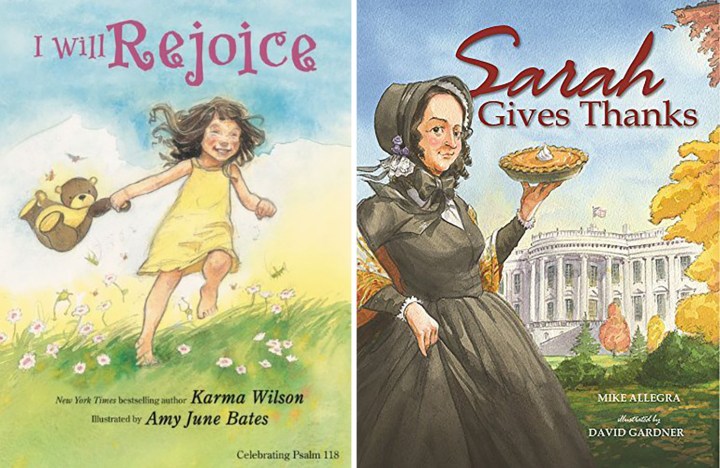 Karma Wilson/Zonderkidz | Mike Allegra/Albert Whitman & Company
I Will Rejoice
Based on Psalm 118:24 ("This is the day which the Lord has made; we will rejoice and be glad in it"),I Will Rejoiceis all about finding joy in each day God has made.
Sarah Gives Thanks: How Thanksgiving Became a National Holiday
This is the seriously cool true story of how Sarah Hale dedicated her life to making Thanksgiving a national holiday, all while raising a family and becoming a groundbreaking writer and women's magazine editor in the 1800s. Sarah's grit and trust in God during hard times offer so many valuable lessons. Don't miss this gem of a book!

Traci Sorell/Charlesbridge | Laurie Halse Anderson/Simon & Schuster Books for Young Readers | Chief Jake Swamp/Lee & Low Books
We Are Grateful: Otsaliheliga
Follow a full Cherokee year of celebrations and experiences, and find reasons to give thanks in each season. A Cherokee author wrote this book about her culture's emphasis on expressing gratitude to God and others. 
Thank You, Sarah: The Woman Who Saved Thanksgiving
The whole family will enjoy this hilarious and heartwarming retelling of how Thanksgiving became a national holiday.
Giving Thanks: A Native American Good Morning Message 
This book is a special children's version of the Thanksgiving Address, a message of gratitude that originated with the people of upstate New York and Canada and that is still spoken at ceremonial gatherings held by the Iroquois (Haudenosaunee), or Six Nations.