May the Lord awaken the conscience of us all before these realities.
Pope Francis concluded his public events in Cyprus on the evening of December 3, with an ecumenical prayer with migrants in the Parish Church of the Holy Cross in Nicosia.
The Holy Father addressed migrants who had shared their testimony, encouraging them in their journeys.
The final reflections of the pope noted the difficulty of the migrant situation, both for the people and for the host countries. But above all, he urged that we not become indifferent to the men, women, and children living such tragedies.
Here's what he said:
~
May this island, marked by a painful division – from here I can see that wall – become by God's grace a workshop of fraternity. I thank all those who are working to make that happen. We must realize that this island is generous, but it cannot do everything, since the number of people arriving is greater than their possibilities of insertion, integrating, accompanying and promoting. Its geographical closeness may make it easier … but it is not easy. We must understand the limits to which the island's leaders are bound. But on this island, and I have seen this in the leaders I have met, a commitment to become, by God's grace, a workshop of freedom. And it will, if two things can happen. First, an effective recognition of the dignity of every human person (cf. Fratelli Tutti, 8). Our dignity is not up for sale; it cannot be rented out; it must not be squandered. Hold your head high and say: I am a child of God; I have my dignity. The effective recognition of this dignity is the ethical foundation, a universal foundation, which is also at the core of Christian social doctrine. Second, a trusting openness to God the Father of all; this is the "leaven" that we, as believers, are called to offer (cf. ibid., 272).
Photo by Iakovos HATZISTAVROU / AFP
If these two things can happen, the dream can translate into a daily journey, made up of concrete steps from conflict to communion, from hate to love, from escape to encounter. A patient journey, which day by day leads us to the land God has prepared for us. The land where, when people ask "Who are you?", you can readily respond, "Look, I am your brother, your sister. Don't you recognize me?"And then, go your way in peace.
As I listen to you and see your faces, I am reminded of another thing: your suffering. You arrived here, but how many of your brothers and sisters are still making the journey? How many desperate people have set out in difficult and precarious conditions, but did not arrive? We can think about this sea, which has become a great cemetery. Looking at you, I see the suffering caused by your journey; I see all those people who were kidnapped, sold, exploited … and who are still on the journey, we know not where. We are speaking of slavery, of universal enslavement. We see what is happening, and the worst thing is that we are becoming used to it. "Oh yes, today another boat capsized … so many lives were lost…." This "becoming used" to things is a grave illness, a very grave illness, and there is no antibiotic for it! We have to resist this vice of getting used to reading about these tragedies in the newspapers or hearing about them on other media.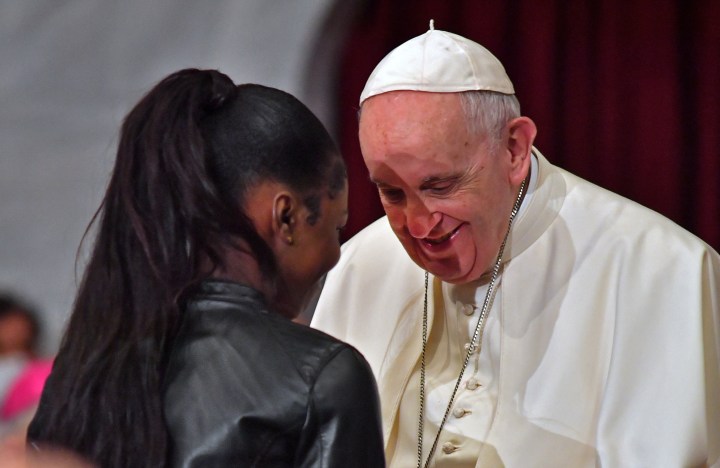 Photo by Iakovos HATZISTAVROU / AFP
Looking at you, I think too of all those people who had to return because they were turned away and ended up in concentration camps, real concentration camps, where the women have been sold, and men tortured and enslaved … We are appalled when we read stories of the concentration camps of the last century, those of the Nazis or those of Stalin, and we say: "How could this possibly have happened?" Brothers and sisters, it is happening today, on nearby coasts! Places of enslavement. I have seen some filmed testimonies about this: places of torture and human trafficking. I say all this because it is my responsibility to help open people's eyes to this reality. Forced migration is not a kind of "tourism"! And our sinfulness leads us to think: "Those poor people, those poor people!," and with those words "poor people" we blot everything out. This is today's war: the suffering of our brothers and sisters, which we cannot pass over in silence. Brothers and sisters who left everything behind to get on a boat, in the dark of night, and then… without knowing if they would ever arrive.  And all those who were turned away and ended up in the concentration camps, true places of torture and enslavement.
Such is the story of this developed civilization that we call the West. And then – forgive me, but here I would like to say what is in my heart, at least so that we can pray for one another and do something – and then, there is the barbed wire. We see it here: it is part of a war of hatred dividing a country. Yet in other places, barbed wire is set up to prevent the entrance of refugees, those who come in search of freedom, food, assistance, fraternity, joy, those fleeing from hatred but then find themselves facing a form of hatred called barbed wire. May the Lord awaken the conscience of us all before these realities.
Excuse me if I have spoken of things as they really are, but we cannot remain silent and look the other way amid this culture of indifference.