An elderly orthodox priest accosted Pope Francis and called him a "heretic" during the Pope's recent Apostolic Journey.
Though an elderly Orthodox priest accosted Pope Francis and called him a heretic, the will for unity is going forward, according to the Pope's comments on his return from Greece and Cyprus.
The priest's heckling is naturally causing a stir on social media. He shouted at the Pope on Saturday, as the Pope was entering for a very friendly meeting with the leader of the Greek Orthodox Church. The Pope didn't seem to notice the situation, and made no reference to it. The elderly priest was pushed away forcefully by Greek police, and then questioned by them. He said that he told the Pope to repent and that a pope has no place in Greece.
Pope Francis said during his in-flight press conference that he was grateful for the two Orthodox leaders who received him on his trip.
He also said that he's expecting a meeting with the patriarch of the Russian Orthodox Church soon. This will be historic, as the two have only met once before, in Cuba.
The Holy Father did not deny that there are obstacles to harmony, but emphasized that they are "brothers of the same mother, Mother Church."
To dialogue with a brother, there are no protocols, an Orthodox brother named Kirill, Chrysostomos, Ieronymos — and when we meet we don't dance the minuet; we say things to each other's face, but as brothers. And it is good to see brothers bickering because they belong to the same mother, Mother Church, but they are a little bit divided, some because of heritage, some because of history that divided them.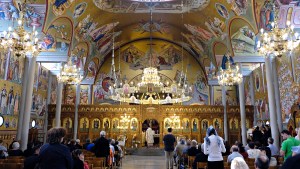 In Cyprus, Chrysostomos II joined with Pope Francis for an ecumenical prayer service with migrants.
In Greece, meanwhile, Hieronymos II chose not to have such an event.
The Pope continued his reflection on the flight:
But we must try to go together, work and walk in unity and for unity. I am grateful to Ieronymos, Chrysostomos, and all the patriarchs who have this desire to walk together.

The great Orthodox theologian Zizioulas, who studies eschatology, once jokingly said: unity will be found in the Eschaton! [at the end of the world, in heaven]. There it will be unity.

But it is a way of saying: we must not stand still waiting for theologians to agree. What they say is that Athenagoras said to Paul VI: let's put all the theologians on an island to discuss and we'll go somewhere else together. But this is a joke.
Here, the Pope was referring to the shared concerns that Catholics and Orthodox have been active in addressing, including for example, world peace, climate change, migration, etc.
The Holy Father has also noted that a strong force of unity is that Catholics and Orthodox are both suffering martyrdom, something he calls an "ecumenism of blood."