Help your children learn to be generous givers by encouraging them to tap into their talents and resources.
"But Mom, I want to give our next door neighbor a gift, too!"
Does Christmas have your kids as excited about gift-giving as gift-receiving? I doubt I'm alone in that. As Christmas rolls around, I often face the dilemma of how to balance my child's desire to be generous and independent in gift-giving, with the amount of time and energy I have to help direct him.
With that in mind, here are a few ideas for Christmas gifts that will allow your child to be involved in the creation, but hopefully won't take up too much mental space or energy (or break the bank) …  
Create
There are different ways your child can craft a gift for a loved one, no matter their age.
Almost any child from preschool to middle school can paint something from the unfinished wood section of a craft store. Birdhouses, jewelry boxes, shelves or trays are all fairly practical items that you can make your own with a little paint.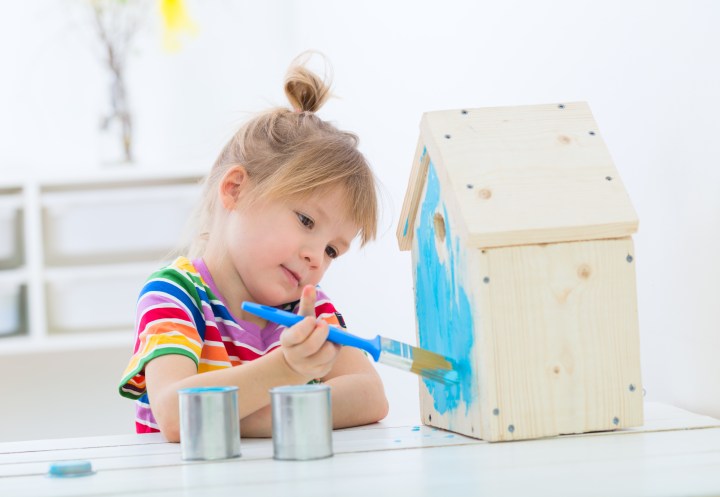 juninatt | Shutterstock
Or, select and print some photos of your child, and give the printed photos and an empty photo album to your child, and allow them to fill and decorate as they desire.
There are probably many other crafty ideas you could find and execute easily, but as one of the least crafty moms you will ever meet, the 'paint something wooden" and "photo album" projects are ones I know I can supervise with little stress–and that is key for holiday preparations in general. Less stress leads to more happiness all around!
Reuse 
Last year, my son and his friends chose books that they already had on their shelves, wrapped them, and gifted them to each other. It was a good practice for the boys to give up something they owned, and the excitement of wrapping and gifting made it easier to part with the book.
Toys or stuffed animals could also work for this, especially if the goal is to give gifts to their peers/friends or siblings (siblings will either be touched or oblivious about the re-giftedness, depending on their ages).
Shutterstock
Just be careful, as Uncle Greg may not appreciate receiving that book he gave last Christmas about presidential fun facts back (even if your child is truly making a sacrifice to gift it to him). 
Bake
If you usually make some Christmas cookies anyway, pull together some extra this year and encourage your helpers to decorate to their hearts' content. Then, you can find some inexpensive cookie tins at the thrift store, or wrap your plastic bag of cookies in some tissue paper and ribbon, and the kids can happily gift cookies they made to friends and family. If cookies aren't your thing, maybe banana bread or another Christmas treat is a good option.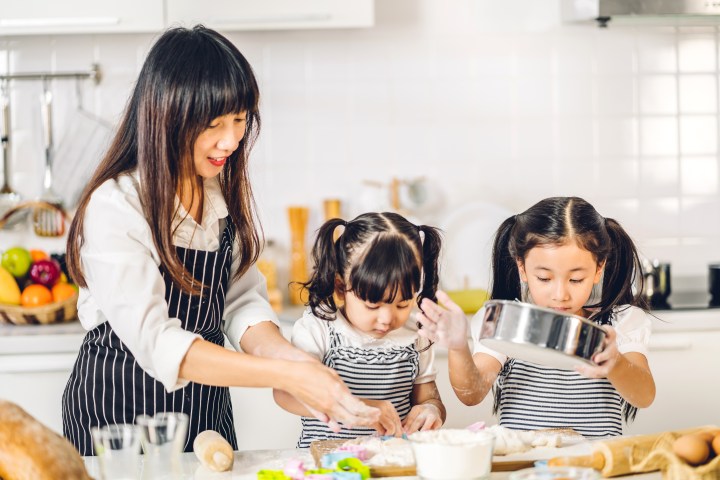 Art_Photo | Shutterstock
Any food becomes Christmas fare if it arrives wrapped in red tissue paper–trust me. You could have your child wrap the ingredients for s'mores, or a few pears and oranges, in something seasonally appropriate and Ta-Da: Christmas s'mores and a Christmas fruit basket! 
Affirm
A thoughtful card with a child's heartfelt (and yes, often silly or strange) greetings might be the best present for some. Try to elicit more meaningful sentiments from your child with leading questions like, "What about Aunt Joy makes you smile?" or "What is your favorite memory from school with Mr. Sondheim, your teacher?" or "What are some things that Grandpa is really good at?" Allow your child to create and decorate, or at least have a hand in choosing, the card for their loved one. 
Most of all, keep it low stress and have fun helping and encouraging your child so they will associate with gift-giving with joy and thoughtfulness.