All these years later, her daughter is still present in her family's midst.
What can God do in your life with one Bible verse a day?
Subscribe to Aleteia's new service and bring Scripture into your morning:
Just one verse each day.
Click to bring God's word to your inbox
Hélène Machelon is a dynamic and personable 40-something and a decorator in the event industry who has lived around the world with her husband Gilles. After traveling to many places they settled in France. Algeria, Mexico, Vietnam and had the joy of adopting three children along the way: Paul (17), Capucine (13), and Olivia (6). But the family is only complete if we also mention Jeanne, their little girl who died 18 years ago when she wasn't even a year old.
Hélène tells the story of Jeanne, a "bubble baby" with severe immunodeficiency syndrome, in a touching book published in French, Envolée. Aleteia met with Hélène, who candidly recounts the pain of losing a child and her faith, as well as her gradual return to life and faith.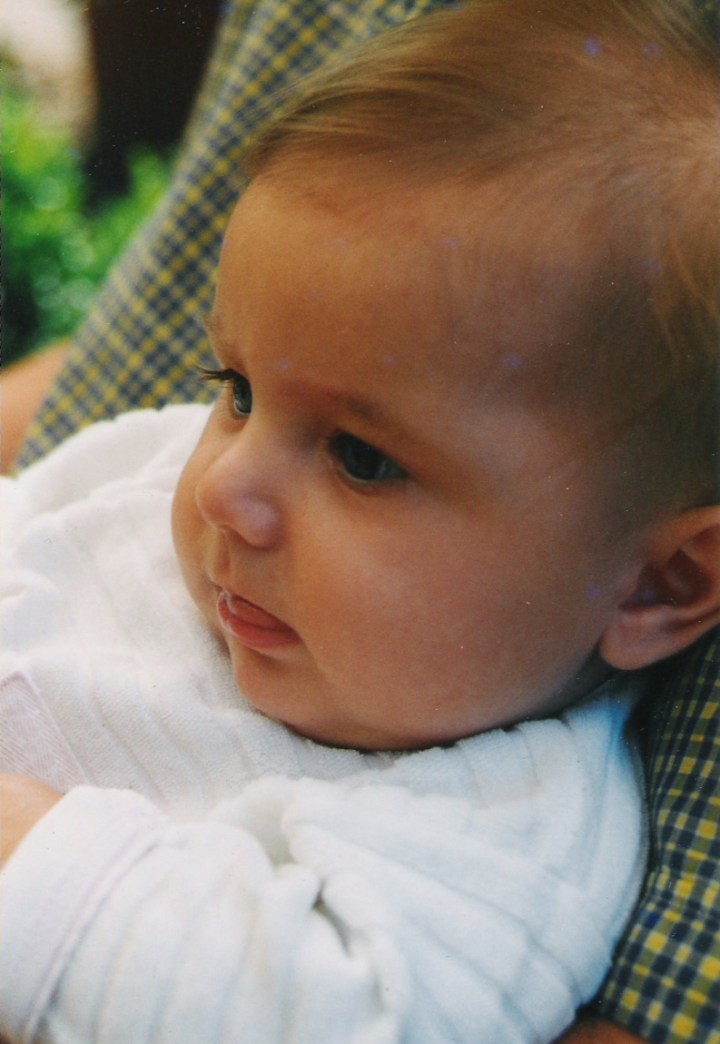 Hélène Machelon
Hélène and Gilles are both carriers of a genetic anomaly which gives them a one in four chance of having a child with almost no immune system. Their first child, Jeanne, born nine months after their marriage, fought for almost a year with this disease. Chemotherapy, bone marrow transplants, sterile rooms … all the treatments failed to save her. Their prayers didn't seem to be any more effective, which was a particularly disturbing observation for Hélène at the time.
A practicing believer, Hélène remembers the many prayers they addressed to God to save their daughter, even "lying prostrate on the floor of chapels" to implore the Lord's mercy. Prayer chains were organized all over the world. She was absolutely certain the miracle would happen. She was waiting for it; they deserved it, she told herself. It would be the reward for their faith and their unfailing hope. "With the help of rosaries, litanies of saints and ardent adoration, we felt as deserving as possible of the cure," she writes in her book.
But the miracle never came. "I lost Jeanne and my faith on the same day," she says.
In addition to the pain that gripped her maternal heart, she was overwhelmed by a feeling of unquenchable anger. She stopped praying and stayed outside the church when her family was inside. During a long period of dryness, she rejected her faith, without managing to truly lose it.
Although Hélène no longer had her carefree spirit, she woke up one morning feeling lighter. She allowed herself to laugh again, to rejoice in good news from her loved ones. Those around her could also breathe more freely again.
The process of adoption and the arrival of their children facilitated her reconciliation with God. "We had the chance to adopt three children. The miracle was there! Thanks to this new fecundity, we found our place, our mission, and we carried adoption as our standard."
Hélène Machelon
"Bringing our loved ones into our homes is a bit like having heaven in your living room."
It was in Mexico that Hélène found a certain acceptance after Jeanne's death.
"Mexicans have a very different relationship with death than we do. On All Saints' Day, for example, there is a kind of desacralization of cemeteries. People bring in color, they sing, they dance and pray until dawn."
The cemetery. A place where she forced herself to go but where her pain was still too present. "Like the Mexicans, we took Jeanne out of the cemetery, metaphorically," she explains. "There, people put up little altars with portraits of the deceased in their homes. It's a bit like having heaven in your living room." It's a consoling, restorative gesture.
Jeanne has remained present in their midst. Hélène has the impression of always having her daughter sitting on her shoulder. She speaks to her, addressing her with short sentences and thoughts. Their children are particularly active in making room for Jeanne and acknowledging that there is another child who is part of the family. After her suffering and the anger, Hélène gradually achieved acceptance. "Jeanne was not made for this life," Hélène sighs simply.
In the last lines of her book, Hélène illustrates magnificently how love never ceases to be transmitted through the communion of saints as she imagines her daughter saying: "You rocked me. You cared for me. You made my life beautiful. You are faithful to me. You love me with unconditional and eternal love. Do not doubt, I am in your every step."